Big News- Elite Blog Academy is Back!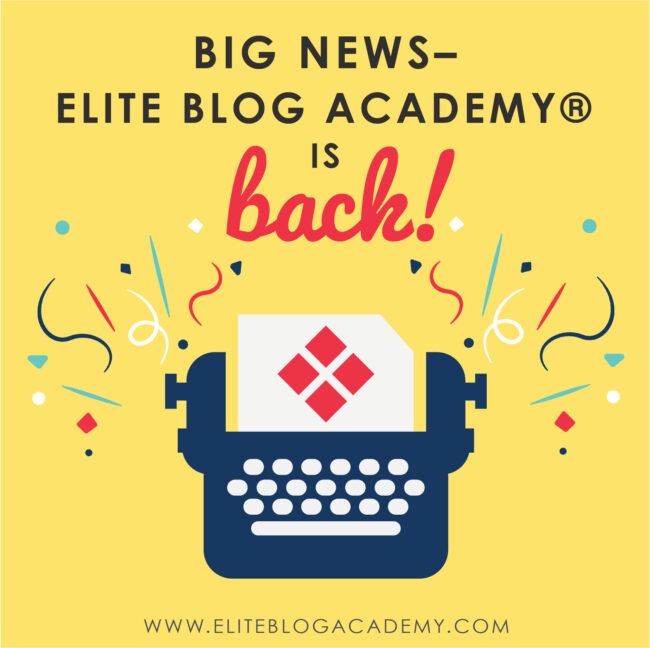 Since 2014, Elite Blog Academy® has been the world leader in training bloggers and content creators in how to grow a predictable and profitable online business (more than 15,000 at last count!).
But the online world changes fast, which is why here at EBA®, we're always adapting too.
And after taking a hiatus to focus on other projects, we're SO excited to announce that the Elite Blog Academy Course is BACK for 2022, and better than ever!
You see, when we first launched our ACTIVATE coaching program in 2020, our small (but mighty) coaching team here at Elite Blog Academy wanted to be able to focus ALL of our time and energy developing that brand new program into everything we knew it had the potential to be—the very best business coaching program for bloggers & content marketers in the entire world.
And while we're so proud to say that we have achieved that goal, what we've also learned in the past year is that what our beginner students want and need is actually very different from the guidance that our more advanced students crave.
Thus, in order to best serve ALL our students, we've decided to bring back Elite Blog Academy® Foundation as a stand-alone course for new and beginner-level bloggers, while keeping ACTIVATE focused on our intermediate and advanced-level students.
Not only that, we're excited to share that our EBA Foundation curriculum has been completely revamped and fully updated for 2022, and is designed to help our students make more progress in less time than ever before.
Enrollment for this incredible program will open on March 14th for five days only, and as always, the doors for Elite Blog Academy® Foundation will only open to the public once a year.
That means that if you've been waiting for your chance to join Elite Blog Academy, THIS IS IT!
Mark your calendars now for March 14th so that you don't miss it, and be sure to join our waiting list to be first in line.
In the meantime, you can find out more about the Elite Blog Academy® Foundation course (including pricing) on our info page HERE.