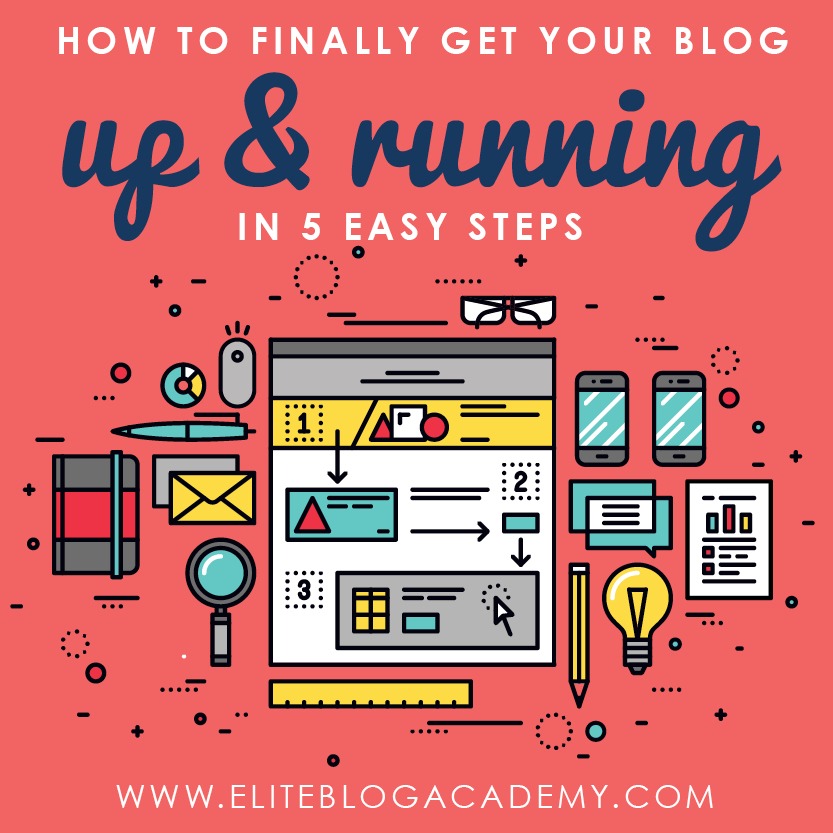 Thinking about starting a blog, but you have no idea how to even get started? Don't miss this helpful tutorial that will walk you through step-by-step how to start a blog from scratch!
We're going to assume, because you're here, on a website called Elite Blog Academy, that you are at least somewhat interested in starting a blog.
So why haven't you pulled the trigger yet?
How many times have you thought, "I should start a blog." Has it been once, twice or maybe 500 times? Have you been thinking about blogging for months or even years? What's stopped you from actually starting? Is it the technical side of blogging? Is it making the time to write?
Whatever is stopping you from taking that step forward, we want you to take a moment and toss those excuses to the side because we're going to help you start a blog from scratch (and it's not as scary as it sounds).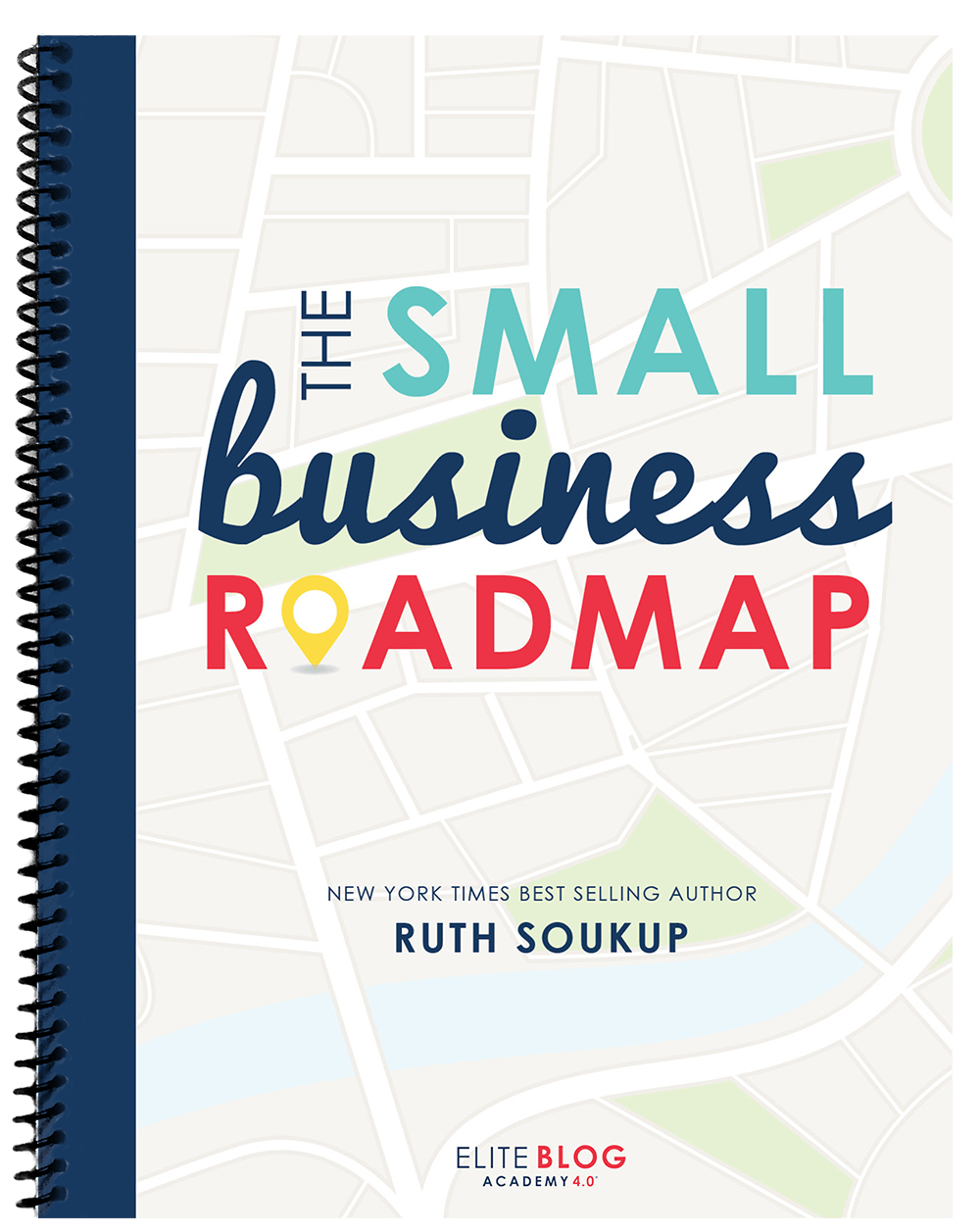 SMALL BUSINESS ROADMAP
---
Thinking about starting your own online business? Our Small Business Roadmap will show you exactly what steps you'll need to take to get started, along with typical startup costs. Best of all, it's completely free! Simply click to download.

There are a few early steps you must do to get started, and we promise they aren't hard! The hardest thing will be to just take that leap of faith into creating something that will get you closer than you could have ever imagined to your goals and dreams.
So, follow along, because you are about to embark on a pretty fun ride!
If you're ready to start a blog from scratch, let's begin with these 5 basic steps:
# 1- NAME IT   
Naming your blog correctly can go a long way to helping your brand and its message. And unfortunately, it's easy to make one of two big mistakes–you either overthink the name or you don't think about it enough!
So, take 2 minutes and brainstorm a bunch of different possibilities. Think
about what you're passionate about, the genre you want to blog in, or something unique about you or your life.
And then, start vetting the names and phrases to see which ones might actually
work. To do that, check to make sure the name you have in mind is actually available, which means checking Bluehost.com or GoDaddy.com, or another domain buying service, to make sure the domain name isn't already reserved. You'll also want to check social media channels. You'll want your name and your social media handles to match or be pretty similar to avoid confusion.
While you're researching, do a Google search to find out if any other blog, business or product has the same name. You can also do a trademark search to find out whether a trademark has been filed for that name in a similar industry.
There are countless possibilities when it comes to naming your blog, and unfortunately, it's easy to become paralyzed by choice. Let me be clear: the name of your blog will not make or break your success. So take the pressure off yourself. What's more important at this stage is to just get it up and going. You can even change the name later!
#2: SET UP SELF HOSTED BLOG ON WORDPRESS  
Now that you've decided on your name, it is time to grab the bull by the horns and actually set up your blog! This is probably the step that freaks people out the most, but it really doesn't have to be hard.
Here at Elite Blog Academy we highly recommend being self-hosted on WordPress.org (where you own your blogging platform) rather than choosing a hosted platform like Blogger or WordPress.com (where you don't own the blogging platform). You want to have full control over your content. There are other options, like Squarespace, but WordPress is pretty much the industry standard and ultimately offers the most flexibility.
To learn the nitty-gritty of setting up a self-hosted WordPress Blog, opt-in to our free guide, here.
#3: SET UP YOUR SOCIAL MEDIA ACCOUNTS
Your challenge is to make sure you have a way to reach your soon-to-be fans
through social media. To do this, you'll need to secure your spot on the Internet by claiming your blog name on all the relevant social media channels. You will want to have a presence on Facebook, Instagram, Twitter, and Pinterest, but depending on your niche and your own interests, you may also want to claim your handle on other social media networks, such a SnapChat, Google+, or LinkedIn.
But here's the thing–don't worry about doing anything with these social media accounts yet! You'll get there eventually, but for now, you'll mostly want to stay focused on your blog and your content. The important thing is to secure your name so that they are there when you are ready. When you're just getting started in blogging, you might think social media is "the place to be" to build your audience and make connections. And while it CAN be a great way to connect with other people, it definitely shouldn't be the first place you focus.
#4: INSTALL A FEW BASIC PLUGINS
Install a few basic plugins to get your WordPress site in tip-top shape. Here are a few we absolutely recommend:
The first one is Akismet. It's an anti-spam plugin which you will want to install first, as spam comments will begin to show up almost immediately.
The second is the Google Analytics Dashboard — this plugin will allow you to see all kinds of valuable information about your blog — how many people are visiting, what content is the most popular, and more.
Third is WP Supercache. This helps your site load faster, which not only makes it a better experience for your reader but could help it rank higher in Google searches.
Finally, Yoast SEO is the most complete SEO plugin available for WordPress. It offers everything you need to optimize your site for organic traffic, which is a term that describes people who visit your site by searching for a topic or specific term that you cover.
Opt-in here to check out the full list of free and almost free plugins that we absolutely recommend.
#5: WRITE AND PUBLISH YOUR FIRST POST
Of course, the only way to TRULY start blogging is to actually start writing blog posts! So now that you have your blog set up, it is time to get busy writing and publish your first post.
Yep, that's right, you are actually going to PUBLISH a blog post! One that people can actually read! Because if you are anything like MOST of our students at EBA, you're thinking there are probably a million and one things you need to do before you can "officially" launch your blog. But, we'll let you in on a secret, those million and one things are just excuses!
Don't worry that your blog isn't pretty yet, or if you don't have images and graphics. Don't worry that it is not polished or perfect. Publishing that first post is the hardest step, and so if you can get it out of the way today, you will be ready to take off!
Did this tutorial effectively walk you through step-by-step how to start a blog from scratch? What other questions do you have? Drop a comment below.