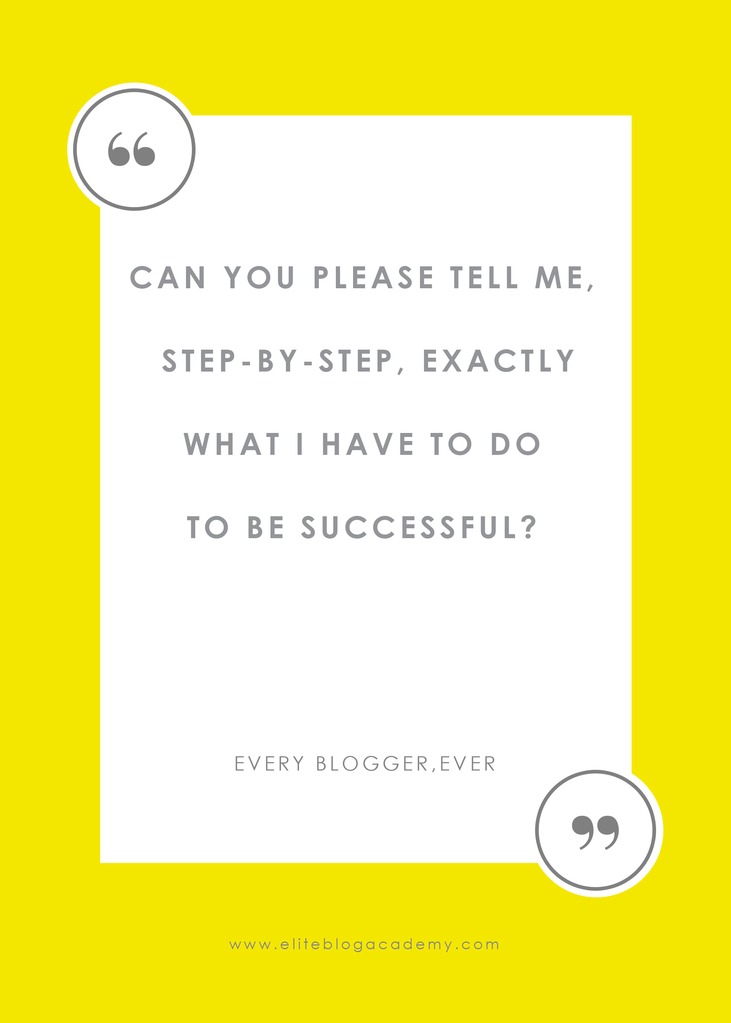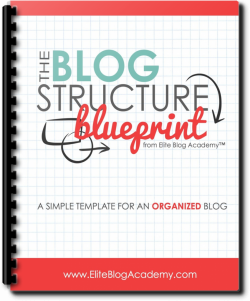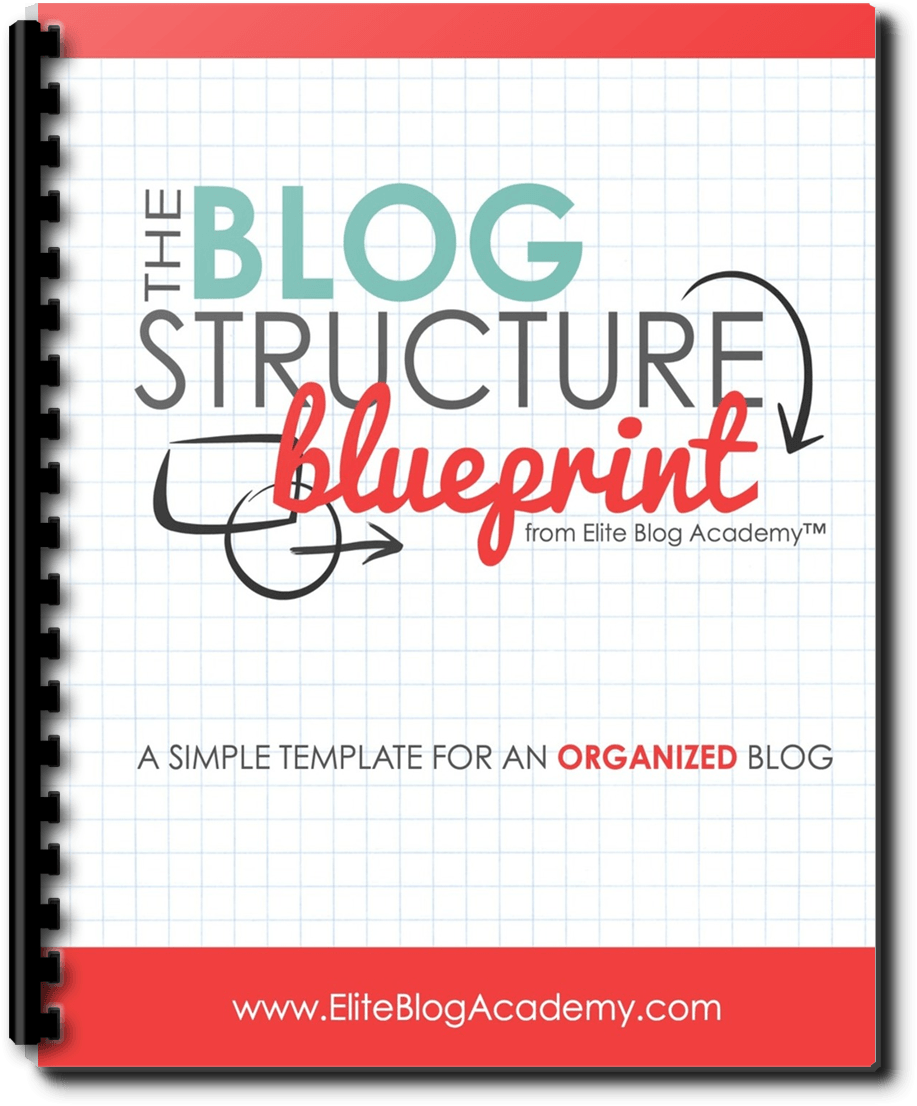 ENROLLMENT IS CURRENTLY CLOSED
In order to best serve all of our students, we only open our doors to the public once a year.  We strongly encourage you to join our waiting list to be notified when registration opens so that you don't miss out on what is always a very brief enrollment period. When you join, we'll also send you a copy of our EBA Blog Structure Blueprint so that you can start organizing your blog right away.
ELIMINATE THE OVERWHELM
At Elite Blog Academy, we believe that blogging doesn't have to be complicated. We've worked hard to figure out what works–and what doesn't–and to put together a plan that gives you everything you need for massive success (and nothing you don't.)
Because let's face it–the problem with creating a successful, profitable blog isn't that there's not enough information out there, it's that there is way too much!  
But that's exactly what makes EBA so effective.  From figuring out what to say to getting people to notice and earning an income from your efforts, we've pared it down to the only the most important and game-changing details.
So whether you've only just started or are already established and ready to grow, Elite Blog Academy will give you all the tools you need to refine your message, grow your traffic, monetize your platform, and build your business, and break it down into an easy-to-follow, methodical process that gets results.
Enrollment for EBA 3.0 is currently closed and only opens to the public once a year.  Please join our waiting list to be notified for the next registration period.
"

It's been almost two years since I've found training for bloggers that I've considered good enough to promote. Elite Blog Academy is one of the most comprehensive blogging courses I've ever come across – if you're looking for an authentic and valuable program this is it."

–Darren Rowse, Problogger

"

I started Elite Blog Academy in September of 2014 with a blog that was run on the blogger platform. I had no idea what I was doing, but I was determined. I followed every single step of the EBA program exactly as written. It took me 9 months to complete, but exactly one year after starting EBA, I was blogging full time and made $5,000 in one month alone. Having taken many expensive online classes related to blogging, I'm able to tell you that EBA is the best! Ruth lays out step-by-step exactly what you need to do so that when you've completed the class, you understand how to make a living from your blog.

–Rosemarie Groner,The Busy Budgeter

"

I began blogging in 2010. I knew that I had great content but did not know how to gain traction, or what to focus on and when. I needed a plan — a step-by-step process I could implement — from someone who knew what to do. I enrolled in EBA in 2014 and doing so was a game-changer for me! In about 10 months, my monthly page views increased from 10,000 to 150,000 and I gained confidence that I will be successful going forward."

–Arabah Joy, Arabah Joy.com

"

I started EBA just after starting my blog because I wanted to start off on the right foot. Now that I've completed the course, I have a plan to follow — step-by-step — instead of aimlessly wandering and I have obtained the confidence needed to keep moving forward. I know how to grow my audience, build a brand, market myself, create products, start earning money, and fulfill my business goals. I've created a book that is being sold on Amazon and I have two other products in the works as well. EBA is just such an awesome program, and I am so grateful to Ruth for her transparency, willingness to mentor and to teach other bloggers. It is such a great mission and the program is done right!"

–Jennifer Roskamp, The Intentional Mom

"

I'm a freelance writer and editor and I am working on building my blog so that it can be my main (and, in the long-term, only) project! I started writing as a health blogger but I realized there were so many other topics that were important to me, so I expanded my blog to encompass my broad range of interests. The thing I most wanted to get out of EBA was how to monetize my blog. I was using various components covered in the course before I enrolled, but the design and marketing components were missing in my blog. The course has helped me to see how I can turn my hobby into my work. EBA is awesome!"

–Sagan Morrow, SaganMorrow.com

"

I signed up for EBA because I wanted to increase my traffic and income, and I felt that I had reached a dead end. Now I'm able to better focus on the topics that my readers are most interested in and I'm able to work more efficiently. As a result of attending EBA, my traffic has grown and I now make about $700 a month. This course is definitely something I'd recommend to other bloggers!"

–Cassidy, Succulents and Sunshine

"

Before EBA I was putting a lot of effort into my blog but seeing minimal growth, so it seemed safer to consider blogging a hobby. But then I learned that you have to invest in something if you want it to grow. Investing in EBA was the best money I ever spent on my blog. I went from having 29,000 page views a month to 175,000 in just 7 months! It took me 5 YEARS to reach that first 29,000! Also, after my first 5 years of blogging, I was earning just $20 a month. After 7 months at EBA, I'm earning $1,500 and aspire to increase that even more."

–Nina Garcia, Sleeping Should Be Easy

"

EBA helped to give me a structure and framework to move towards growing my platform, audience and reach. I ended December 2014 at $2,000. Now I'm on track to hit $15,000 this November, not even a year later. Take the course and implement the exercises — it will change you blog's life!"

–Gina Horkey, Horkey HandBook

"

Before enrolling the program, I felt like I was spinning my wheels — not making the progress I thought I should. EBA helped me shift my mindset and showed me how to systematically accomplish all of the big tasks I had been putting off because I lacked the knowledge to do so. Seven months later, my hobby turned business is now earning $1,000 per moth and my page views have increased from 30,000 to 172,000!"

–Brittany Ann, Equipping Godly Women

"

Last year when I enrolled in Elite Blog Academy, I was starting from square one with my new blog, Little Girl Designs. I had no social media presence, only 10 posts on my blog, and definitely was not making an income. So I made the investment, knowing I needed a strong foundation, and I'm so glad I did. The principles I learned in EBA helped me grow my pageviews, build a strong email list, and grow my social media accounts. (My Pinterest account went from 0 – 8,000 this year!) And in my first year, I've created two workbooks, two mini courses, and countless resources for my readers using many of Ruth's guidelines. Because of the success of these products, this course has absolutely paid for itself over and over again. You can't afford to not take it!"

–Jennie Moraitis, Little Girl Designs

"

My blog has grown tremendously thanks to 

Elite Blog Academy

 and I can't speak highly enough about the course. In terms of blog growth, I went from 1,000 monthly page views to 160,000 monthly page views in under a year, which is something I never thought possible! I learned how to monetize my blog through Ruth's various strategies and earned over $13,000 in my spare time last year. I also created a product and started my own business, which allowed me to quit my full time job. None of these opportunities would have been possible without Elite Blog Academy!"

–Kristin Larsen, Believe in a Budget

"

When I started my blog in 2012, I knew that I eventually wanted to turn it into an income-producing business. For two years, I spun my wheels trying to build a readership and bring in an income in a way that felt authentic to me. When Ruth offered the first Elite Blog Academy in October 2014, I jumped at the opportunity. I've taken quite a few courses, so I can say with absolute certainty that it was the absolute best decision I've ever made for my online business. Since completely Ruth's course, my traffic has grown ten-fold and my blogging income has shot through the roof [next month I should bring in more than $5,000 from my blog alone]. And the best part is that I still have so much room for growth. I seriously can't wait to see where my blog is at in another year! If you're serious about turning your blog into a business and are willing to put in the work I can't recommend EBA highly enough."

–Alexa Mason, Single Moms Income

"

I just wanted to say a HUGE thank you for all you taught me through EBA and the encouragement to go for it with creating and launching a product! Because of your advice I buckled down and made my first product, the Stay at Home Mom Survival Kit, and am actually launching it today! It was a lot of work, but so worth it!"

-Rebekah, Charming Imperfections

"

Can I just say, WOW! I am methodically working my way through the course work and have already seen so many positive changes with my blog, my writing, the way I approach social media, scheduling, etc. It truly has been the best blogging-related course that I have taken and I am so glad that Darren Rowse promoted it via his channels."

–Bree, Starbrite Warrior

"

I've been blogging on on and off since 2005. I kept coming back to blogging, but I wanted to make good money, write about things I really enjoyed and have fun in the process. Was that too much to ask? At first….yes.I started Mom Fabulous and felt frustrated, confused and just about quit, AGAIN. Then I found Elite Blog Academy. I am so glad I did! In just two months I doubled my pageviews (and it just keeps increasing!), increased my income and am actually turning Mom Fabulous into a full time job"

–Julie, Mom Fabulous
YOU'RE IN THE RIGHT PLACE
If you want to learn exactly what steps to take to grow your blog and take your platform to the next level, Elite Blog Academy 3.0 is designed for you. Our ideal members fall into one of these categories:
YOU'RE AN AMBITIOUS BEGINNER
Perhaps you don't yet have a blog or online business, or maybe you've just started one, but you want to establish a solid platform so that you can write a book or launch a product. Elite Blog Academy can help make sure you are starting on the right foot with a firm foundation, and help you create a loyal audience of raving fans (and customers!)
YOU'RE ON YOUR WAY & LOOKING TO GROW
Perhaps you've been blogging for a while but don't feel like you've quite figured out the formula just yet. You know you're missing some critical piece of the puzzle, but you can't quite figure out what it is.  Elite Blog Academy will show you, step by step, exactly what you need to do to step up your game and find the success you've been looking for.
YOU ARE A FULL-TIME BLOGGER OR BUSINESS OWNER
You're well past the intermediate stage, yet somehow you feel like you're still missing critical opportunities for traffic and revenue growth.  You want to create a deeper connection with your audience, and build a sustainable long-term business. Elite Blog Academy can help you take your business to the next level and transform your mindset from that of a blogger to that of an entrepreneur.