Let me just say that I am so excited to be writing this post, because today we're sharing something I'm super pumped about: the top 15 takeaways from some of the amazing people who attended ACTIVATE: EBA Live 2017.
Now, in case you're scratching your head and thinking, "Uhm, Ruth… What exactly are you talking about?"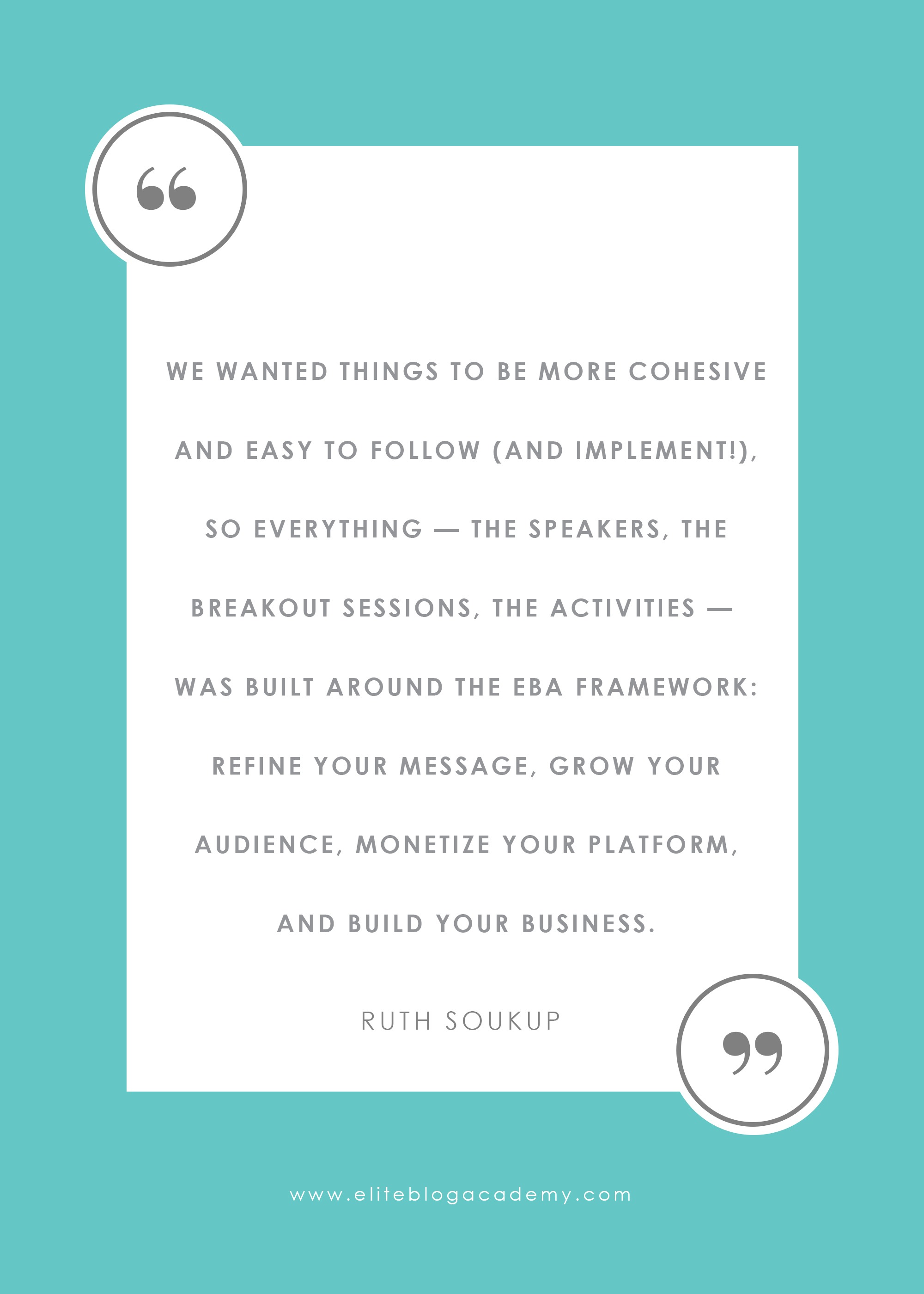 ACTIVATE 2017  was our first ever live event for Elite Blog Academy. And it was absolutely incredible!
We really set out to make ACTIVATE different from the other blogging conferences out there. At most conferences, you'll hear a lot of different speakers talk about different topics, but there isn't any common thread. The information can feel really disjointed — and overwhelming.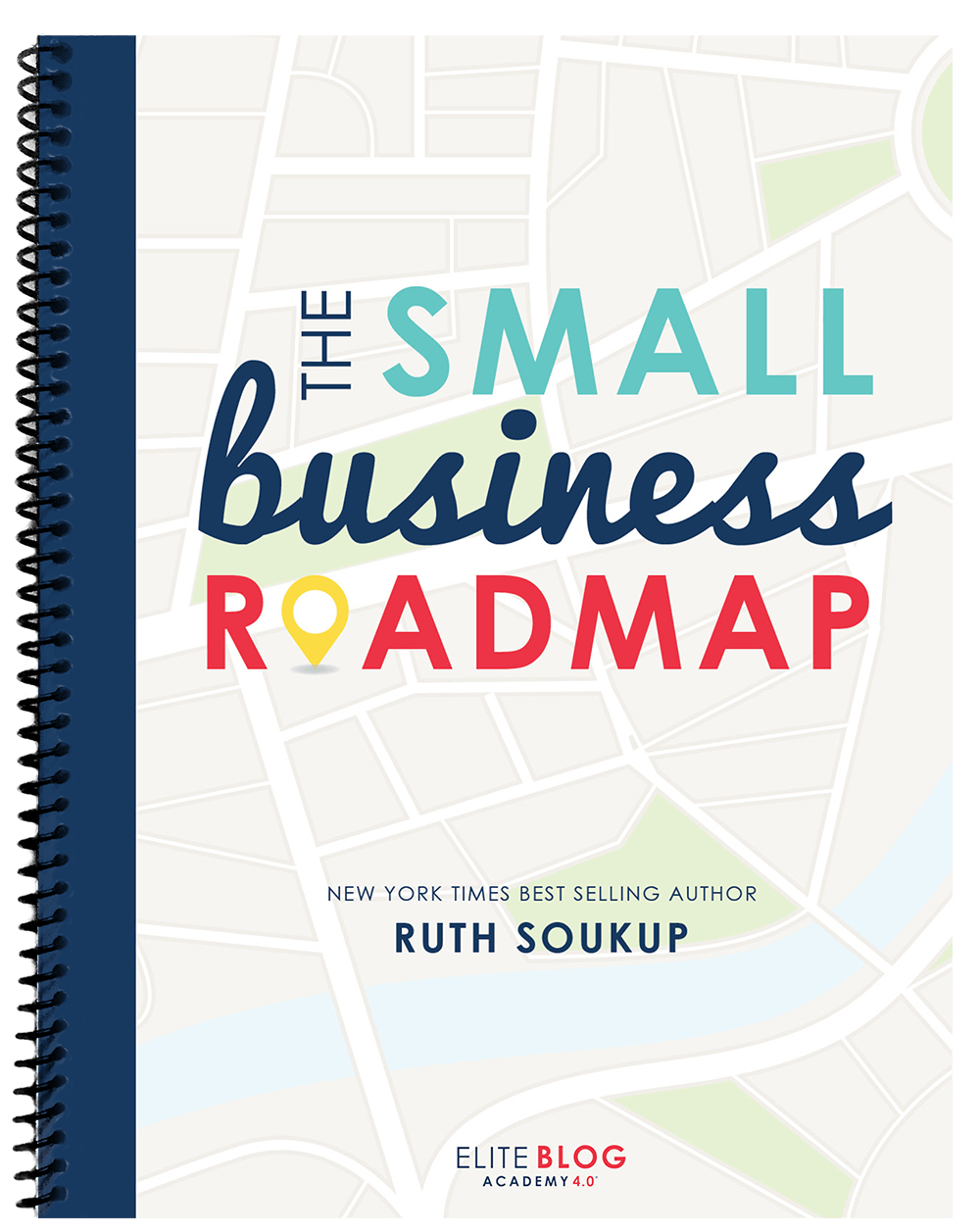 SMALL BUSINESS ROADMAP
---
Thinking about starting your own online business? Our Small Business Roadmap will show you exactly what steps you'll need to take to get started, along with typical startup costs. Best of all, it's completely free! Simply click to download.

But we designed ACTIVATE to give our awesome attendees a different kind of experience. We wanted things to be more cohesive and easy to follow (and implement!), so everything — the speakers, the breakout sessions, the activities — was built around the EBA framework: refine your message, grow your audience, monetize your platform, and build your business.
Providing that cohesive kind of experience turned out even better than we expected! The attendees couldn't stop talking about how helpful the structure was, and everyone walked out of there with an action plan, knowing exactly what they needed to do to hit their goals and take their business to the next level. It was so inspiring and awesome! (Can you tell I'm just a little excited about this?!)
Since this was our first live EBA event, I thought it would be fun (and helpful!) to share some of the key takeaways from our Activate 2017 attendees — as well as some of the (many) lessons I learned as a first-time conference host:
Top Takeaways From Attendees
ACTIVATE lit a fire under me to create my product. I'd been on the fence all summer, but the conference spurred me on to action. I began crafting my survey on the plane, posted it when I landed, and gained a solid idea within three days (and my readers surprised me with what they wanted!). I launched my product three days ago. My bare minimum goal was 50. I surpassed it on launch day. My happy goal was 100. I passed that earlier today. I still have three days left before my cart closes. What was I waiting for all summer? This is AMAZING and I've never seen so many of my readers so excited and eager (my product is a design course) nor have I seen such a happy blog bank account as a result. ACTIVATE was true to its name — it activated me and my product idea into an unstoppable force
Update: Cart is now closed, I sold over 200 courses, and earned over $12k. AMAZING. This was my baby seed launch. My blog is just one year old!
Jennifer, jennifermaker.com
My biggest takeaway from ACTIVATE was realizing how important building and nurturing my email list is.Click to Tweet When I went to ACTIVATE it was my lowest priority and now it is my highest priority. I've spent the majority of my time since coming home focusing on creating lead magnets, content upgrades and welcome sequences. I have reprioritized my time and schedule to put nurturing my list first and foremost. I get it now.
Laura, naturalhealinghope.com
My absolute biggest takeaway was that I need to put on my big girl pants, push past my fear of failure, and just DO IT!!!
Heather, fearlessfaithfulmom.com
Meeting so many normal people who are making full-time income from blogging and becoming inspired that I can do that too! Not just the huge $50,000 a month people but normal $5,000 a month. I use to think "those bloggers" were special but learned that they just focus on the important things and stick with it.
Courtney, militarytomillion.com
Meeting my avatar and truly understanding her felt needs. Everything is falling into place since that happened. Instead of a post taking two weeks to write, it takes two days. Woohoo!
Karen, wherekarengoes.com
Without a doubt, my biggest takeaway from ACTIVATE was FOCUS! When you laser focus on the big picture, the details fall into place. It's been a game changer for my productivity.
Abby, rockthis.org
I've been struggling a little with finding my purpose. During Ruth's talk the first night and again during Kim Anderson's talk, I had a wave of emotion hit me. It was really important for me to realize that blogging is meaningful and makes a difference in the world. We're sharing needed information with others and helping them improve their lives. Someone out there is waiting to read MY message! This was a HUGE epiphany for me!
Jen, ecologyrunner.com
Be laser focused on what is important for my business and push away anything and everything that is not contributing to my plan. I can't do everything and it's not necessary. If I can't draw a straight line between my actions and my goals, then it's a detour that will take me off course. I haven't lost that momentum or determination since coming home. I've done more that I know is pushing my business forward in the weeks since ACTIVATE than I did in the two months before!
Evelyne, plottinganewcourse.com
Not only can I create and manage a blog/online business but I AM already doing it!! I've come so far and I need to stop every now and then to appreciate the small successes. I get so down on myself about what I should be doing, I don't celebrate what I am doing or have already done! My heart stopped when I saw my blog up on that jumbotron during ACTIVATE – I couldn't believe Ruth was using my blog as an example of how to do it right! It was a wake up call to start believing in myself!!
Nicole, greatestworth.com
My voice is important and different! I was amazed at the variety of niches I encountered! We each have a voice that the world needs to hear. I went from losing steam with my blog and maybe working on it 5-10 hours a week to 20 – 30 hours a week now, and I love it! I hate having to sleep because it means I have to pause implementing what EBA taught me.
Maia, motherhoodathome.com
I'm 54 and having been a stay-at-home wife and mother for most of my adult life, I was excited about the conference but a tad nervous about the networking and promoting myself. But Ruth had promised that we would not have to worry about making connections. Oh my goodness, was she right! I was incredibly amazed at the entire EBA community. The generosity and wealth of knowledge flowing throughout the conference was astounding. But my heart was touched even more by the desire of every person to want to make their reader's lives better. In every session, every meal, every break, I heard people whose hearts spoke volumes of why they are in the blogging business: they want to help people solve their problems and bring them relief and purpose and joy. And they don't just do it for their readers. They do it for each other. After ACTIVATE, I am now very proud to call myself a blogger. I love this community!
Trish, Hopedwellers.com
My biggest (and most empowering) takeaway was not trying to please EVERYONE. Realizing that if someone doesn't "get it", that just means they're not my people. My avatar is who I'm striving to help, not everyone on planet Earth. It's made me much less apprehensive to create content I'm afraid won't be well received (and it'll make nasty comments or reviews considerably less painful. 😉)
Stephanie, thescenicsuitcase.com
No matter where you are in your blogging journey, it's your journey. Wherever you are you can relish your successes and take responsibility for making improvements at a pace that makes sense for YOU!
I realized that I really didn't know my avatar as well as I thought. When I settled into really figuring her out, I learned how to connect with her deeper, and also thought of two dozen post and email ideas almost right away! Narrowing the focus really DOES help. Surprise!
Christie Thomas, christiethomaswriter.com
I came to ACTIVATE totally stressed out, with zillions of things to do for my blog. When I came back home after ACTIVATE, I had a very clear vision of what I wanted to do. It was going to be hard work, that's for sure, but I had very clear priorities to focus on. Now I know what my goals are, and what I'm going to accomplish to get there. I immediately bought my ticket to ACTIVATE 2018 🙂
Alicia, borntofreelance.com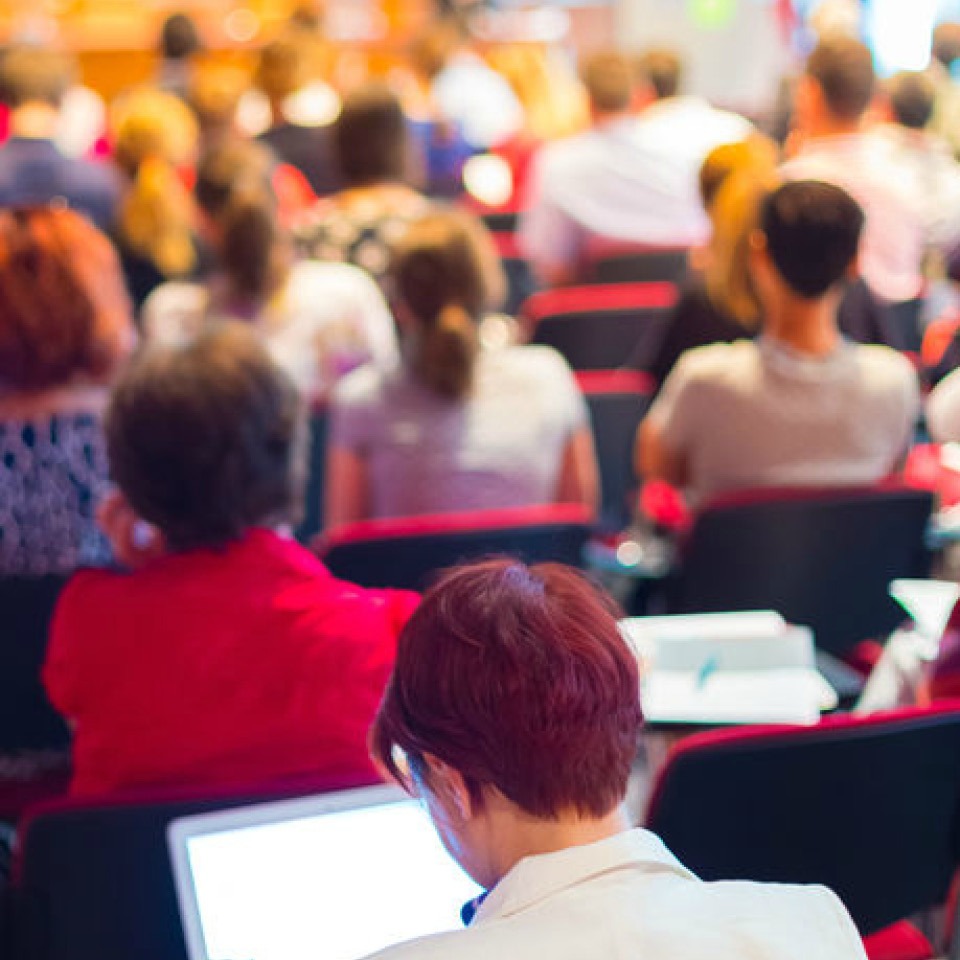 Ruth's Top 3 Takeaways As a First-Time Conference Host
The whole purpose of Activate 2017 was to help the attendees learn and grow. But as a first-time conference host, I ended up learning and growing right along with them!
As a conference-throwing newbie, there was no way I could've known exactly what to expect from the process, but there was so much I ended up taking away from the experience that will be a huge help as we move forward with future events.
Here are my top three takeaways from hosting Activate 2017:
It's All About the Community
I've always known that community is important, whether we're talking about building a community online or in the real world.
But I didn't realize just how important until this event.
I was absolutely floored with the community we brought together to make ACTIVATE 2017 happen. Everyone that helped this event come — from the speakers to the sponsors to the VIPs brought this incredible energy that resonated throughout the entire conference and elevated it to an entirely new level.
We really fostered a community of givers — people who were there to share what they know and who they are to lift the community up — and that made a huge difference. Everyone was so generous — generous with their time, generous with their knowledge, generous with themselves. There were no cliques, no hierarchy, no "I'm further along on my blogging journey than you," which is exactly the environment I wanted to create.
As one attendee put it, it was like "a giant blogger love bubble".
It was so inspiring!
I learned that, when you're putting on an event, the community you bring together — and the energy that community creates — is the most important thing. And I couldn't be more grateful for the community we brought — they're what made Activate 2017 so special!
Never, Ever Trust the Internet Connection at a Blogging Event
At one point in the event, we needed to stream a video on stage for all the attendees. We got up on stage, cued up the video, pressed play, and…
Nothing. The video wouldn't load because the wifi wasn't strong enough for streaming.
Now, that was the only big tech glitch during the entire event, so things totally could've been worse, but that video was an important part of the presentation and I really wanted to share it with the attendees.
So lesson learned: never trust the internet connection at a blogging event. Next time around, I'll make sure everything I need — from my presentations to my videos — is ready to roll, no internet connection required.
But Always Trust Your Team
I've never had a doubt that my team is A+ amazing. But to say they went above and beyond during this event would be an understatement.
They knocked it out of the park.
The entire event, I was able to focus on giving my presentations and chatting with — I wasn't stressed about making sure things were running smoothly or getting people to where they needed to be or fixing any tech issues. My team completely, 100% took care of all the logistics so I could give the attendees the attention they deserved.
I could have been totally stressed throughout the event, but I wasn't, because I completely trusted my team to get things done. The fact that my team had my back and took care of all the logistics so I could focus on the attendees was crucial in making the event a success (and making sure I didn't pull my hair out!).
ACTIVATE 2017 wasn't an overnight success story; there was a lot of learning, late nights, and growth experiences on our side. But it was totally worth it. ACTIVATE 2017 was one of the best weekends of my entire career, and I was SO thrilled to be able to share it with so many awesome EBA students.
And next year, I'd love for you to join us!
Through December 15th, you can take advantage of Early Bird Pricing for our 2018 event, which you can register for here. If you want to attend ACTIVATE 2018 and take your blog to a whole new level, I suggest you jump on it, because tickets are going FAST!
Can't wait to see you in 2018!