When & How to Hire Your First Web Designer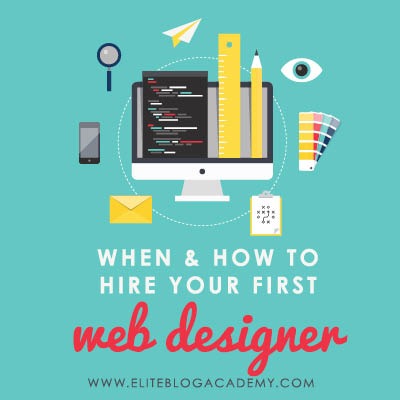 Want to upgrade your blog's look but don't know where to start? Check out these 11 things to look for when hiring your first website designer!
Have you ever heard the phrases "fake it 'til you make it," or "dress for success"?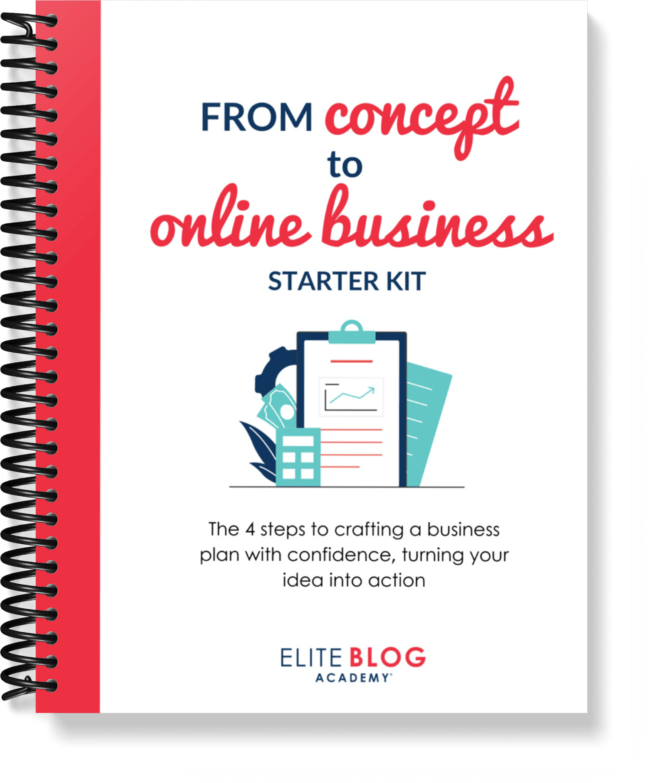 Confused about where to start?
Our brand new From Concept to Online Business Starter Kit will show you exactly what steps to take to get your online business up and running—as well as earning real money—as fast as possible.
It's the idea that if you want to achieve something, or attain a certain level of expertise, there is a point along the way where you may have to be willing to confidently look the part, even if you you don't feel like you have actually made it there just yet.
And so too it is with our online business or blog! At a certain point, if we want to get to the next level, we need to LOOK like we want to get to the next level.
At a certain point, if we want to get to the next level, we need to LOOK like we want to get to the next level. Click to Tweet
And that often means hiring a website designer.
When I first started blogging, I had no idea what I was doing, or really that blogging was even really a thing. I started on Blogger, with a blogspot.com URL that was way too long for anyone to actually remember. I set up my blog in a few hours, using a standard design template provided by the platform, and…. let's just say my website wasn't exactly a sight for sore eyes.
Honestly? It was pretty ugly.
But a few months in, as I started to dive deeper into the blogosphere — and see what the successful blogs looked like — the design of my blog started to feel more and more like a problem. That's why I was so happy when, through a blogger connection, I met a woman who specialized in redesigning BlogSpot websites. And for some unknown reason, she offered to do mine for free!
I was so excited! She came back with an initial design I really liked and even started installing it. It was bright and cheery and fun, and I couldn't WAIT to have it finished!
And then… she disappeared. Never to be seen or heard from again (at least not by me!)
She hadn't given me any of the design files, so there was nothing I could do. Needless to say, my first experience in working with a website designer was not a positive one. I guess what they say is true – you get what you pay for!
Not long after that, I realized that I needed to move my site to a self-hosted blog on WordPress. Determined not to fall into the "ugly website" trap again, I decided to hire a designer to build my site from the ground up.
This time around, I wanted to be more strategic and hire a designer I knew I could count on. So I started poking around WordPress at blogs I like, and I discovered that a lot of the blogs I liked all had the same designer: Heather Moritz of Moritz Fine Designs.
I figured if Heather was designing sites I loved, she could probably do the same for me. So I decided to reach out.
And I was right. Heather did an amazing job in designing my first WordPress blog, and LWSL has gone through many, many design changes since that time to finally get to where it is today. The reality is that your blog will probably go through many changes too, and that's okay.

And I am also very happy to say that not only do Heather and I still work together (not just on web design projects), she has become one of my dearest friends.I lucked out in finding Heather, but even though it's been years, I still remember how overwhelming it was to find and hire her. If you've never hired a website designer before, it can be hard to even figure out where you should start.
When & How to Hire Your First Web Designer
Yourself
The first question we need to ask ourselves is, "Am I ready to hire a designer?"
While hiring a website designer is important, it's in no way the first thing we should worry about when building our blogs. It's not a worthwhile investment to spend money getting our blog designed before we know what it's about, what we're writing, or who we're writing to.
The best time to hire a designer is after we've spent some time really figuring out who our audience is, discovering how to connect with them, and writing content. Once we've nailed down the content piece — and are blogging on a regular basis — THEN it's time to start thinking about design. Design is the package that sells your content to your audience. Without content, there's nothing for design to sell.
First comes content, then comes design.
The Key to Finding a Great Designer: Research
Once we've determined that we're ready to roll with a designer, there's one step we absolutely, positively cannot miss: and that's research.
If we don't do our due diligence and research the design process, the market, and individual designers, we can find ourselves dealing with all sorts of debacles.
The designer could fall off the face of the earth (which happened to me!).
We could end up paying a lot more than expected — and a lot more than our budget allows.
We could get someone who can talk the talk when it comes to design, but can't walk the walk and deliver what we need when we need it.
We could end up with a website that looks worse than before we hired the designer.
I could go on for days, but the point is, it's SUPER important to do your research. When we arm ourselves with knowledge, we can protect ourselves from having to deal with design disasters down the line.
11 Questions to Ask When Hiring Your First Website Designer
Okay, now let's get to the good stuff. What are some questions you need to ask when hiring your first web designer?
#1: What's my budget?
First things first. Before you hire a website designer, you need to be crystal clear on your budget.
How much you can spend will determine who you hire and how custom your design process will be. If you have a small budget and can't afford custom design, there are plenty of amazing pre-designed blog themes you can use; it won't be 100% custom, but you can customize it enough to make it feel unique and original without spending an arm and a leg. Or, for a bit more of an investment, you can hire a designer to make some minor tweaks to the theme to make it feel more "you".
If you have a bigger budget, you can explore more custom design options or have a designer build your site from the ground up.
#2: What design elements am I looking for?
Before you talk to a designer, it's important you know what kind of design you're looking for.
Ask yourself: What fonts do I like? What are some color palettes I think could work? What design elements do I want to incorporate in my website?
You should also grab examples of different websites, themes, and designs you like. The more you can show the designer, the better they'll be able to deliver a design that's in line with what you want. And the better their idea of the elements you'll need on your website, the more accurately they'll be able to quote the project (which means no expensive surprises!).
#3: Do I like this designer's style?
Someone can be a great designer, but that doesn't mean they'll be a great designer for you.
You want to work with someone who has a similar design aesthetic to what you picture for your website. Click to Tweet Just about every designer has an online portfolio. Before you make any decisions, you should review each potential designer's portfolio to get a feel for their overall style and see if it matches with yours.
You can also do what I did to find Heather and reverse-engineer the process: look at blogs, find the ones whose design matches what you're looking for, and then find and reach out to the designer.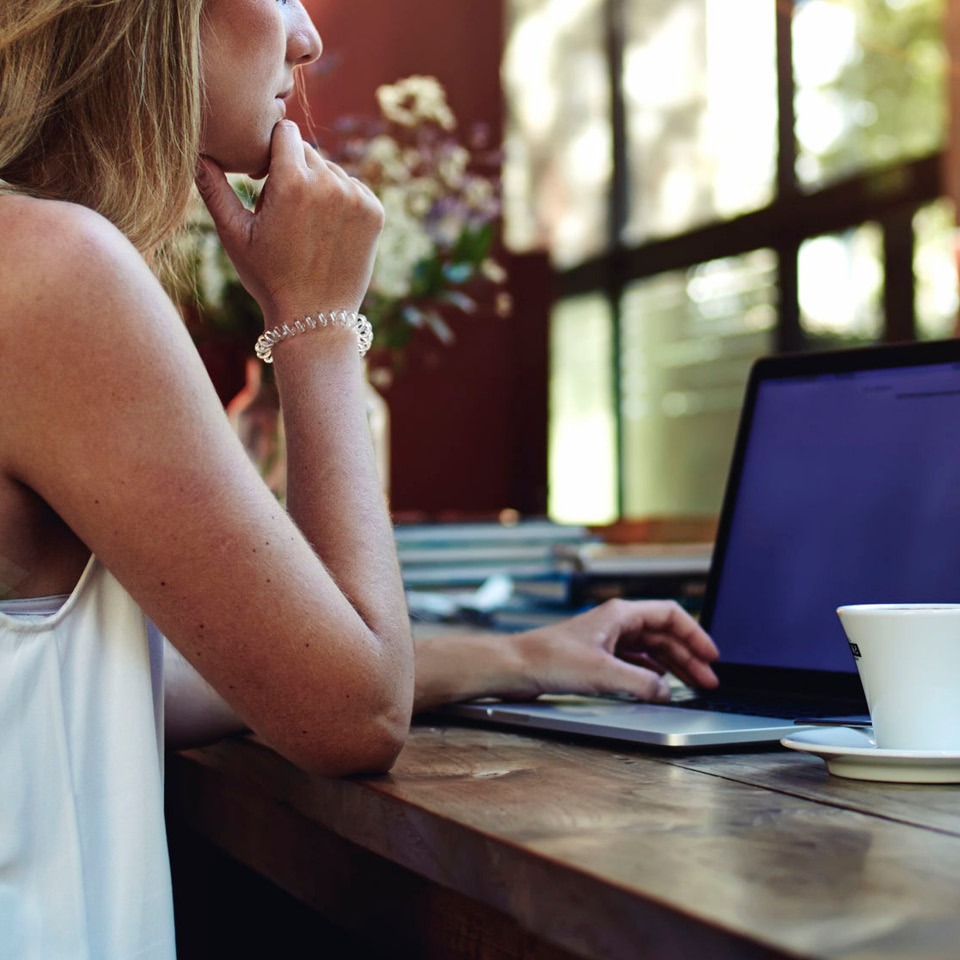 #4: What is this designer's process and timeline?
Once you have some potential designers in the pipelines, it's time to start asking them questions, starting off with their processes.
When you're hiring a designer, you want to make sure you're not only hiring someone who can design you a great website, but who can also manage the process in a professional way.
What system do they use to create a design brief? Do you fill out a worksheet to let them know what you're looking for? When can you expect the deliverables for the project?
Just because someone is a good designer doesn't mean they're a good businessperson. But if you want a positive experience, you need to find a designer who's both design-savvy AND professional.
#5: How long has this designer been in business?
If you're investing in getting your website designed, you want to work with someone who has experience. Ask your designer how long they've been designing websites and what types of websites they have experience designing. Ask to see examples of their work and review their portfolio.
It's also a good idea to ask for past client references. That way, you can hear first-hand what it's like to work with them and whether their past clients were happy with their end results.
#6: Who will I be working with during this design project?
Some designers work solo, but others have a team of more junior designers working below them. Also, some designers have project managers or admins who will be your main point of contact throughout the design process.
It's important to ask up front who you'll be working with. If your designer passes the project on to a more junior-level person or let someone on their team handle the communication, you might not be happy with the results. So it's important to iron out the details of the work relationship before you get started.
#7: How does this designer prefer to communicate?
Everyone has a different communication method, so you'll want to ask your designer what they prefer before they get started. Do they work through calls? Emails? Basecamp? Are they flexible with their communication?
#8: Do I have access to the design files after the project?
This one is super important. You want to make sure that once the design is finished, you have access to all the design files, like your logo and the graphic elements on the website. Some designers retain ownership of your files and ask you to pay extra, so you'll want to get that information up front.
#9: How many rounds of revisions are included in the price?
Most designers won't deliver the design of your dreams on the first try (if they do, never let them go!). So it's important to determine what happens if you don't like a design. How many rounds of revisions are included?
#10: What's the process for installing the new design onto my website?
It's also important to figure out what happens when the time comes for the designer to install your design. Will your site need to be down? If so, how long?
Also, you'll want to make sure your designer doesn't try to switch you over to their host — and collect a monthly payment in the process.
#11: What happens after we finish the design?
Even if you're happy with your design, chances are you'll need some design support down the line. Ask your designer if any site updates are included (like a six-month checkup) and how accessible they'll be after the site design is finished.
Some designers are happy to continue working with you and making small adjustments, while other designers are completely hands-off once they hand over the final design. You just want to make sure you understand how involved your designer will be after the design process wraps up — and how much you'll have to pay for that involvement.
Hiring your first website designer can be totally overwhelming. But when you know the right questions to ask, you can (and will!) find the right designer to bring your dream website to life.