Does Your Blog Need a Budget?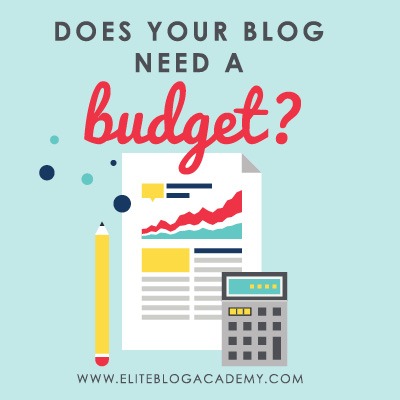 Do you need a blog budget? Here at Elite Blog Academy, we are focused on helping bloggers eliminate overwhelm and create successful, profitable, and sustainable online businesses.
And I truly believe that there's no better time than now to be in the business of blogging.
We live in the land of opportunity. People start their own businesses every day – and that's amazing! But the sad truth is that most of those businesses fail. In fact, half of all businesses fail within their first five years. And within 10 years, 75% of businesses will have shut their doors. Not exactly promising statistics!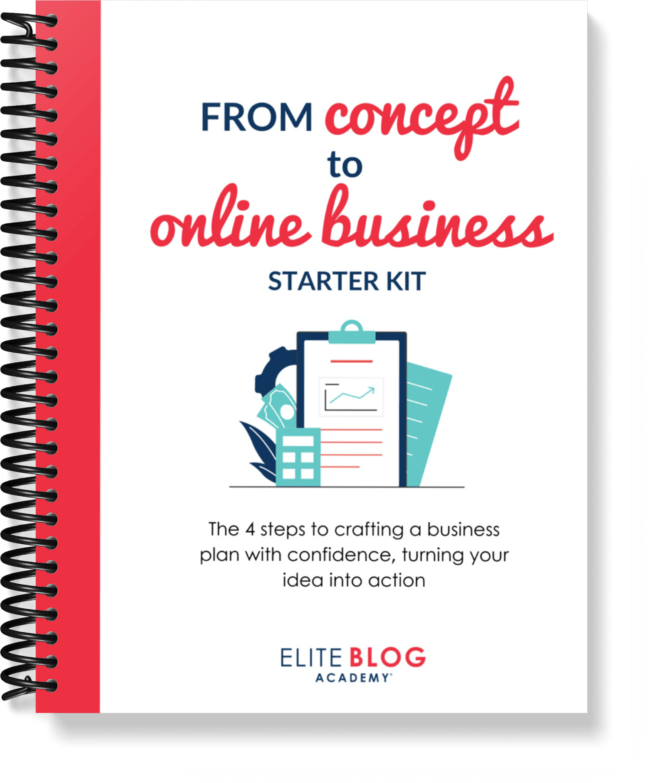 Confused about where to start?
Our brand new From Concept to Online Business Starter Kit will show you exactly what steps to take to get your online business up and running—as well as earning real money—as fast as possible.
But those statistics don't apply to bloggers. Blogging turns the traditional business model on its head, and we have the unique opportunity to succeed in much greater numbers — and at much higher levels — than people trying to get a traditional business off the ground.
There are two reasons that most small businesses fail. Number one is a lack of cash flow, and number two is a lack of need within the market.
So let's take a look at those reasons from the lens of a traditional business model and from a blogging perspective.
Let's say you were opening a restaurant. You would have to go out and rent a location, pour a ton of time and money into fixing the place up and getting it furnished, and invest in all the inventory you need to start serving customers — like food, wine, and soda.
Once you open your doors, you have to scramble to get customers in the door and eating your food. Only then can you figure out who those customers are, what they like, and how to sell to them.
Uhm, I don't know about you, but that sounds exhausting. Not to mention terrifying!
With a traditional business model, you have to put all of your time, energy, and money into the business from day one. You're taking on all the risk without knowing if that business is viable and if it'll be a success. It's a huge gamble — and one that doesn't pay off for most business owners.
But the good news for us is that blogging is the complete opposite. There's limited risk involved up front. We start by figuring out who our audience is. We refine our message and figure out the best way to communicate and connect with them. Then we start growing our traffic and finding people who are interested in what we have to say. We take their feedback, make tweaks and adjustments, and continue to refine our message until we've built a solid and trusting relationship with our audience. It's only at that point that we start investing, creating products, and monetizing our audience — and by then, it's easy, because we know exactly what our audience is asking for. We know them like the back of our own hand.
See the difference?
Now, it's not like blogging is "easy". It's definitely labor intensive to get a blog off the ground. But it's not capital intensive. With the blogging business model, we get to avoid those two major issues that tank most businesses: we don't need a lot of cash flow to get started and we don't have to worry about launching a product or service people don't need, since we're taking the time to get to know our audience before we create the product or service.
Like I said, there's no better time to be a blogger.
So you don't need a ton of capital to get started with blogging. But do you need a blog budget?
My answer to that question is yes.
With this topsy-turvy blogging business model, even though we're doing things backwards (time investment first, cash investment later), we still need to invest enough time — and cash — into our blogs to make them something our audiences will be excited to read.
Let's take a look at how we can best budget our time and energy in each phase of our blogging businesses.
Phase One: Brand New Blog
When we're just getting started on our blogs, what we really need to budget is how we spend our time and energy. In this phase, the focus needs to be on creating amazing content. We need to figure out who we're talking to and what it is they want to hear.
That doesn't mean we can't play around with other things. We can test the waters on social media or start building our email list. But all of those things are secondary to refining our message and figuring out how to best connect with our audience. There's no better or more important place for us to spend our time and energy.
There's also some cash budget needed to get things off the ground. We'll need to invest in start-up costs like hosting and purchasing a domain. We might want to invest in design work or tech support as we're getting the site up and running. We should definitely also invest in a class (like EBA!) to learn everything we can about how to get the most out of our blogging businesses. We can expect to spend anywhere between $500 and $2,000 during Phase One of our blogs.
In this phase, we should expect our earnings to hover somewhere around the zero-dollar mark. And that's totally okay! This phase isn't about making money. It's about budgeting our time, energy, and cash wisely so we can set ourselves up for success down the line.
Phase Two: Growing Our Audience
Once we've spent some time refining our message, building the relationship with our audience, and figuring out exactly what kind of content they're looking for, it's time to start growing that audience.
During this phase, our time and energy should be spent growing our social media channels, figuring out new ways to reach our target audience, and growing our email list. That's not to say we shouldn't still be creating amazing content and refining our message (that happens in every phase!); it just means we need to devote more of our resources towards getting that content and message out to more people.
When it comes to cash, during this phase we might want to invest in things like Facebook ads to grow our social media channels or an email tool that makes managing our email list easier.
Phase Three: Getting Ready to Monetize
After a few months of building our audiences — and building our relationship with them — it's time to start spending our time, energy, and money on figuring out how to monetize that audience.
Doing that takes a lot of guesswork. Think of it as the "throw spaghetti at the wall and see what sticks" approach. We need to figure out, in terms of products and services, what works for our audience (what sticks) and what doesn't work for them (what doesn't stick).
Now, I won't sugarcoat it — this is an exhausting phase! So much of our time, energy, and money is spent on figuring out the puzzle of "what does my audience want to buy?" At the same time, that doesn't mean we get to stop refining our message or building our relationship with our audience. It's a lot.
But it's time, energy, and money well spent. Because once we figure out "what sticks" with our audience, we have the information we need to enter the next (and most lucrative) phase.
Phase Four: Building Our Business
Once we know exactly what types of products or services our audience wants to buy, we can start building our businesses and monetizing our blogs (yay!). This is the stage in which we start making money — and all the time, energy, and cash you spent getting here becomes so, so worth it.
As we're building our businesses, it's important to pay attention to not only what's working and not working for our blogs, but also to what's working and not working for ourselves. At this point, we might want to invest in hiring a team to take over some of our responsibilities or budget our time differently so we have more energy throughout the day.
Once we're in the "building our business" phase, the sky's the limit. But we need to make sure we're still doing all the things that got us here — refining our message, connecting with our audience, building our readership, understanding what kinds of products or services they need and want, and then creating those products or services.
Other Blog Budgeting Factors to Consider
Now, there are a few other factors to consider when it comes to our blog's financials.
First, we need to track all of our expenses, no matter how small. As bloggers, we're business owners, and we need to keep a record of all our expenses so that, come tax season, we have a record of everything we've spent on our business.
An easy way to separate our business and personal expenses is to set up an LLC or sole proprietorship (if you're not sure which one is right for you, talk to an accountant) and get a separate account for all of our business expenses.
Now, we might have to put some money into that business account before we make any money to get things off the ground, but again — that's totally okay! All businesses need cash to get started. But luckily for us, the cash investment needed to start a blogging business is a tiny fraction of what we would need to start a traditional business (bloggers for the win!).
I would also recommend using accounting software like QuickBooks. Using accounting software makes keeping track of all our financials super easy (and will make it a breeze once we start selling products and bringing cash in).
The goal of creating these financial budgets and systems is to automate the process as much as possible. That way, we don't need to spend our time and energy worrying about our budgets — we can spend it building our businesses.
If we want to have successful blogging businesses, we need to create budgets: budgets for our time, for our energy, and for our money. But when we budget those resources the right way, we set ourselves up for success — and we'll have more time, energy, and money to go around.
Ever wish you had a roadmap to blogging success? Our Secret Blueprint shows you the exact steps you need to take to grow your blog FAST and monetize successfully. Unlock the secret for free, but only for a limited time! GET IT HERE