EMBRACE THE ONLINE SPACE: 3 Very Good Reasons to Take Your Brick & Mortar Business Online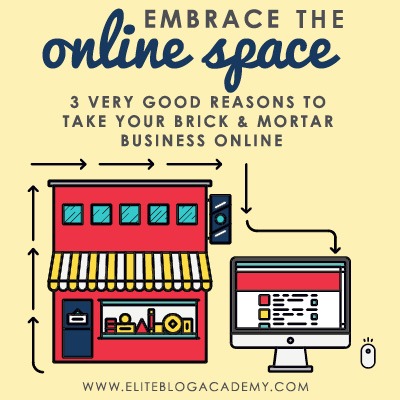 If you're a business owner, regardless of what type of business you own, there's a good chance you'd like more customers. After all, more customers (usually) means more money, and what business owner doesn't want that?
Of course, good customers can be hard to find, especially when your business is limited to the number of people walking through your door.
But what if there was a way to expand your customer base far beyond just the people in your own town or city? What if there was a way to get customers looking for YOU, instead of the other way around? What if you could double or triple your business without increasing your overhead?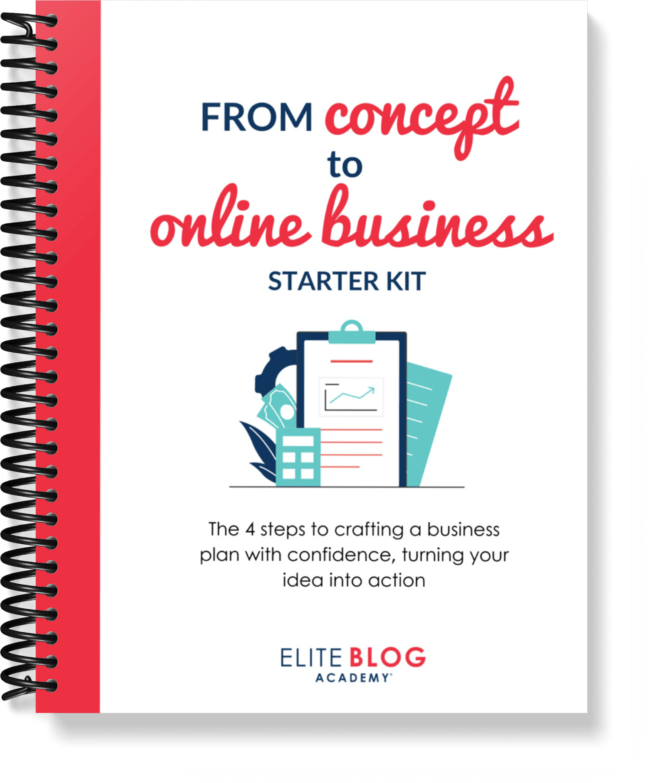 Confused about where to start?
Our brand new From Concept to Online Business Starter Kit will show you exactly what steps to take to get your online business up and running—as well as earning real money—as fast as possible.
In the past several years you've likely heard the terms "blogging" and "content marketing" and maybe you are unsure of what they mean or maybe you are absolutely sure that they don't apply to your business…but what if you are wrong? What if the key to driving sales is a simple as creating a blog?
(Ready for that next step? Here is a helpful tutorial on setting up a blog in WordPress!)
The thing is, blogging is a powerful tool for marketing no matter what you sell now or in the future. It's the vehicle you use to grow your audience and establish a loyal tribe of raving fans, knowing that when you build a customer base of people who know and like and trust you, then selling to them is the easy part.
And while an online business is the obvious choice to wield this power, the truth is that established businesses, even brick and mortar businesses, can also tap into the power of blogging.
If you are currently a brick and mortar business owner and not online, then we recommend expanding your business to blogging and even eCommerce for a few reasons:
Going online will help you build better relationships
50% of small businesses will fail within the first 5 years. That is a pretty startling statistic right?
According to the data, one of the biggest reasons that businesses fail is that they don't vet their business ideas enough, leading them to sell something that no one actually wants, and ultimately that means a lack of sales. So the short story is 82% of small businesses fail because of cash flow problems.
But you know what? There is a MUCH better way.
Research shows that establishing a relationship with your core customers significantly increases success rates.
Hear us out. When you first take the time to build a relationship with your audience, you, as the business owner, are demonstrating that you have an understanding of what your audience is interested in, what they struggle with, and provide them with solutions they are seeking.
In turn, your audience grows to trust you and is already familiar with the significant value of the content you have to offer, so that when it comes time to make a purchase, it's a no-brainer for your customers.
But, how do you even take time to build a relationship when you are busy running your business day in and day out? That's where content marketing comes into play. Taking the time to create a website, engage on social media, and publish posts relevant to what you are selling will absolutely help gain you loyal customers.
For example, let's say you own a pet store, but sales are lacking and no one cares that you sell pet food that's cheaper than the big box stores. So to drive sales and get a few more people in your door, you create an Instagram and start posting photos of all the cute pets you have for sale, and then you start posting clever captions about pet care, and the proper ways to handle a snake or crate train a dog.
Those helpful tidbits will start attracting Instagram followers and most certainly pique the interest of potential customers, which leads us into reason number 2…
Establishing yourself online will expand your reach
By taking your business online, you'll be able to reach more people and share your message, purpose, and products with those who need your products but aren't in your geographical location.
For example, Bridget and Ryan Liggett are brick and mortar store owners, selling tack, saddles and western fashion, and they are SO enthusiastic about their small business. The only downside of being a small business in a small town is the lack of foot traffic, something they've been battling with almost since the beginning.
So, in order to keep their doors open, they had to travel to trade shows across the country to showcase their products, taking a lot of time (and money!) away from their family.
Fed up with the travel time and the lack of sales, Bridget decided to look into online retail. Every business conference she went to all told her the same thing – she really needed a blog to get her business out there.
But there was one problem: she didn't know a thing about blogging and never really considered herself a writer. But she knew that in order to reach her goals, she needed to tackle "this blogging thing."
They credit their success to EBA, which taught them to use their blog to broaden their reach and let more people know about their store and about their family. People are now driving to visit their store BECAUSE of their blog – one new customer drove as far as 12 hours!
Blogging single-handedly saved this family and their small business from closing its doors and transformed their storefront into a well-trafficked location both in person and online.
Going online will help you establish a new & expanded market
Because you are able to expand your reach, your market also has the opportunity to grow. Taking your business online can remove the geographical restrictions because by building a relationship with your market online, you now have a completely new AND bigger market that knows you, trusts you, and is ready for what you have to offer for them, whether it be actual physical products or your expertise!
Kristen Millican and her husband are the owners of Millican Pecan, a family business that was established in 1888. During their time together in college, Kristen and her husband dreamed of making the leap and taking their business online, but they struggled with feeling like they were doing a great job, but not having any real systems to back those feelings up.
But that is where Elite Blog Academy® stepped in. Founder Ruth Soukup and EBA gave Kristen and her husband actual steps to follow that made them feel more confident in where they were utilizing their efforts. Kristen loves knowing she has someone who will come along and challenge how she has always done things in order to learn how to do things right.
They are now able to share their rich family tradition, (and delicious pecans) with a much larger market!
They say: "Today, through combining the rich tradition our family established, and creative ingenuity, our company is breaking new ground and pursuing new markets. While our product lines are expanding, our vision for the future is rooted in our heritage from the past."
The value of content marketing in this age cannot be ignored, both of these examples prove that. In both instances, they went from feeling confusion and overwhelm to being confident business owners actively expanding their businesses. That is something we love to see!
Putting it All Together
The Liggetts and Kristen are enrolled in our course, Elite Blog Academy. Our course teaches a business model that completely turns the traditional business model upside down. In fact, that is what we call it – The Upside Down Business Model.
To understand what makes our framework so powerful, you have to first understand how the traditional model for starting a business has always worked. In a traditional business model, you create a product or open a business, and then you work really, really hard to try to find customers.
It usually means taking big risks, making big investments and taking out big loans, and hoping that those risks will pay off, and that you will eventually be able to get your feet on solid ground.
But, as the statistics tell us, 20% of all small businesses fail in their first year, 50% of all small businesses will fail by year five, and only 33% of small businesses will make it to year 10 – which is pretty terrifying right?
That is the exact framework we teach here at Elite Blog Academy. Our course starts by helping you develop a relationship with your readers. And while this does take an investment of time, it doesn't take a lot of cash. In fact, it's almost risk free. Because if your message isn't resonating, you can refine it until it does.
And then, once you've got that down, we'll show you how to expand your reach and your audience. And once again, the risk here is minimal. It takes time, but not a ton of cash.
It is only then that you'll begin monetizing, but by this point it's easy! You understand your market, and you don't have to go out looking for customers because you already have them.
While the Liggetts and the Millicans' already had established businesses prior to joining EBA – they were each able to apply this Upside-Down model to their businesses, which directly contributed to hitting their goals and ultimately more sales.
Do you have a brick and mortar business you are thinking about bringing into the online space? There is no better time to do that, and EBA can help! If you are thinking about venturing into the online world, we can help to get you there with our proven, step-by-step framework. Join our waiting list today and get our Small Business Roadmap for free! JOIN HERE.