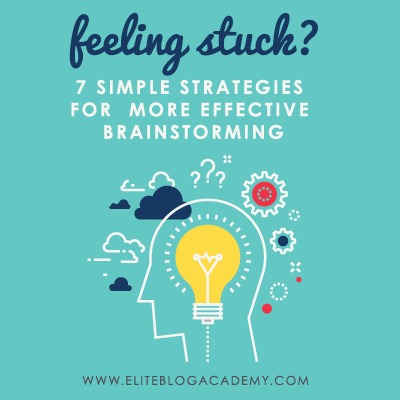 Have you ever sat down to write a blog post, but felt STUCK? How do you come up with new ideas? Here are 7 tips to help you get the most out of your brainstorming sessions!

Have you ever sat down to write a blog post, but felt STUCK? Writer's block is no joke! Or have you ever sat down to create a new post, only to "squirrel?" You start checking Facebook and endlessly scrolling through Instagram. Or, all of a sudden, you notice how disorganized your desk is, and the next thing you know, you've cleaned and reorganized your entire office. All the while, your unwritten blog post is sitting there, with the single blinking line, waiting for you to make your first keystroke (not like we're speaking from experience or anything…:cough: :cough:).
EBA student Melinda B. shares, "I'm really slacking with writing new content, and every time I write something, I hate it. Is this a form of writer's block? It's frustrating. Writing is my favorite thing, but I just can't get into it!"
Jennifer G. says, "I'm stalling out. The idea of writing makes me want to take a nap!"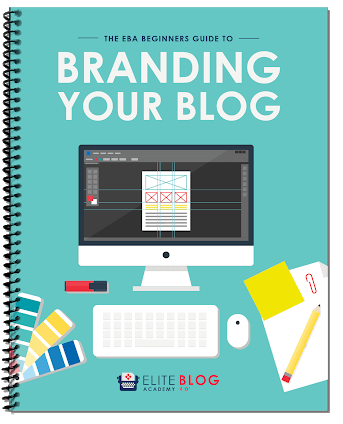 Brand Your Blog
---
Good branding and blog design are critical to a blogger's success. Find out how to brand and design your blog so that you tell your audience exactly WHO you are as an entrepreneur and a company! It's a game changer, and right it's absolutely free!

The struggle is real! Writing new content can be one of the most frustrating parts of building your online business.
But, what about brainstorming? How do you even come up with ideas when you're feeling stuck and uninspired?
Brainstorming is a key part of writing. But even though it's an important part of the process, it can also be a huge distraction that keeps us from actually writing.
Separating brainstorming from writing is key, because, when we sit down to write, we'll have a working list of ideas to write from and we won't have to come up with topics or inspiration on the fly..
All we have to do is write.
Here are seven tips to help you get the most out of your brainstorming sessions!
Start an Inspiration Binder (or Binders)
We're huge fans of magazines. The thing we love most about these magazines is they remind us that our audience is more than willing to read about the same topics again and again, albeit with a slightly different spin each time. You don't have to reinvent the wheel every time you write a new post!
Tearing out anything interesting, whether it bean article, a picture, a recipe—and collecting it in a binder is a huge help anytime we're in need of new post ideas. There are magazines in every imaginable niche that can help you do the same thing for your blog.
Read the News
There is nothing that gets the brain pumping faster than finding out the latest in world and national news. Even if your blog doesn't focus on current events or politics, you can use those current topics and issues to come up with new post ideas that would be a good fit for your niche.
It's a good way to stay relevant while still creating evergreen content. Be sure, as you read, to also have a notebook handy to jot down any notes and ideas!
Conduct an Interview
What better way to learn something new about your topic than talking to an expert? Don't think you need to publish an article in its entirety—you might just come away with several different ideas, each of which could use a quote from your expert as part of your useful logic and illustrations.
Try a Mind Map
For visual thinkers, mind mapping can be incredibly helpful. A mind map is more or less just a diagram that connects information around a central subject. To start, simply write down a key word or topic that you want to write about in the center of the page. (Or, for those of you who are VERY visual, draw or print a picture representing a topic or subject you might want to write about.)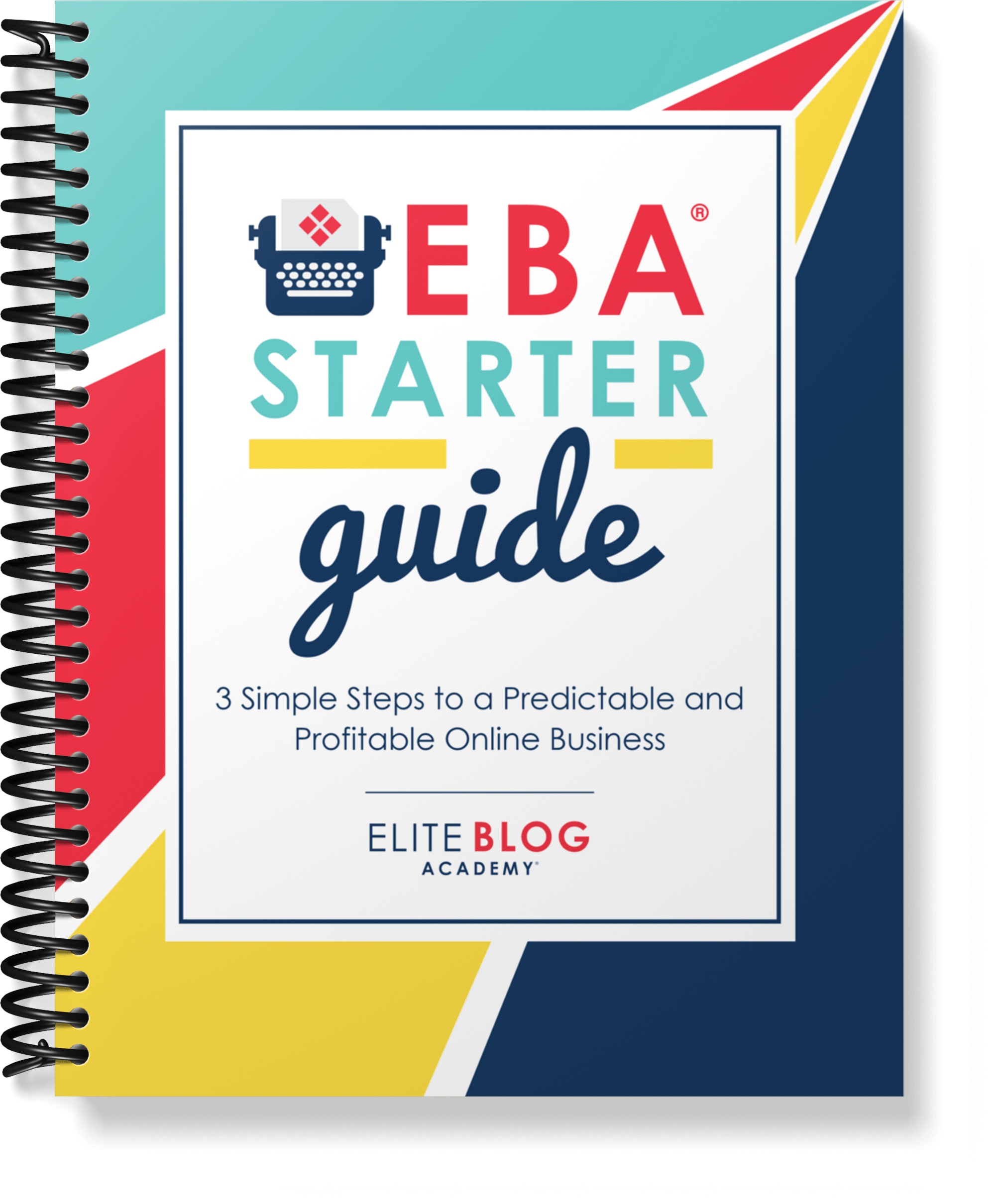 Ready to start making money online?
---
Eliminate the start-up overwhelm now. Our EBA Starter Guide provides a clear, proven path to success you can implement right now to get your online business up and running quickly with confidence. Grab it free, but only for a limited time!

Next, connect branches to your main image or word—perhaps words that spur more ideas, such as "What," "Why," "How," etc., or simply words that fit with your category, such as your sub-categories. Use colored pencils or markers to fill in your words, as the colors will help spur your creativity even more. Keep connecting associated words until you have fully fleshed out your ideas.
Struggling to come up with new content for your blog? We know how tough brainstorming can be! That's why we came up with 120 awesome blog post ideas that will help you beat writer's block and bring killer content that builds your business every time! GET IT HERE.
Go for a Walk or a Run
Sometimes the best thinking happens while running or walking, especially first thing in the morning! There is something about getting the blood pumping, as well as the solitude and focus that just gets new ideas flowing. Just be sure to download a recording app on your phone so that you don't forget before you make it home!
Browse Your Facebook Newsfeed
Who doesn't love a legitimate reason to get lost on Facebook? Like reading the news and getting caught up on current events, perusing your Facebook feed can give you an idea of what your friends and family are talking about, as well as what sort of articles are getting viral attention right now. Once again, be sure to set a timer and have a notepad handy to actually DO some brainstorming (and not just get lost)!
Explore Google Trends and Twitter Trending Hashtags
Sometimes the best way to tap into your creativity is to check into what the world is talking about. With Google Trends, you can view any trends or spikes in what people are searching for on Google. You can even go back and look at previous years' data to look for patterns and trends for the current time of year.
Checking out trending hashtags on Twitter might also provide that spark of inspiration you need to get those creative juices flowing. Seeing what people are talking about RIGHT NOW may help you find just what you need to provide valuable content to your audience. Jot down any ideas in a notebook that you may need to use later!
Pro Tip: Viewing the Twitter Trending Hashtags can also help you when it comes to your social media sharing strategy–just remember to only use trending hashtags when it's helpful and relevant to your readers! No one likes a spammer.
When all else fails, sometimes you may just need to step away from the computer completely and take a break! The truth is, sometimes we simply stress ourselves out by trying too hard. If you find that the ideas aren't flowing, don't get anxious about it—simply take a break and do something that will relax you. Perhaps take a bath or do some light yoga or meditation, or read a book. You might just find that taking your mind OFF your blog for a little while helps you focus better when you return to it!
If you're feeling stumped, these strategies should help you brainstorm more effectively so that writing time will be a breeze!
Do you have any go-to strategies or techniques that help spark your creativity? We'd love to hear them! Leave your favorite methods in the comments below.
Struggling to come up with new content for your blog? We know how tough it can be! That's why we came up with 120 awesome blog post ideas that will help you beat writer's block and bring killer content that builds your business every time! Judine says, "This is one of the best tools I've gotten from EBA!" Best of all, it's free, but only for a limited time! GET IT HERE.