Is It Too Late To Start Blogging?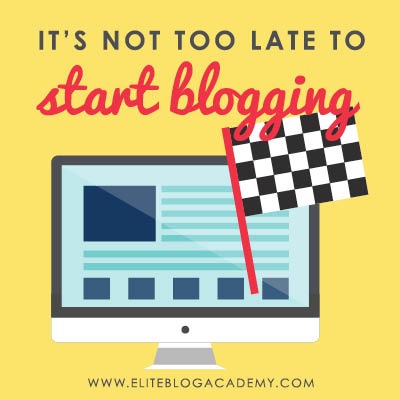 Is it too late to start blogging? The truth is, there's never been a better time to be a blogger than right now. Here are 3 reasons why you shouldn't put off starting a blog for one more minute!
"Blogging is dead."
"The new [Facebook/Pinterest/Google/etc.] algorithm is killing the blogging industry."
"It's too late to start a blog."
"There's just too much competition already out there."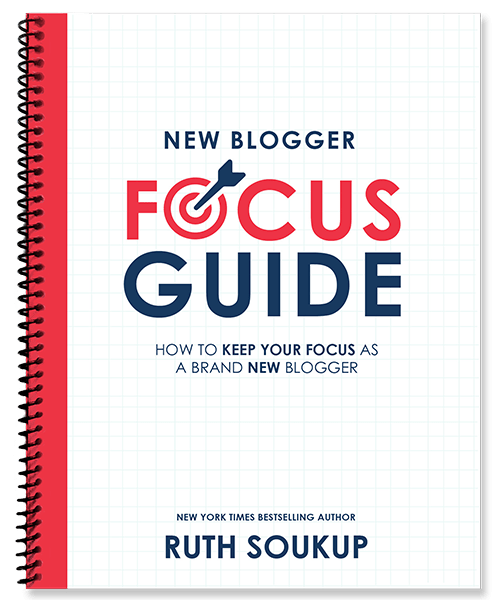 Confused About Where To Start?
---
Our New Blogger Focus Guide can help you sift through what you need to know and what you don't. For a limited time, get our guide absolutely free to get focused for faster success on your blogging journey.

Do any of these sentences sound familiar?
They do to us, because we hear things like that ALL. THE. TIME.
Whether it is from our EBA students or prospective students, or just in all those blogging and online business circles, those self-defeating proclamations that blogging is no longer a "thing" have been around for years.
But guess what? Blogging isn't dead! People are launching new blogs — and finding incredible success — every single day.
And all those naysayers that perpetually claim the sky is falling?
Well let them talk.
Because it's way easier to focus on the negative, to point fingers, and to judge than it is to actually dig in and do the work. It's way easier to claim something won't work than it is to try. It's easier to stay stuck than it is to start dreaming big and then have the courage to take action.
But here's the truth:
There's never been a better time to be a blogger than right now.
There's never been a better time to be a blogger than right now.
And here's why you shouldn't put off starting a blog for one more minute:
Why You Should Start a Blog in 2020
REASON #1: THERE'S NO BETTER BUSINESS MODEL THAN BLOGGING
When it comes to starting a business, there's no better business model than blogging. Let's take a look at the traditional business model. Let's say we wanted to open a restaurant. First, we'd have to rent a space. Then we'd have to stock the restaurant with everything we need to do business: food, drinks, tables, chairs, silverware. Then we'd have to hire waitstaff to work the floor and drop a ton of cash on marketing just to get the word out… and that's all before we're even open for business! Then, once we get customers in the door, it's a mad dash to get to know them, figure out what they want, and tailor our menu accordingly.
With the traditional model, we have to invest a crazy amount of time, energy, and money into getting our business off the ground without knowing a) our customers, b) what they want and how to give it to them, and c) whether our business will connect with those customers.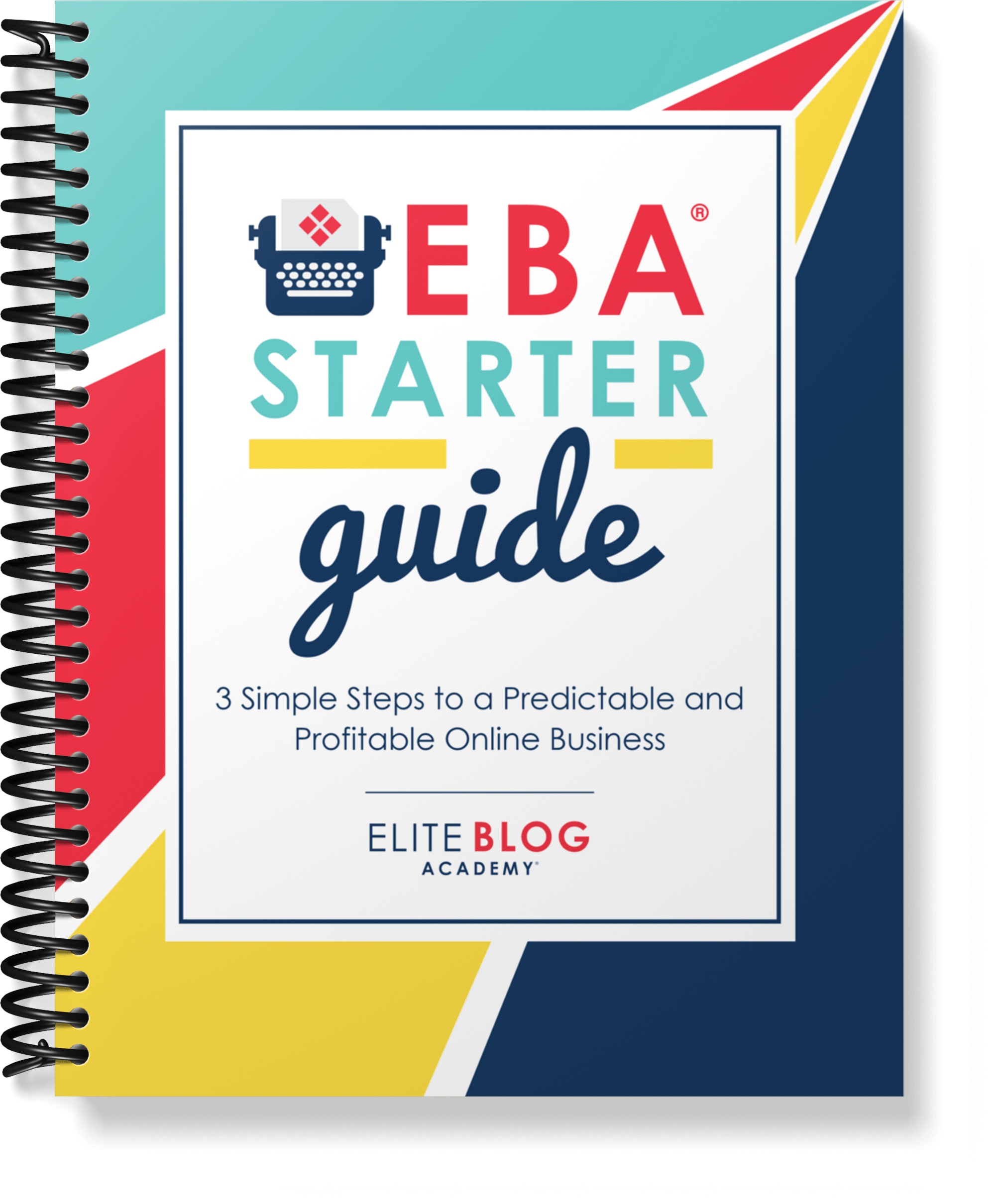 Ready to start making money online?
---
Eliminate the start-up overwhelm now. Our EBA Starter Guide provides a clear, proven path to success you can implement right now to get your online business up and running quickly with confidence. Grab it free, but only for a limited time!

That's a risky endeavor and, for most traditional business owners, it's not one that pays off.
If you look at that data, it is pretty clear that the two biggest reasons that most small businesses fail is a lack of cash or a lack of felt need.
But the beauty of blogging and starting an online business is that this new business model essentially avoids those two problems altogether.
The framework we teach at Elite Blog Academy® flips that traditional business model upside down, and in the process, makes it better.
With blogging, we don't start with a product or service like in the traditional business model. We don't pour thousands of dollars into research and development or opening a brick & mortar location or hiring a bunch of people.
Instead, we start by developing a relationship with our readers and customers. We work first to refine our message, to figure out exactly who we are talking to, what their felt needs are, and what we want to say.
In the blogging model, it's all about the audience.
In the blogging model, it's all about the audience.
And this does take an investment of time, it doesn't take a lot of cash. It's pretty risk free. If your message isn't resonating, you can change it and hone it and refine it until it does.
And then, once we've got that down, we begin expanding our reach and growing our audience, all while continuing to refine our message and develop trust and a real relationship. And once again, the risk here is minimal. It takes time, but not a ton of cash.
It is only then that we start adding in the monetization piece, but by this point—it's easy. We understand our market. We've established trust and a real relationship. We know what our audience is already asking for, and now we can give it to them. When we create products, we don't have to go out looking for customers because we already have them. And since we're focusing on relationship-building, we don't need to invest a lot of money on day one, which means we won't run out of the cash we need to keep our business afloat.
The blogging business model is more effective, less risky, and just all-around better than the traditional model — and it's one of the top reasons why there's never been a better time to be a blogger.
REASON #2: IT'S NEVER BEEN EASIER TO BLOG
Can we talk about technology for a minute? Technology has made blogging SO much easier and more accessible. With the technology on the market today, you can get started — even if you have minimal tech skills and minimal cash to invest.
Today, we can do things that used to be reserved for big companies with big budgets, like building a custom website from scratch or building an email campaign. Thanks to the new tools on the market, things that used to require a ton of time and a ton of money can now be accomplished in less time, and for less money.
We can design a website using easy drag-and-drop interfaces like Wix or Squarespace, we can use tools like Upwork or OnlineJobs.ph to find amazing, affordable support overseas, we can get invaluable insights on the performance of our posts and emails with the click of a button… Seriously, it's amazing!
All of these tools make it so much easier to get started with (and succeed at) blogging. And these tools? They weren't available even a few years ago.
And, if the technology piece of the blogging puzzle still feels overwhelming, that's where the Elite Blog Academy® comes in. Our comprehensive framework offers a step-by-step process to building a successful online business, a process that has been honed and refined through thousands of students over the past five years.
Simply put, we know exactly what works and what doesn't, and the strategy we teach at EBA will get your blog up and running and get you earning a lot more money a whole lot faster than if you try to do it on your own.
Advances in technology that make blogging life that much easier are another reason why there's never been a better time to be a blogger.
REASON #3: THE POTENTIAL IS UNLIMITED
Today, there are more people online than ever before — and that number is increasing every day. Thanks to smartphones, we have access to the internet at the palm of our hands. People are spending more time online than ever — an average of about 10 hours per day.
The increased usage and availability of the internet means there's never been more opportunity or potential for bloggers.
And as long as the internet keeps growing — which it will — those opportunities and the potential for bloggers will continue to grow right along with it.
So while there might be more blogs than ever before, there are also more potential readers than ever before too! The internet is so incredibly vast that it is almost unfathomable, and it continues to expand at an unprecedented rate.
That means that not only is blogging not dead—it is only just beginning!
Are you ready to get started? Here are a few posts to get the ball rolling:
As the saying goes, "the best time to plant a tree was 20 years ago. The second best time is right now." So get out there, plant your blogging seed, and watch it grow!
WHAT TO DO NEXT: