A Peek Behind the Scenes of Launching a New Business from Scratch in 2022
Starting a brand new business can be pretty scary and overwhelming, especially at a time when the whole world feels pretty uncertain срочные займы без отказа на карту .
I started my first blog, Living Well Spending Less®, way back in 2010, and I've been instructing bloggers & online business owners here at Elite Blog Academy® since 2014, which is pretty much a lifetime in internet years.
So much has changed in the online world since I first started.
And as this world has evolved, my business has evolved along with it. In fact, until now, pretty much everything I've done in my business has basically been bootstrapped—I first started writing a blog, and then that led to writing books and teaching other people how to blog, and creating the products and courses that my audience was asking for.
One thing led to the next thing, and then the next thing after that.
And there is absolutely NOTHING wrong with that. I'm super proud of the business I've built to this point.
But a few months ago I decided to do something a little bit crazy.
I decided to build a whole new business from scratch. To basically start something brand new and totally different from anything I've done before, and to build it from the ground up.
The new business is called Thinlicious™, and it officially launched on June 1st.
But because this business, EBA®, is all about teaching other online business owners how to grow predictable and profitable businesses, I thought it might be helpful to share a peek behind the scenes of what it looks like to launch a brand new business in 2022—everything from what inspired this idea in the first place, to the vision for this new brand, to what it has actually looked like to build a business from the ground up—even how we plan to grow the business.
I've also been sharing some of the behind-the-scenes on the Do It Scared® podcast, so if you haven't yet had a chance to listen, start with Episode 120 HERE, then listen to Episode 121 HERE.
So first things first–what exactly is Thinlicious™?
It's a whole new brand that is based on the idea that getting healthy should taste and feel good, and my goal is to help women over 40—women who are a lot like me—finally be able to take control of their health with a simple, flexible system for losing weight that actually works.
And while there will definitely be an education component to this new brand, starting with our 28 Day Metabolism Reset, the thing that's TOTALLY brand new to me, and definitely a "do it scared" kind of moment, is that later this year we are actually launching a whole line of FOOD products—products that make it easy to eat healthily, even when on the go.
How it all began
So what was the inspiration for this whole new business direction?
To be totally honest, the biggest influence was my own years-long struggle with my weight, which only got worse after I turned 40.
Over the years, I tried SO many different diets but found that they were either too complicated or too hard to stick to. Or worse yet, I'd get so hungry that I couldn't focus, and I'd just give up.
Because like most women I know, I've got a lot going on. Life never stops.
But after having tried and failed SO many times to lose weight, I also knew I'd have to figure out a solution that would actually work for MY busy life.
I was done with dieting.
I needed to be able to eat out multiple times a week. I needed to be able to socialize. I needed something flexible and easy. I needed to be able to make food that my whole family would happily eat. I needed my teenage daughters to see me eating, not starving myself.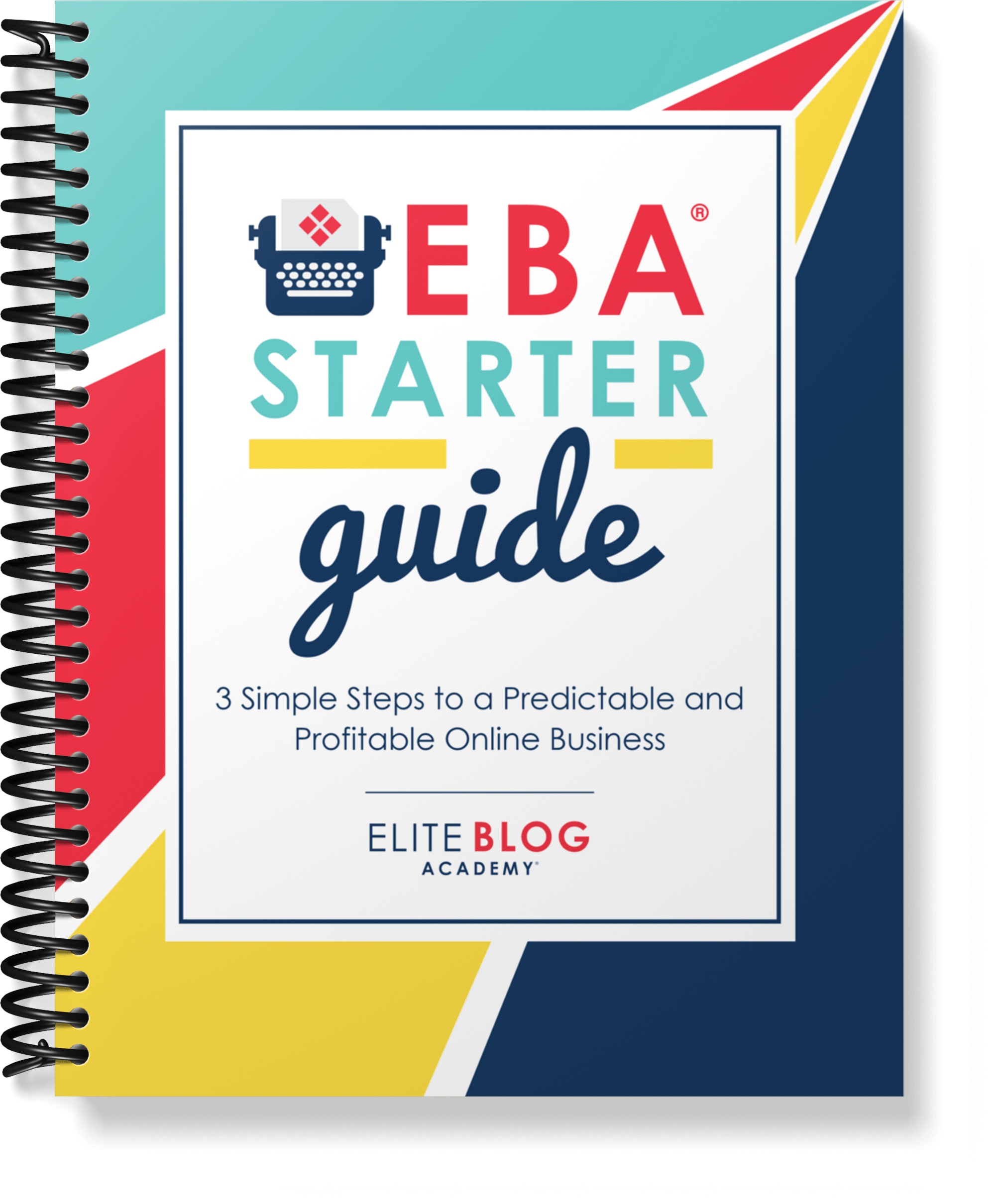 Ready to start making money online?
---
Eliminate the start-up overwhelm now. Our EBA Starter Guide provides a clear, proven path to success you can implement right now to get your online business up and running quickly with confidence. Grab it free, but only for a limited time!

And I could never, ever be hungry.
So I did what I do best—I started digging into the research and looking for a better solution.
Because although it never really occurred to me before this, my superpower, the thing that I am really good at, is taking topics that can be really confusing to people—taking huge amounts of research and data and case studies and experimentations—and distilling all that information down into a simple, easy to understand, easy-to-follow system that just works.
Because when I really think about it, that's literally what my entire business has been built upon. At Living Well Spending Less, I started by making extreme couponing feel easy & accessible to people—breaking it down into a simple, step-by-step process. I did that too with the Living Well Planner®—taking essentially everything that's ever been written or taught about time management and productivity, and turning it into a tool that actually makes it simple. And here at Elite Blog Academy®, I distilled the process of starting an online business down to an easy-to-follow formula that we call the Customer Superhero Path.
Making complicated stuff feel SIMPLE is kind of what I do.
But it never actually occurred to me to apply it to my own weight loss and to my own journey to getting healthy. At least until I got so frustrated from literally trying every other thing out there that I had to try to find a better way.
And although I didn't know it at the time, that's really when Thinlicious™ was born.
I dug into the research and developed a whole new way of eating.
Within 6 months, I lost 40 pounds and completely transformed my body.
Not only that, I was never hungry. I ate out all the time. I continued to socialize every weekend. I got to eat delicious food. My kids never saw me dieting. And I never felt deprived.
It's a way of eating—and living—that has completely changed my life, so much so that I knew I had to share it.
I talk to women every day who are just like me—busy moms & high achievers who feel like this is the one piece of their life you just can't seem to get a handle on.
And that's why I'm just SO fired up and SO passionate about this vision to help as many women as I can finally find the FREEDOM that I feel like I have found, to live my best, most authentic life, and to be my happiest, most confident self—because I'm no longer obsessed with trying to get a handle on my weight.
So that's my big WHY, and how it all began.
Casting a clear & vivid vision
Like I said at the beginning of this post, this business has been unique from all my other businesses in that rather than bootstrapping it as we go, I am starting from scratch with a BIG long-term vision and a comprehensive business plan to bring that vision to life.
That's something I've never really done before.
So here's the vision, taken straight from the business plan, from a futuristic perspective:
At Thinlicious, we believe that getting healthy should taste and feel good, and that's why we are the best in the world at helping women over 40 lose weight and keep it off—without deprivation.
Our incredible line of food products are delicious and satiating, providing easy, convenient, and satisfying meal and snack options, even while on the go.
They're so good it's hard to even consider them "diet" food! Of course, given that they're packed with wholesome ingredients, zero sugar, and plenty of healthy fats and protein, there's no need to try to hide them from the kids!
And that's only the beginning! We also envision a line of sugar-free cocktails, supplements designed to meet the specific needs of women over 40, and a variety of helpful tools and resources, including an app that makes implementing our system even easier.
Ultimately, Thinlicious™ works because we're different.
We understand the emotional toll that weight gain can cause for women who are already facing the sting of getting older and therefore may be feeling more invisible.
We understand the frustration that comes from trying so many different diets and always failing because they're too hard, or because we're too hungry to function. We understand the fear of feeling like your metabolism has slowed, that your hormones are out of whack and that your best days might be behind you. We also understand the drive that has allowed our customers to succeed in so many other areas of their lives, even though this feels like the final hill to conquer.
We're committed to helping our customers love and enjoy life, rather than waste time and energy feeling deprived or hungry.
But it's not just the amazing food & tools that keep our customers coming back.
It's our simple, flexible, and easy-to-implement Thin-Adapted System™ (TAS for short) that breaks down the science of changing the way your body burns fuel into an easy-to-understand formula that actually makes sense.
It's a system that allows for socializing, eating out, and actually living your life. And it's a system that gets results—a fact that our community members can't stop raving about.
In fact, our incredible community might just be the very best part of our brand. Already over 1 million women strong, and growing faster all the time, our community of go-getters are celebrating life without deprivation. They look good, they feel good, and they can't stop talking about it! They cheer each other on, lift one another up, and share their own tips, hacks, and recipes for our products. We couldn't ask for a more supportive or enthusiastic tribe.
So that's it. That's the big vision.
And it's not that I don't know that there is plenty of competition in this realm, or that lots and lots and lots of people are already talking about weight loss and dieting and getting healthy.
I know that. I'm WELL aware.
In fact, having struggled with my weight for SO many years, having tried pretty much EVERY diet on the planet, there are probably few people who understand that better than me.
But that's how I also know how much of it doesn't work.
Especially for women. And ESPECIALLY for women over 40.
Because what any business coach will tell you—what I teach all of my students—is that the best idea for a business is one that focuses on a very clear pain point. And the stronger the pain, the more viable the business idea.
And I guess that also brings me to our actual PLAN for how we'll grow this business, and to what we've done so far, since first coming up with this big vision roughly 4 months ago.
How we plan to grow this new business in 2022
Every new business needs momentum. Another concept that I am constantly trying to drill into my students here at Elite Blog Academy® is that when it comes to your business, you've got to "fail fast."
And what I mean by that is that you can't spend months and months—and sometimes even years—trying to perfect your business plan or coming up with just the right name or the perfect product idea. You've got to move fast and get things out there as quickly as possible so that you can test them out and see what's going to work and what won't.
This is SO hard for so many people, and I will tell you honestly that it is probably the thing that holds most entrepreneurs and online business owners back from truly becoming successful.
And so, as we're getting this new business off the ground, we know we need to get things moving as quickly as possible, even if things aren't quite perfect.
Our primary goal right now is to generate momentum, along with massive enthusiasm & excitement for this new brand by growing a community of at least 10,000 subscriber super fans as quickly as possible.
We then want to be able to engage this audience of early adopters in our process of launching the business, and actually take them along on the journey to build our brand. We want them to be part of the process, to participate in building the brand and helping us to hone and refine our products. And we want them to feel like they are a part of something really special.
Here are the main ways we've planned to grow our audience in our first year:
1. Tap into our existing audience.
While this is a brand new venture in a totally different niche than any of our other brands, we knew that at least a portion of our existing audience fit our target market for this new business, and would likely be interested.
Thus, in the months leading up to our brand launch, we started teasing on all our existing channels (both social and email) with the fact that something new & exciting was going to be coming soon.
On my personal Instagram, I began sharing a lot more about my own weight loss journey and transformation, as well as began teasing that more info would be coming soon.
Then, approximately two weeks before our "official" launch date, we announced the name & mission of this new business via email and social and began inviting our existing subscribers and followers to join the Thinlicious™ waitlist.
2. Create a high-converting lead magnet
Our next growth strategy has been to create a beautiful, compelling, and high-converting lead magnet that speaks directly to the felt need of our target audience—busy women over 40 who are struggling to lose weight.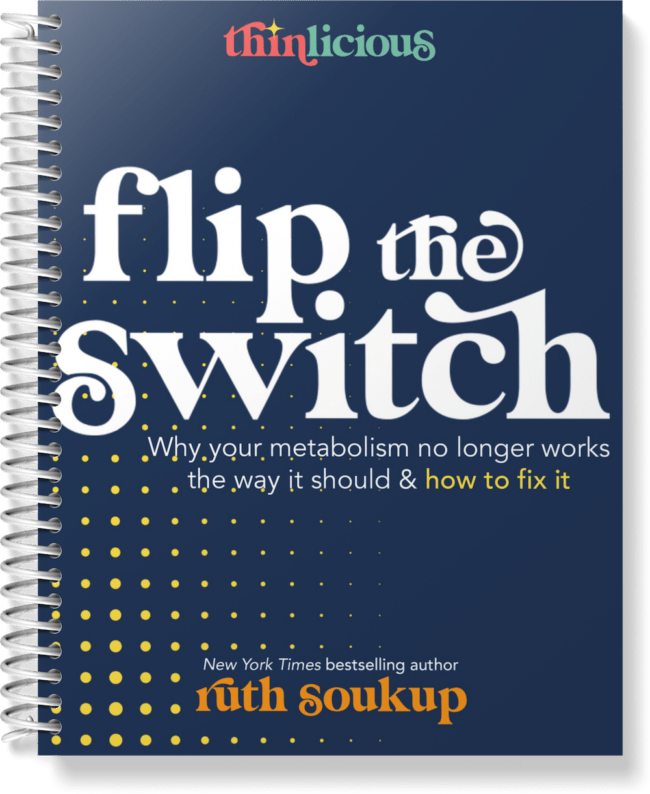 This high-value PDF, called Flip the Switch, helps explain why our metabolism slows down as we get older, as well as what you can do to fix it, then explains more about Thinlicious and our Thin Adapted System, and how to get started.
Our goal here is to use this free, high-converting lead magnet to grow our email list. The lead magnet will be promoted on our website and social channels, but will primarily be promoted via Facebook ads, although we eventually plan to also test out Google, YouTube, and Pinterest ads as well.
3. Create an insanely high-value entry offer
Because we want to create massive momentum with our initial audience, we knew that our first product—our entry offer—would need to be something really good, and insanely high value. And, because our entire brand is centered around making getting healthy and losing weight actually taste and feel good, it would have to actually produce real results for our customers!
We developed our 28 Day Metabolism Reset to do just that. Essentially it walks people through the first stage—the Acclimate Phase—of our Thin Adapted System & makes getting started and actually sticking to the plan as easy & painless as possible.
The 28 Day Metabolism Reset includes 4 weeks of complete meal plans, recipes, shopping lists, and a prep guide, as well as a series of videos and mindset work, all put together in a gorgeously designed package. It is valued at $497 but will be sold at a significant discount in order to get as many people started as quickly as possible.
4. Grow a highly engaged community on Facebook
While my students will tell you that I have historically NOT been a big fan of free Facebook groups, I'm making an exception in the interest of building a strong and engaged community.
Basically, we want to have a place for people to interact with our team and with each other, a place where we can create buzz, share weight-loss triumphs, and drive HUGE excitement for each new product release and everything we're doing as a company.
Thus, we need a community!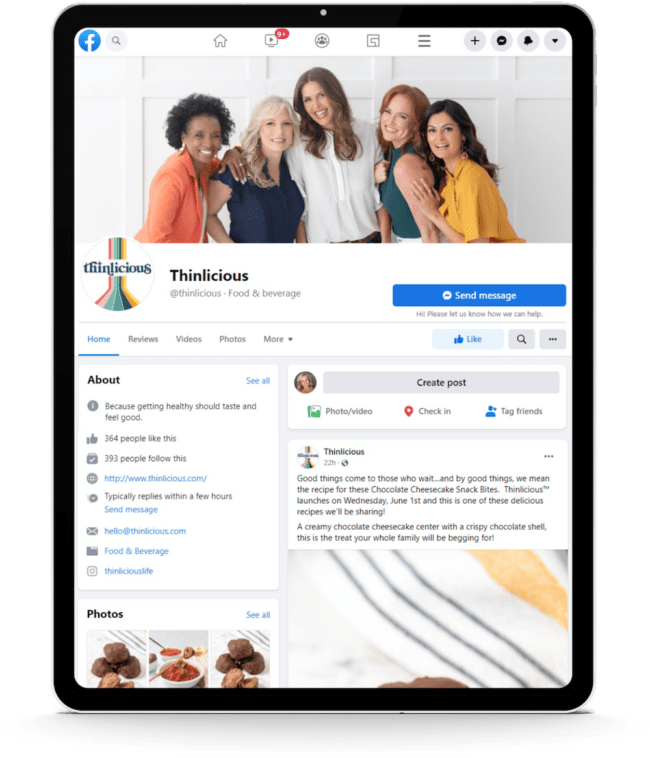 This will be a FREE Facebook group that basically accepts everyone, although we will try to require that people join our email list before joining. We do want women who join to feel like they can invite their friends, and we will encourage them to do so on a regular basis. In the group, we will encourage daily interaction and give lots of shoutouts to our challenge participants.
5. Write highly optimized blog content to generate organic search traffic
While we know that tapping into our existing audience and running paid ads to our lead magnet will help us grow quickly, we also want to make sure that we are setting ourselves up for long-term growth as well. That's where our content marketing strategy will come in.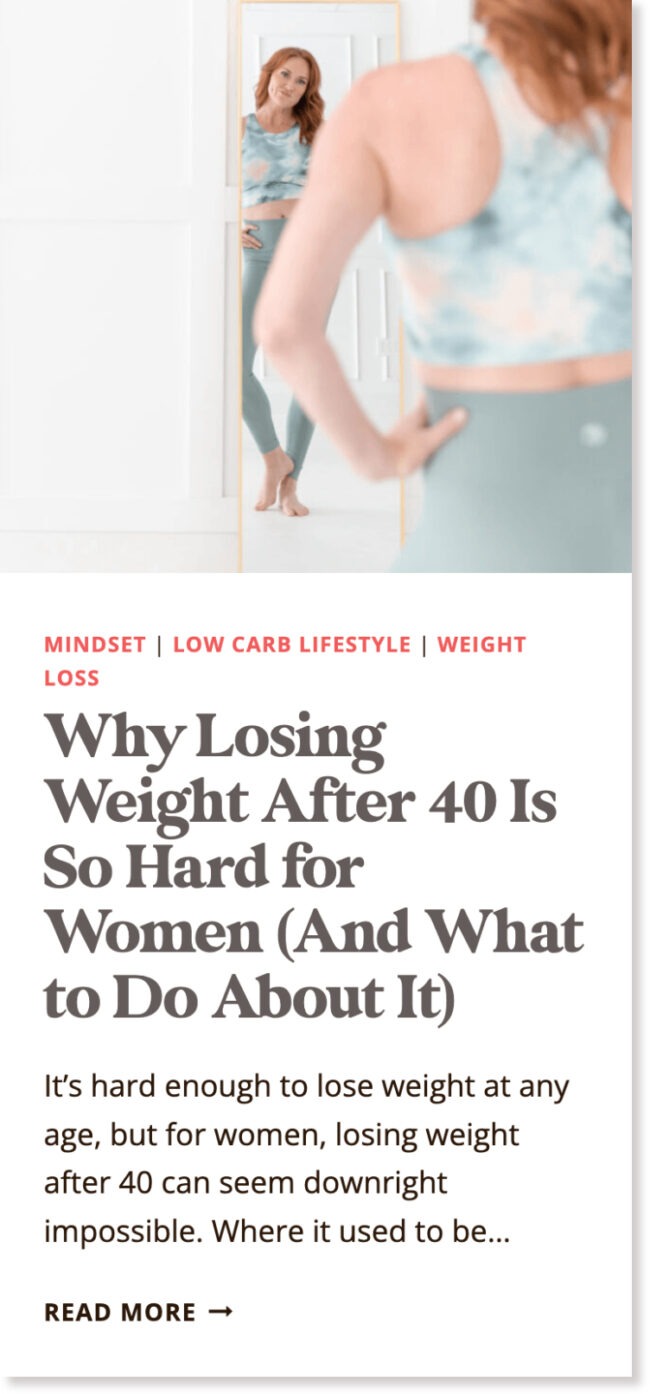 Our primary content strategy will be to write a number of in-depth blog posts that are highly optimized for key search terms related to weight loss for women over 40. The goal will be to drive organic search traffic to our website, and of course, each blog post will have a strong CTA to join our email list.
6. Create highly pinnable content for Pinterest
Along those same lines, our secondary long-term content strategy will be publishing original recipes that fit within our Thin Adapted System & sharing them with Pinterest.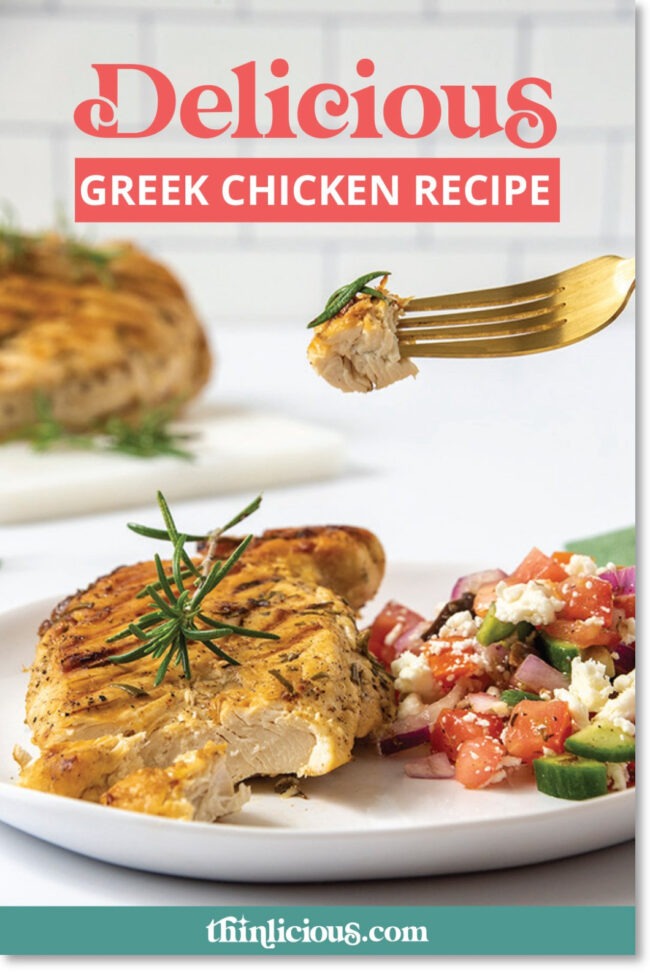 Once again, these will all be optimized for key search terms, and we may eventually consider gating our recipes so that only subscribers will have access (or, at the very least, the ability to print).
7. Focus on ONE Social Media Channel
As we're starting out, we will primarily focus our marketing efforts on Instagram, because we know that is where our target demographic lives. We are firm believers in nailing ONE platform, rather than trying to grow everywhere, and so, as we get started, we are choosing to stick to Instagram (although our IG posts will be automatically published to FB as well).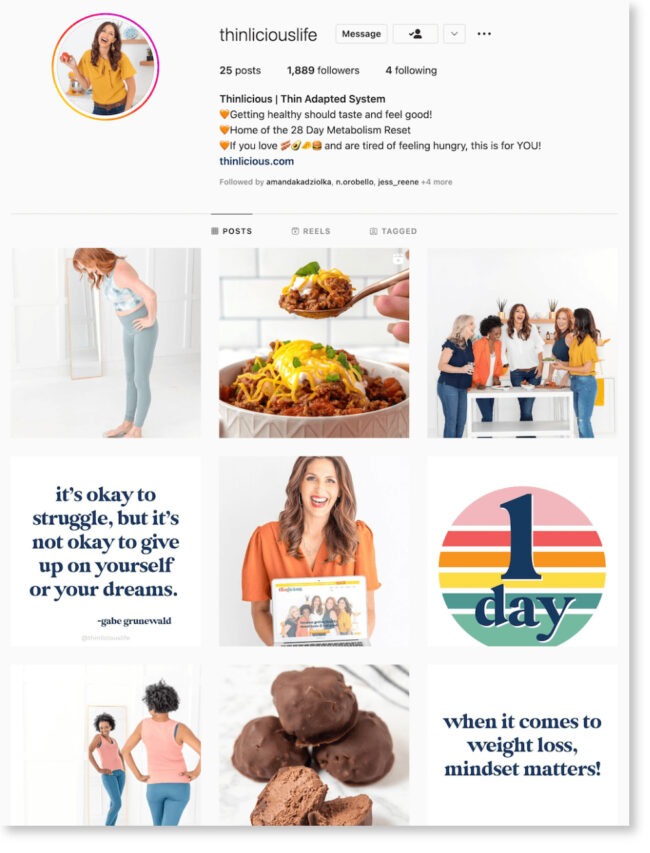 We want our Instagram feed to be a beautiful combination of delicious-looking food and information about our company and what we are all about, while our stories and reels will bring more personality and relatability to the brand.
What we've done so far
So now that you have an idea of what we're planning to do to grow this business, I guess the only thing left to share is what we've actually done so far.
Let me tell you, it's been a whirlwind!
The first thing I had to do, after making sure my whole team was 100% on board for taking our company in a completely new direction, was to make sure we had a good plan in place for our other brands to make sure that they could keep operating really effectively, even as we shifted our main focus to this new thing.
Mostly that meant putting managers in place for each brand, but also creating better systems & processes to run things more efficiently.
The next thing we did right away was nail down the NAME—which, if you've ever tried to name a business, you know is NO easy task!
I knew we wanted to have something that was relatively short and easy to remember, and would be a true BRAND name that would work for a wide range of products. I also wanted it to be able to capture the ESSENCE of what our brand is all about—weight loss that tastes and feels good. And of course, it needed to be a name that wasn't already taken, and the domain name needed to be available, along with social media handles, the whole nine yards.
Ultimately we landed on THINLICIOUS™ which amazingly enough checked almost every box, and then we IMMEDIATELY got with our trademark attorney to file all the trademark applications as quickly as possible.
Now this is not something I actually normally do or even recommend for my students when starting a new online business, mostly because hiring an attorney and filing a trademark isn't cheap, and I think it is important to be SURE that the name you land on for your business is going to stick.
But in this case, because this isn't my first business and also because I knew we were going to be launching a whole brand with many different products, I wanted to make sure we were totally covered.
At the same time, we also filed the trademark for our actual SYSTEM, which we call the Thin Adapted System,™ or TAS™ for short. This will eventually be the name of our main program.
Another thing we did really quickly (because we knew it was probably going to take a while) was to find a manufacturer and start working on the development of our first food products.
This is definitely a process, and we're learning SO much along the way. At some point, it may even warrant its own post!
A lot of people don't know this, but there are actually THOUSANDS of contract manufacturers in the US and in other countries who will help you develop pretty much any product you can think of, whether it's food or supplements or cosmetics or who knows what.
This is something I've known about, but I didn't really ever seriously consider it for any of my businesses until now.
At the same time that we've been working with the manufacturer, my team and I have been busy putting together all the other elements of the business—choosing our logo and branding, setting up our website and social media accounts, writing TONS of blog content for the website, plus developing and photographing all our recipes, and also creating the lead magnet and entry product that I talked about above.
And while I do know how to do a lot of this stuff, I also recognized that there were going to be aspects of this business—particularly the manufacturing and physical products side—that are super new to me.
Through a coaching program I am in, I was also encouraged to put together an investor pitch deck, which is something I would have never even considered doing on my own.
And then… I actually PITCHED MY BUSINESS to real investors, who all just happened to be MEN. It was a CRAZY, super nerve-wracking experience, and I learned SO much from it, and it's been really interesting to see the response since then!
If you want to see the entire pitch + the Q&A, you can watch it below. My part starts at 1:01:00 and the Q&A starts at 1:14:24.
Suffice to say, there's been a lot happening! Launching a whole new business in 2022 has been scary and fun and exhausting and exhilarating, but I'm so excited to get this show on the road!
Stay tuned for future updates!