Is EBA® Foundation Right for You? (We've Got the Answer!)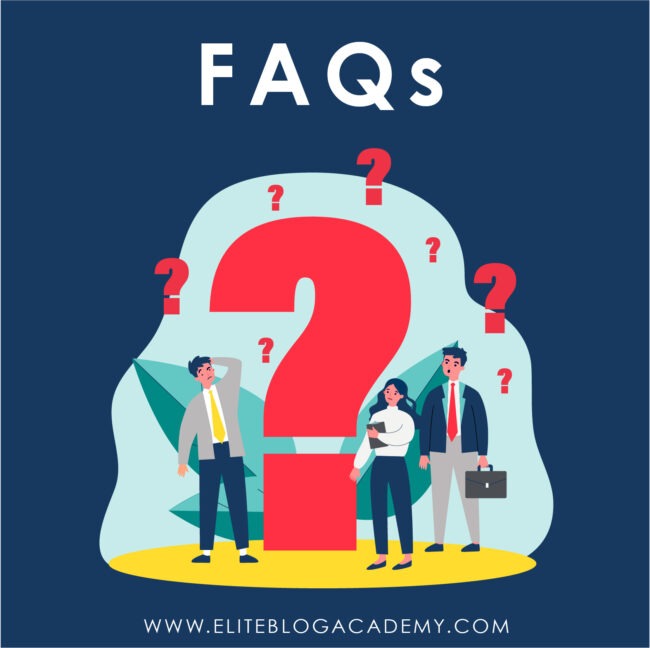 In case you missed our recent announcement, the Elite Blog Academy® Course is COMING BACK for 2022! (And this is a BIG deal!)
For the past year, this powerful, life-changing curriculum has only been available within our ACTIVATE Coaching Program, which meant that if you ONLY wanted to enroll in EBA®, without joining ACTIVATE, you didn't have that option.
The feedback we have received since making our big announcement has been outstanding! This is the exact opportunity many of you have been waiting for. It is no surprise we have also received a lot of questions about Elite Blog Academy® Foundation, wondering what to expect, and if it is a right fit for you.
Here are some of the most asked questions we have received so you can decide if EBA Foundation is right for you!
Why did you decide to bring back Elite Blog Academy as a stand-alone course? And what happened to ACTIVATE?
When we first launched our ACTIVATE Coaching Program in 2020, our small team wanted to be able to focus ALL of our time and energy developing that program into everything we knew it could be—the best coaching program for bloggers in the entire world.
And while we do feel we have achieved that goal, we have also learned that what our beginner students want and need is very different from the guidance our more advanced students crave.
Thus, in order to best serve ALL of our students, we've decided to bring back Elite Blog Academy Foundation as a stand-alone course for new and beginner-level bloggers, while keeping ACTIVATE focused on our intermediate and advanced-level students.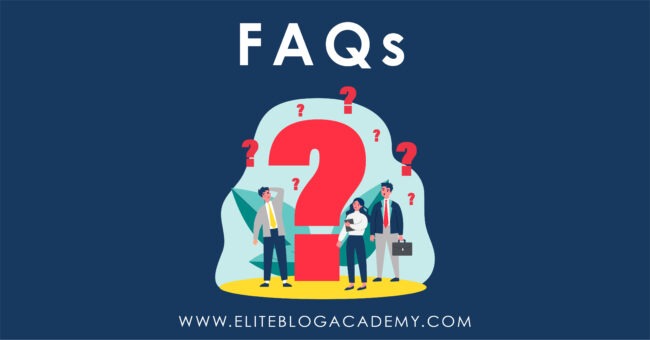 I'm SO excited to hear the Elite Blog Academy is coming back–I've been waiting for TWO YEARS to join! How soon can I get started?

Enrollment for Elite Blog Academy Foundation will open on Monday, March 14th for five days only. As always, the doors to EBA will only open once a year, which means that you'll want to mark your calendars now so that you don't miss it and be sure to join our waiting list to be first in line.
What is the path I'll need to take at Elite Blog Academy? What happens after I finish taking EBA Foundation?
Here at Elite Blog Academy, our programs are designed to work seamlessly together to help you build and grow a successful, profitable, and predictable online business.
If you're a beginner, you'll start at Level 1 with our Elite Blog Academy Foundation program, which will focus on quickly building your foundation with confidence. EBA Foundation is designed to help you move fast in order to avoid getting stuck or hung up on indecision or perfection. By the end of EBA Foundation, you'll have narrowed down your niche, set up your website, established your brand standards, published your first 7 blog posts, and learned how to grow your audience.
If you plan to blog as a hobby, or are primarily interested in monetizing your platform through ad network revenue, EBA Foundation will give you everything you need to get started.
Or, if you want to continue building your online business with products of your own, you'll move on to ACTIVATE and our Level 2, curriculum, Product Launch Playbook Academy™, which will walk you, step-by-step, through the process of developing, launching, and selling your Core Offer and monetizing your platform with predictable and profitable sales funnels. You'll create your lead magnet and entry offer (aka your "tripwire"), as well as learn how to quickly grow your email list through paid traffic.
From there, you'll advance to Level 3 and our S.C.A.L.E. Your Business Curriculum, which is designed to help you continually scale your online business in a predictable and profitable way. In Level 3, we focus not just on more advanced sales & marketing tactics, but on creating the systems and clarity in your business that will allow you to grow while also helping you develop your skills as a leader and C.E.O.
What if I don't have a blog yet? Can I still join Elite Blog Academy?
Absolutely. EBA Foundation is designed for beginners. We will walk you through every step, including choosing your niche, deciding on your name, establishing your branding, and setting up your website.
I am already an experienced blogger. Is this course only for beginners?
All of our different programs here at Elite Blog Academy are designed to help you build and grow your online business through 7 figures and beyond.
If you are an intermediate or advanced blogger who already has an established website, you will likely want to start in Level 2, with the ACTIVATE Coaching Program and Product Launch Playbook Academy, rather than begin in Level 1, with Elite Blog Academy Foundation.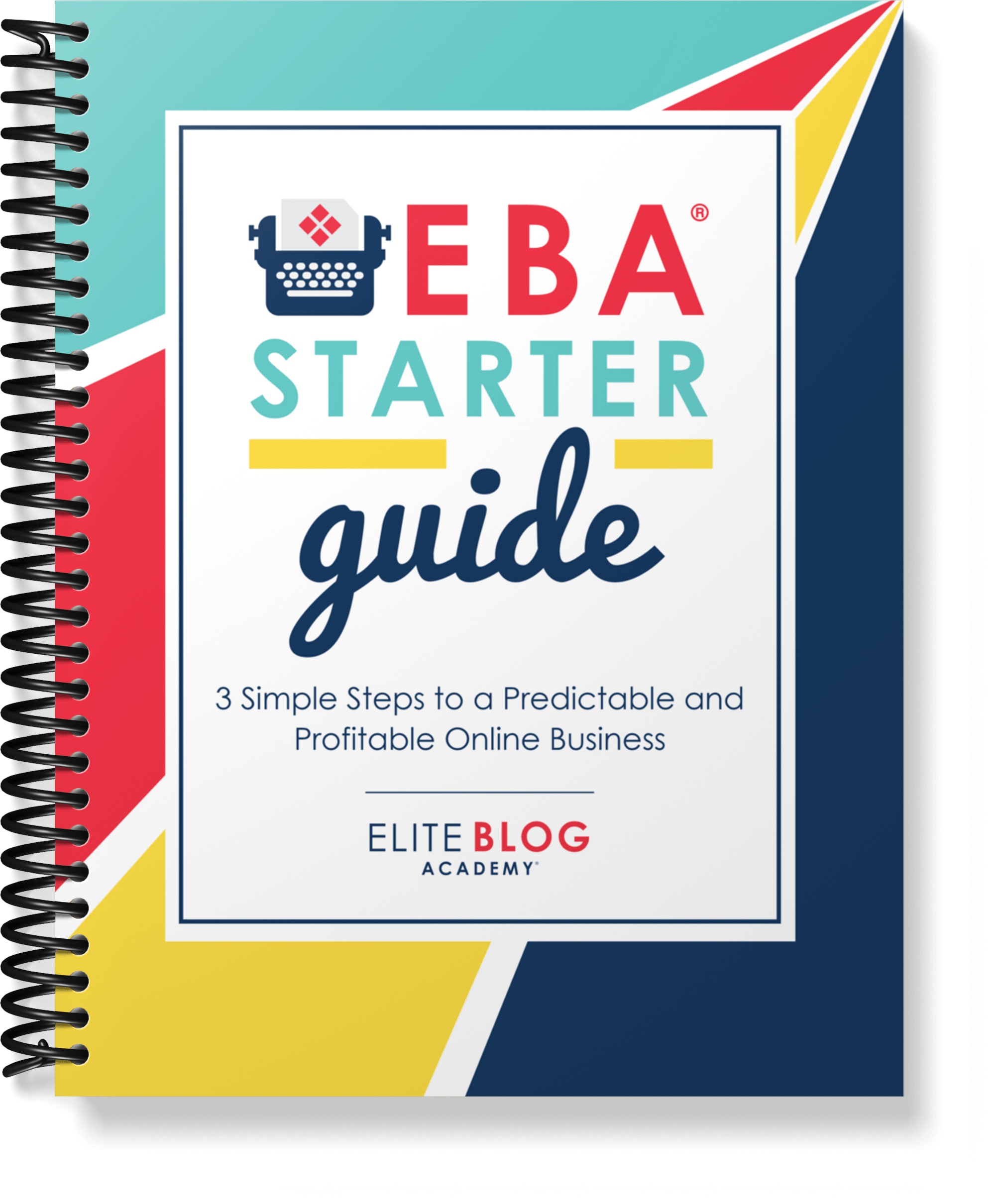 Ready to start making money online?
---
Eliminate the start-up overwhelm now. Our EBA Starter Guide provides a clear, proven path to success you can implement right now to get your online business up and running quickly with confidence. Grab it free, but only for a limited time!

That said, if you are an experienced blogger who is not currently feeling confident about your chosen niche, business name, branding, or messaging, then you will likely benefit from revisiting Level 1 with EBA Foundation.
Either way, we'll be able to help you quickly reach your goals.
What is the investment? Will you have any payment plans available?
The EBA Foundation program will offer multiple enrollment options, designed to fit a variety of learning styles and budgets, starting at $597 for Silver, $997 for Gold, or $1497 for Platinum.
Many of our students compare joining Elite Blog Academy to going to college—it's that comprehensive, and that intense. When you put it into that context, it's pretty incredible to consider that our tuition for EBA is far less than you would pay for one semester at a community college, or even just one class at a 4-year university, and yet this is a program that has the power to change your whole future.
Because we are not a bank, we don't have the ability to offer more flexible payment options, but we encourage you to plan now for your investment in March.
Is it worth upgrading to Gold? What about Platinum?
Without a doubt, 100% YES!
Our Gold level membership includes more than $4,000 in additional support and bonuses that are designed to help you work through the materials faster, with a whole lot more confidence. You'll get access to our private Facebook group, as well as access to weekly live office hours and weekly implementation workshops. Plus, you'll get access to our Best of ACTIVATE bonus (which is a $1997 value all on its own), jam-packed with our very best advanced-level trainings from the past year. (Trust us on this—it's SOOOOOO good!)
Our Platinum level includes everything you'll get in Gold, but also gives you lifetime access to the course curriculum (as well as to all future course updates), plus an additional three months of access to the Facebook group, live office hours, and implementation workshops. You also get two additional bonus courses to help you build your business—Social Boom and Irresistible Email.
If you're the kind of person who thrives with more accountability and hands-on learning, then both our Gold and Platinum enrollment options are the best way to turbocharge your progress.
What makes EBA different?
There is no shortage of information available about blogging and online business or marketing. In fact, in many ways, that is exactly the problem. There is so much information, so many people sharing so many ideas and saying so many different things, that it is almost impossible to sift through. In fact, the information overload becomes so overwhelming that many bloggers simply get paralyzed and can't move forward, while others keep switching from one tactic to the next, and then wonder why they can't find any momentum.
Elite Blog Academy is totally different because what EBA provides, through all three levels of our program, is a comprehensive, step-by-step, framework for success. It goes beyond tactics to provide an actual strategy—one that has been proven, through 8 years and more than 15,000 students so far—to get consistent results.
Most people aren't all that great at strategy. They struggle to see the big picture or to lay out a plan that includes all the steps that will take them where they want to go. But without the strategy, even the best tactics won't help you all that much, because you'll always struggle to build momentum.
EBA is built on the idea that momentum and results come from taking small, focused action steps in the right direction. With EBA, you'll never have to wonder whether you are on the right track because we tell you exactly what steps to take, in what order, until you get to where you want to be.
How will I receive my materials?
Live coaching sessions (if applicable) will be hosted on Zoom. Recordings and all other program materials will be delivered digitally through a password-protected members-only site. As soon as you enroll, you'll be emailed your login information with a username and password. You can then log into the site and have instant access to all course materials.
What if I can't attend the live office hours or implementation workshops?
While we encourage you to attend office hours live when your schedule allows, live attendance is not a requirement for success in our program. Each live office hours session will be recorded, and the recordings will be posted in the course portal by 5pm the following business day.
Because they are interactive and involve a number of different breakout groups, it is not possible to record our Implementation Workshops.
That said, we do our best to mix up the times of both our office hours and workshops in order to accommodate a wide variety of schedules. Chances are good that there will be at least a few times each month that work for your schedule.
How do I know if Elite Blog Academy is right for me and my type of business?
EBA is designed to provide a comprehensive, step-by-step framework for building a successful, profitable & predictable online business through content marketing, regardless of your niche, target audience, or experience level.
Whether you're an ambitious beginner looking just to get started, an intermediate-level blogger looking to break through a plateau, or a business owner already earning an income, EBA will provide the tools, support, and resources to set your business up for lasting success.
Within our programs, we have bloggers and business owners of every shape and size, every niche, color, and creed! If you are ready to do the work, if you want more customers and a sustainable online business, then EBA is right for you.
What kind of support will I get in the course? What if I get stuck or have questions?
The level of support you'll get in EBA Foundation will depend on the enrollment option that you choose.
Silver level students who choose our independent self-study option will be working largely on your own, but you receive a weekly email related to that week's lesson with tips, tricks, and frequently asked questions. You'll also be able to submit questions via email.
Gold & Platinum level students, on the other hand, will have access to incredible support every step of the way.
This includes a private Facebook group, where you'll be able to ask questions and get feedback from both our EBA Coaching Team and your fellow students.
It also includes weekly LIVE office hours with both Ruth and members of our EBA Coaching Team, including help with strategy and tech support when needed.
You'll also be able to participate in weekly LIVE guided interactive Implementation Workshops, where you'll get to collaborate and brainstorm with your fellow students in small breakout groups as you apply what you are learning to your own blog and business.
Most of our students will tell you that the support they receive in our incredible community is one of their favorite aspects of EBA, which is why we highly recommend selecting our Gold or Platinum enrollment option.
When does the program begin? Will there be a schedule to follow? And do I have to attend classes live?
Enrollment for Elite Blog Academy Foundation opens on Monday, March 14th, and closes Friday, March 18th at Midnight.
You will receive your enrollment confirmation within 30 minutes, along with your access to the membership portal, which is where you'll have instant access to all course materials so that you can get started right away.
We do provide a recommended course syllabus and schedule for you to follow, but the lessons are recorded and can be done at your own pace.
For our Gold & Platinum students, there will also be a monthly schedule of live office hours and interactive workshops available in the course portal so that you can get those on your calendar as early as possible. Our subsequent schedules will be available in the course portal by the 20th of the preceding month.
I'm already so busy & I'm worried I won't have time for EBA Foundation. How much time will it take, and can I really finish the entire course in just 3 months?
Our EBA Foundation curriculum is designed to be self-paced, to work into your schedule, and to help you move quickly so that you don't get stuck.
More than 90% of our EBA Foundation students in the past year have had no trouble completing the course in 3 months, and many were able to complete their work much faster, some in as little as 4 weeks.
We recommend planning on approximately 5 hours each week to stay on pace with our recommended syllabus and course schedule. This will get you through the entire program in 11 weeks, which will leave you several weeks of buffer time just in case you need it.
Many of our most successful alumni squeezed in their course work while they were working other jobs—sometimes even more than one—as well as while they were homeschooling their kids, going to school, or taking care of their families.
You can access the course material 24 hours a day, which means you can make it work for your schedule, and we also try to mix up the times for our live office hours and workshops to accommodate a variety of schedules.
If I'm not quite ready in March, when will I have another chance to enroll? And will the tuition be going up?
Like with our previous program, the doors to Elite Blog Academy Foundation will only open to the public once a year, in March. That means your next chance to enroll will happen in March 2023.
As in previous years, our tuition will most likely go up at that time. If you're sure you want to join EBA in the next year, we highly recommend enrolling this March and selecting our Platinum option to give yourself a little more time.
What if I just want someone to build my business FOR me?
If you're looking for a more bespoke, done-for-you option for building your business, you may want to consider our EBA® Premier program. Our team of experts will set up your business while you focus on understanding how to run it.
What if I have more questions?
Our team is standing by! Just click on the chatbox on your screen HERE to chat with a member of our team in real-time, or contact us at support@ruthsoukup.com and we'll be glad to touch base with you!
Enrollment for this incredible program will open on March 14th for five days only, and as always, the doors for Elite Blog Academy Foundation will only open to the public once a year.
That means that if you've been waiting for your chance to join Elite Blog Academy, THIS IS IT!
Mark your calendars now for March 14th so that you don't miss it, and be sure to join our waiting list to be first in line.
In the meantime, you can find out more about the Elite Blog Academy Foundation course on our info page HERE.