4 REASONS WHY YOUR BLOG IS FAILING
---
Like all other forms of entrepreneurship, blogging can feel pretty scary sometimes. We invest so much of our time, and money, and more than a few tears into the process of creating this THING that we just hope is going to take off. But we don't actually know if it will.
And sometimes, it just feels like we're failing.
Like no matter what we do, our traffic isn't growing, we're not generating income, and the only people actually reading those posts we're working so hard on are either related to us, or actually us using a different computer. It's hard not to question, sometimes on a daily basis, whether or not to invest more time and money into our blogs or to just call it quits.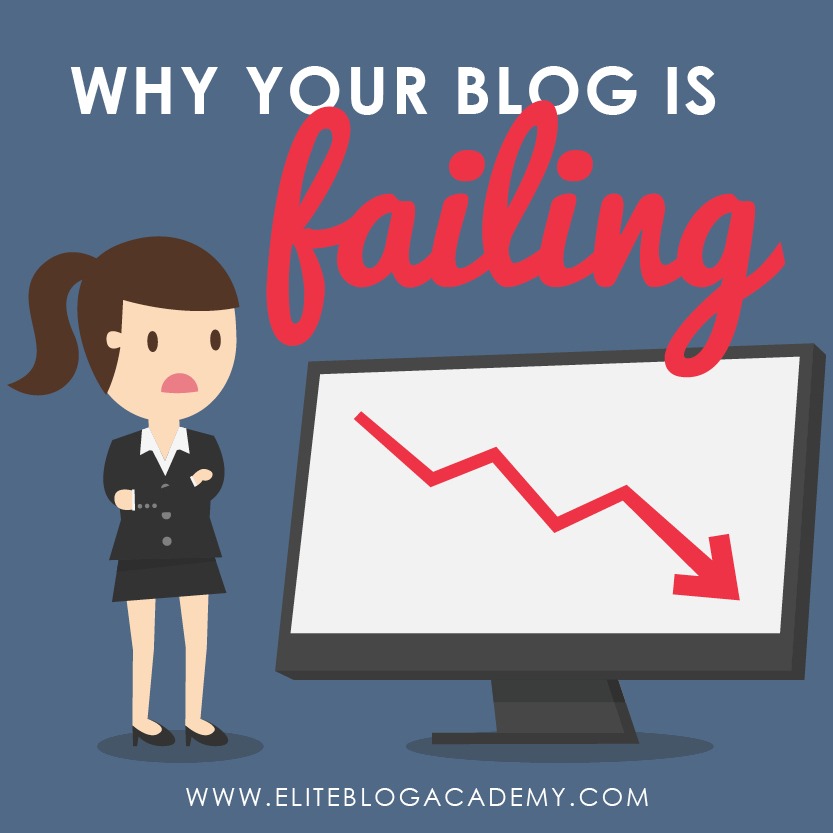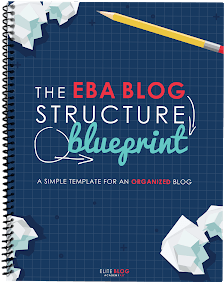 BLUEPRINT TO SUCCESS
---
A clear blog structure is critical to a blogger's success. Organize your blog so that your readers can always find exactly what they're looking for & become raving fans! It's a game changer, and right now it's absolutely free.

But do you want the truth? The truth is all that negative self-talk isn't going to get you to where you want to be. If you want to build a thriving and sustainable online business or blog, then you need to reframe your mindset and pinpoint where you can make improvements.
Here are four big mistakes in your thinking that will set your blog up for failure, as well as how to change them:
YOU THINK BLOGGING IS DEAD
It's hard feel not feel like you started blogging too late–if only you started 5 years ago, or 10, then you're blog would be more popular today. But that way of thinking just isn't productive. There's plenty of room for new blogs!
BUT….that's not to say that blogging hasn't changed. It has. Of COURSE it has! Blogging looks so different now than it did say in 2010. It changes each and every year, but that's the nature of this business.
But that doesn't have to be scary. It also doesn't mean that you have to jump on every single trend, or be an early adopter anytime something new comes your way.
As bloggers, there is always a balance that we have to strike between staying the course while also staying current. Following the latest trend will only be valuable to you if it fits within your bigger picture plan.
YOU'RE CREATING TOO MUCH CLICKBAIT
Social media platforms like Pinterest and Instagram and Facebook have made it easy to get pageviews if you post something that's click-worthy (not necessarily trustworthy).
Creating click-bait for pageviews just doesn't work anymore. Authenticity is king. You need to continue cultivating relationships and creating a community by sharing your voice with your readers.
Being more authentic, more real, more approachable, and more polarizing helps foster relationships, and adds depth over breadth. It also helps grow a tribe of raving fans, not just your numbers.
Because those raving fans are the ones who will buy your products and click on your affiliate links. Those are the ones who will trust what you have to say, and therefore trust what you have to sell.
And in the end, that's a win-win for everyone.
YOU'RE PUTTING QUANTITY OVER QUALITY
According to Daily Infographic, in 2018 the ideal blog post length is 2100 words, and nearly all of the top 10 Google results are posts and articles that fall between 2032 and 2416 words. Not only that, posts that have more than 1500 words receive 68.1% more tweets, and 22.6% more Facebook likes.
Longer, deeper, more helpful content gets noticed, read, and shared.
These days those search engine and social media algorithms are designed to seek out quality content. And that means for bloggers that it is no longer about getting as much content out there as possible, or about keyword stuffing an article to "trick" Google into ranking higher. It's not about adding a bunch of pretty pictures and some great graphics to an otherwise inconsequential piece of fluff in the hopes of going viral on Pinterest, because if the content isn't as good as the image, Pinterest will end up penalizing that post.
Quality matters.
YOU'RE STUCK IN A RUT
Your blog doesn't have to remain the same, year over year. It's time to take chances and add some versatility and variety into your're business.
You have the ability to set up your blog as the hub of your business and the FACE of your business, and create all these spokes around it.
There's the social media spoke, and maybe the micro-blogging you do on Instagram, or the community you have created through your Facebook group, or the trust you've built through email. There is video and podcasting and products, and so many other ways to expand your reach.
Blogging these days is so much more than just posting your 1 or 2 or 3 posts a week, throwing it out there to the world and hoping you get some pageviews.
And if you are not taking advantage of this versatility, if you're not allowing your blog to be the central hub of your multi-faceted business rather than the business itself, then you might just be missing something.
Because it is that versatility that also creates stability in a world that sometimes feels like it is always changing. It is that versatility that allows you to be flexible and keep up with the trends, while also staying the course and staying focused on your big goals. That versatility allows you to shift gears without having to start over.
The versatility gives you longevity. And it is the longevity that is key.
Your versatility—and your willingness to just keep going, keep trying, and keep adapting, no matter what—is the key to your success as a blogger. Because, at the end of the day, the only thing separating those who succeed from those who fail is is that successful people have the grit and tenacity to just keep going, no matter what.