Want to be blog famous? Here's how to create a media kit in 3 easy steps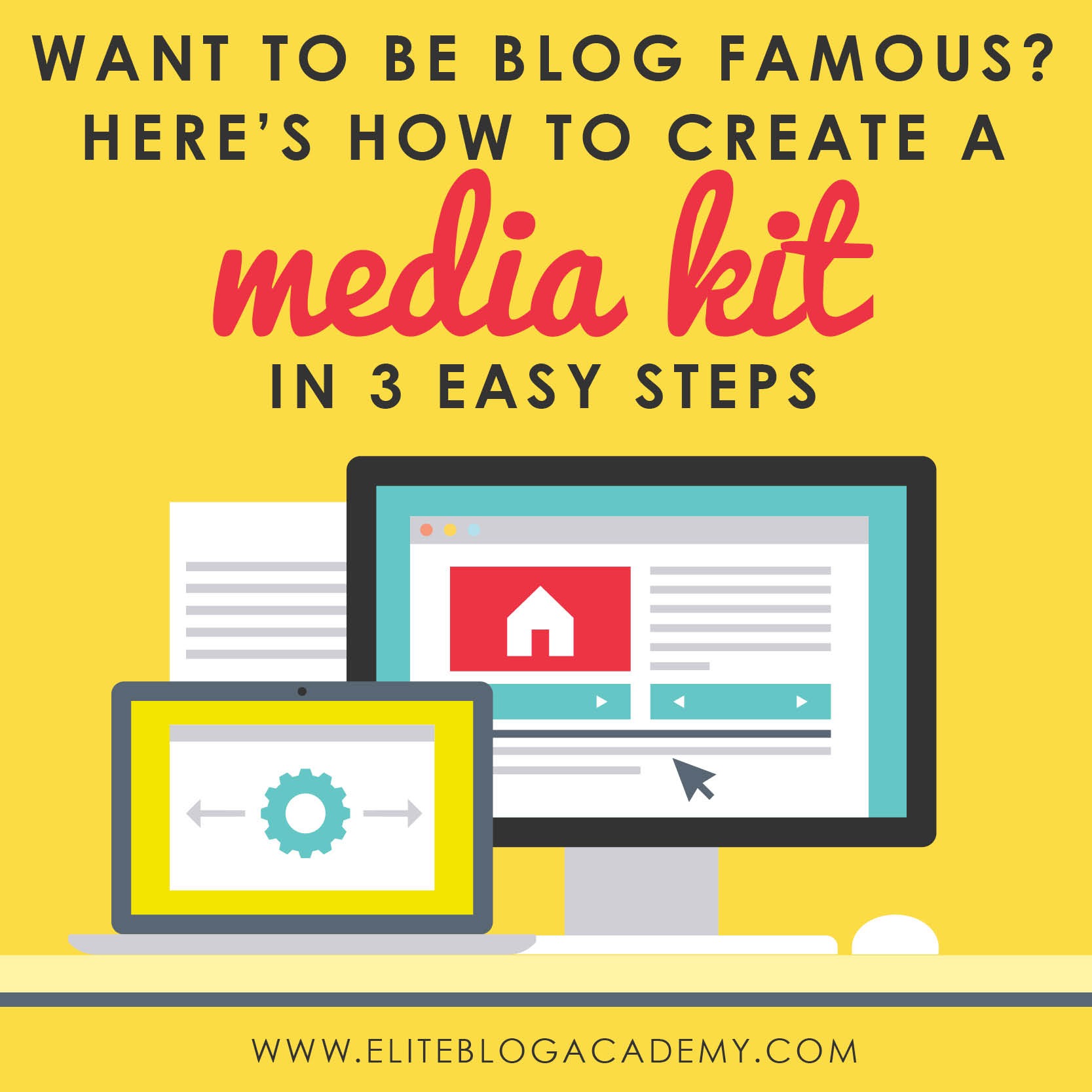 One of the main goals of many bloggers is to eventually make a part-time or full-time income from their work, and right now you can make money blogging in every genre and niche. The secret is this: What you think of as common knowledge may not be so for someone else. Sharing expertise and knowledge to serve others is one of the greatest parts of being a blogger.
Sharing expertise and knowledge to serve others is one of the greatest parts of being a blogger. Click to Tweet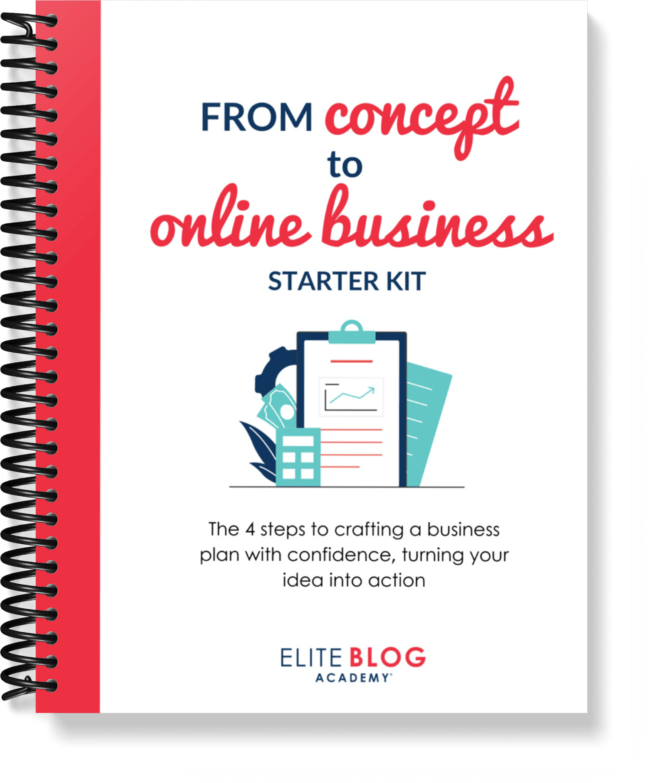 Confused about where to start?
Our brand new From Concept to Online Business Starter Kit will show you exactly what steps to take to get your online business up and running—as well as earning real money—as fast as possible.
However, with all of the content creation and technical upkeep of blogging, it can be difficult to have the time and energy for advertising, marketing, emails, and social media presence. These all fight for our time and attention each day, and it can be tough to know when to do things yourself and when to hire someone to take care of it for you.
One element inside of Elite Blog Academy that many wonder if they should outsource is monetizing their blog – more specifically, working with brands and advertising companies. Many advertisers know the benefits of working with established blogs and purposefully look for ways to collaborate about products and services. This could be through sponsored posts, sidebar ads, or short promotional snippets from the blogger. These benefit both the blogger and the company seeking advertising. This post is designed to show you how to take the first step, which is creating a media kit.
Why You Need a Media Kit
In order to reach out to companies and potential advertisers with the benefits of advertising on your blog, you will need to have a solid pitch and media kit in place. A media kit is a visual representation of what your blog is about, who you are, and the reach and audience your blog has.
A media kit can be emailed out to potential advertisers and can also have its own page on your blog so that it can be accessed by someone visiting who may be interested in advertising. The examples of a media kit in the EBA materials are wonderful and full of ideas for those of us just dipping our toes into media kit creation. Yet, the design of a media kit is much more detailed than simply typing information onto a page.
There are a multitude of options for hiring out the design of your media kit and even some plug and play options, but most of them don't make customizing it to fit your needs and your brand very simple. And as for hiring someone to create one, I know at this point in my blogging career, I'd much rather save the money I would pay to a designer and use it for advertising. There are many worthwhile expenses in blogging and continually evaluating what is worth spending money on and what isn't is the sign of a wise business owner.
Knowing I didn't want to hire a designer for my media kit, I set off to Canva.com to see what resources would be helpful for designing a kit. (If you don't have a Canva account or have never visited the site, I highly recommend it. And it's free!)
While Canva didn't have media kit templates, they did have something just as useful: resumes! Isn't that basically what a media kit is anyway? You're putting your best information out there in a concise, well-written page, and that sounds an awful lot like a resume to me. And the beauty of Canva is once you've decided on a style of resume to use, you can simply add your information, make a few adjustments and voila! Here's the process I used for creating my free Canva media kit.
1.Go to Canva.com and under Documents select Resume.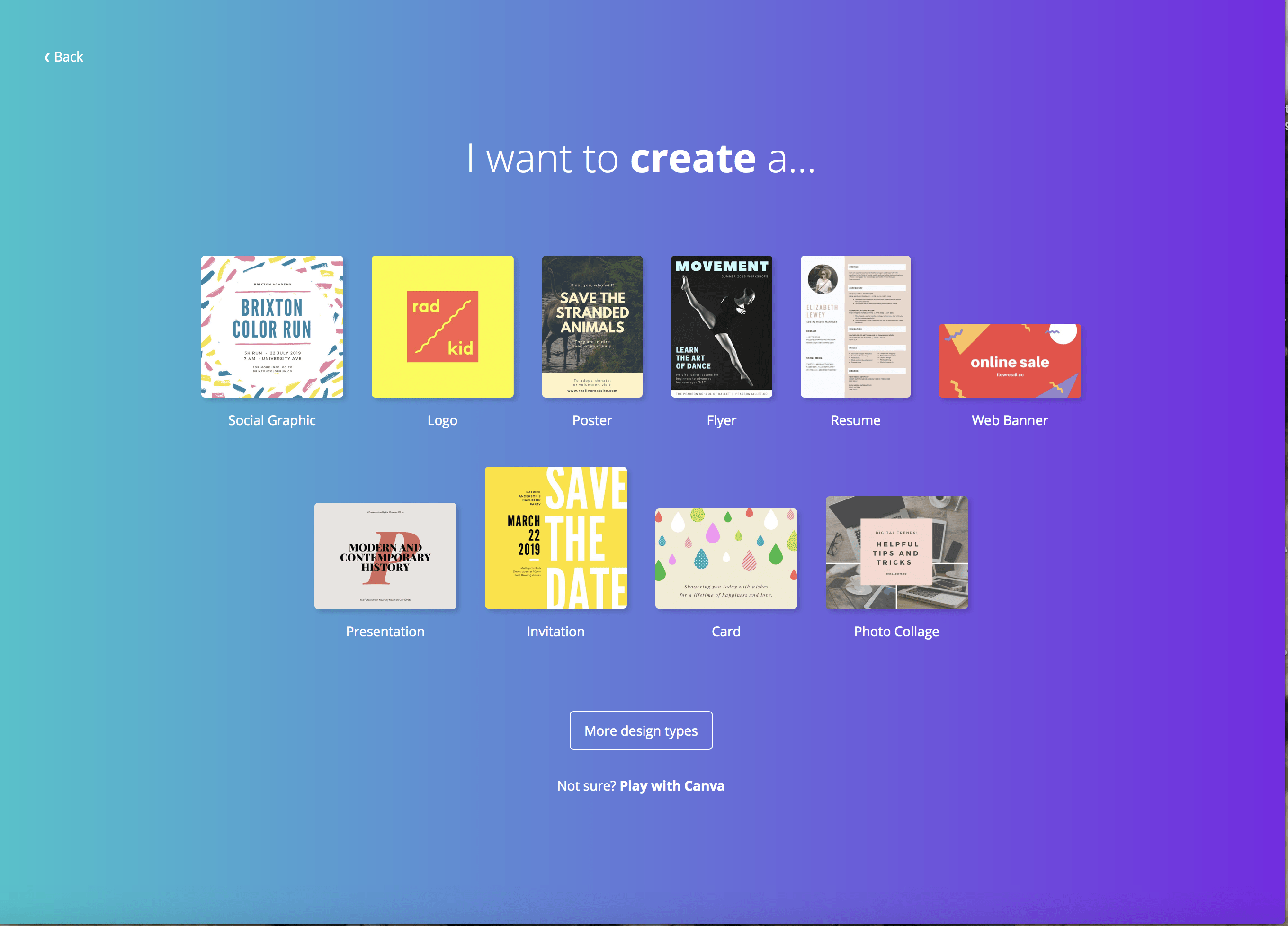 2. A new page will open and you'll see a gallery of resume templates on the left side of your screen. Many of these are free, but some are not. The free templates have a small icon in the corner that says "free." Don't be too focused on colors, those can be changed.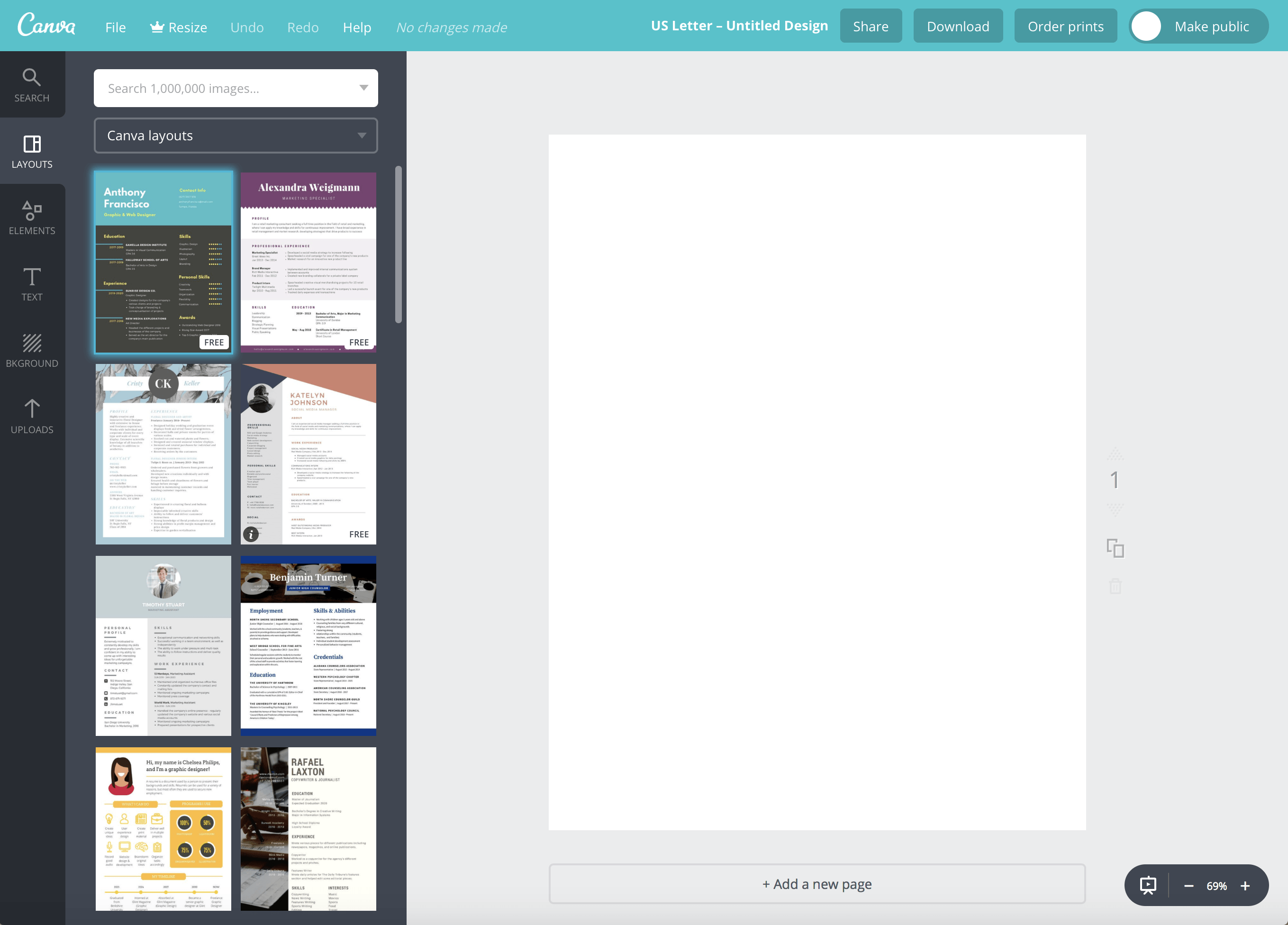 Here's an example of a free template from Canva: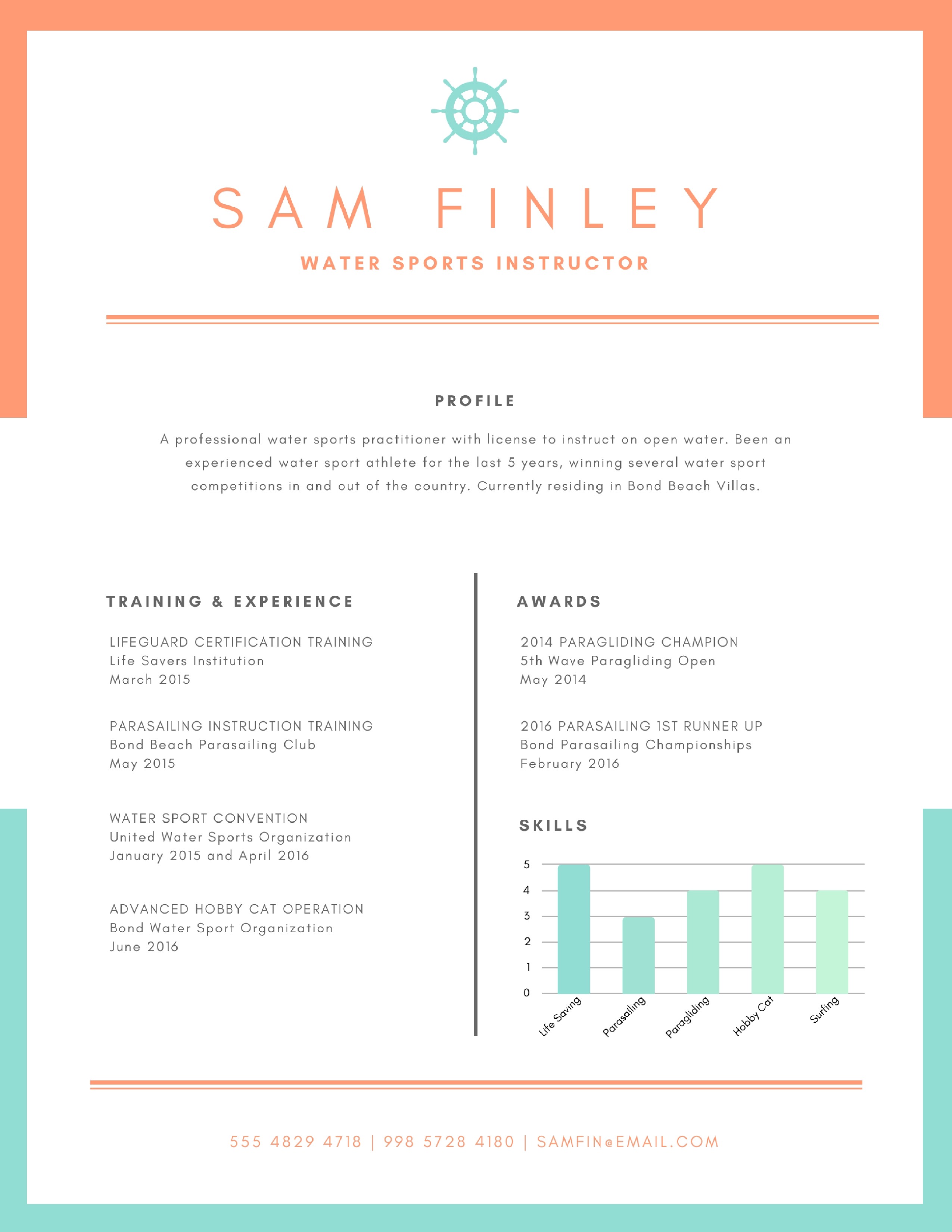 Once you've chosen a template, simply replace the info about the person with information about your blog. Start with your blog's logo clearly displayed at the top. Then move on to replace the other sections of the resume with media kit material. (And all of the colors on any resume can be changed by clicking on the element. Easy!)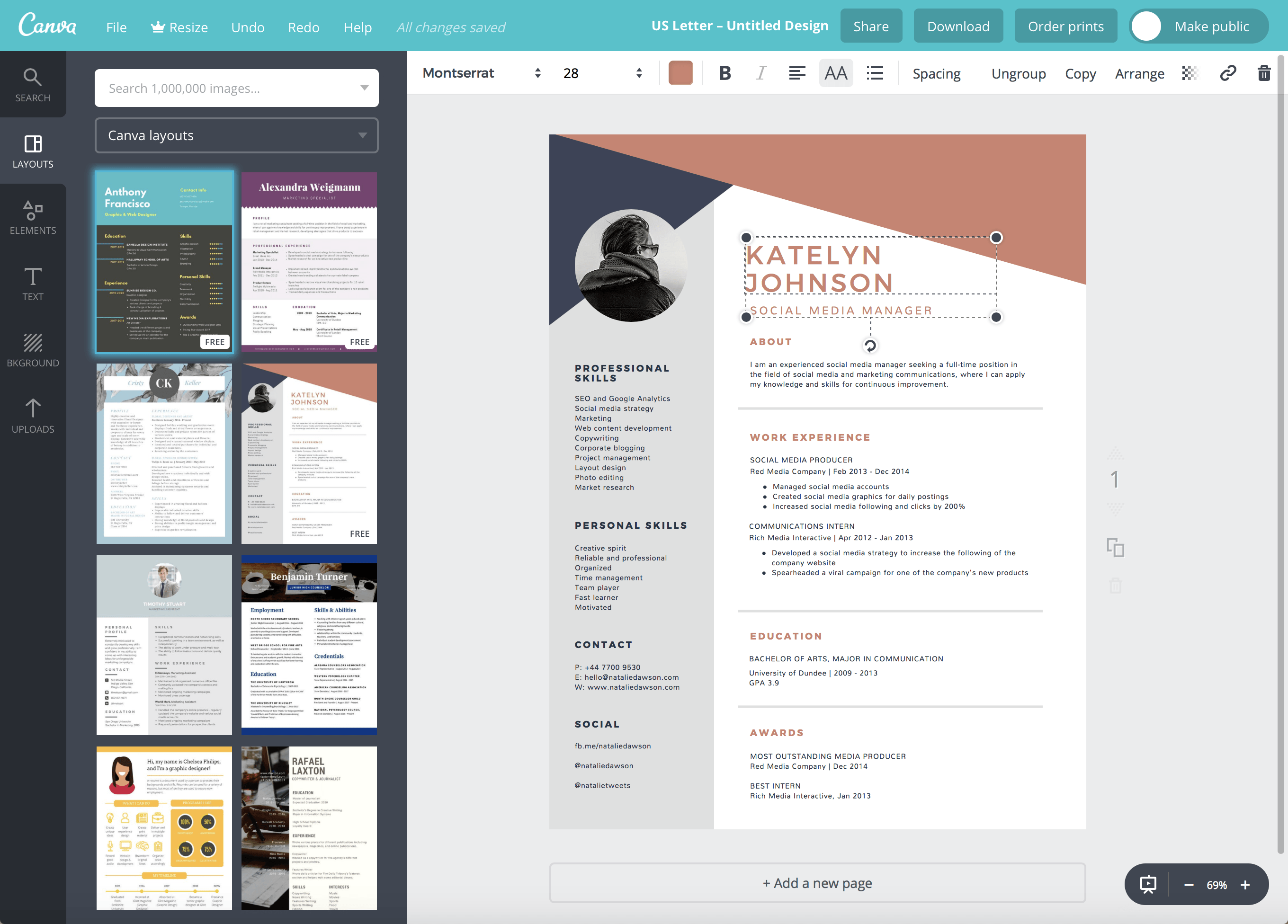 Blog description

: What is your blog focus? Two or three sentences work well for this category.

Traffic Statistics/Reach

: You can find these on Google Analytics and other social media accounts. Let the potential advertiser know how you interact with people and how many visitors could be seeing their content if they choose to advertise with you.

Advertising Opportunities

: Clearly explain the opportunities available for advertising. You set the rules; it's your blog. You can offer sponsored posts, sidebar ads, etc. Set the parameters for each opportunity, so they can choose the option that's best for them.

Profile

: Let the advertiser know who you are! This is a great way to connect with them by sharing your qualifications. Also include a professional headshot or photo.

Contact Information

: Let potential advertisers know how to get in touch with you to pitch their offer. You can include social media links in here as well.

Optional

: Include testimonials from past clients if you've already successfully used private advertising on your site.
For each of these areas, be sure they are clearly labeled. Many of the resumes have existing labels, so you'll just need to replace their label title with your own. This gives anyone who may be looking over your media kit a clear sense of what they are looking at and that reflects well on you. And if ever there was a time to edit, this is it. Consider your media kit as a first impression, and you want to make it memorable (in a positive way)!
Once I added in my own information to the Canva resume template, all that was left to do was download it to my computer. This gives you the freedom to add it to your blog or email to potential advertisers as you see fit. Here is my finished media kit: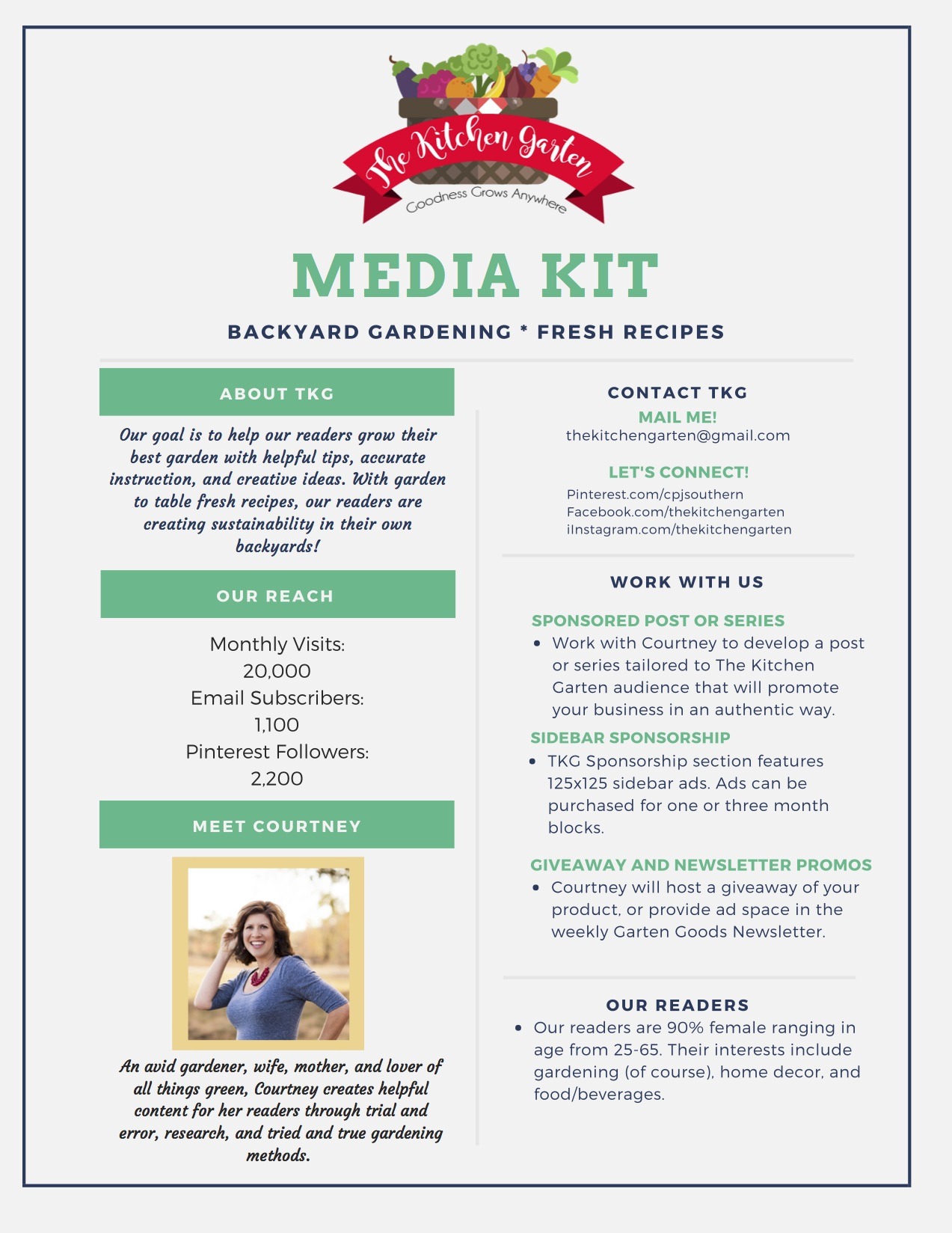 I was incredibly pleased at how professional it looked considering I only spent an hour of time creating it. If you have all of your blog information ready to go, it could be even quicker. A file from Canva can be saved as a pdf or jpeg. This makes it easy to attach to an email (PDF) or include on a blog page (JPEG).
So save your hard earned blogging revenues for now, and create a media kit on your own. It's one of the few blogging tasks that doesn't require a lot of background experience and design skill. Canva has really taken care of all of the tricky design choices, and you can simply click to add your information and walk away with a beautiful media kit to secure sponsors. Now if only adding code to my blog was this easy!
Getting more eyes on your blog can feel tireless and overwhelming, but it does not have to be that way! Our 11 Ways to Boost Your Blog Reach Overnight eBook can help! It will give you 11 quick actions you can take today to start introducing more people to your business today! Best of all, it's completely free! Simply download it here.
Courtney is passionate about backyard gardening and fresh cooking and baking. She founded thekitchengarten.com to help others create bountiful kitchen gardens in their very own yards and to give inspiration for how to use those homegrown ingredients in fresh recipes.