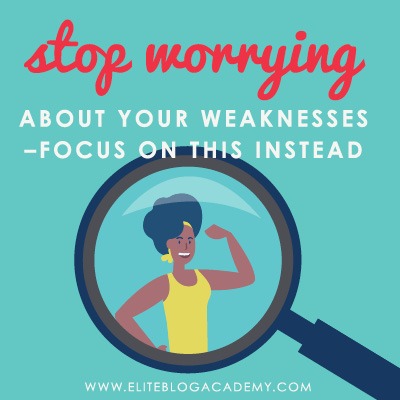 How can we play to our strengths in our businesses and our everyday life? How do we find the magic sweet spot we feel we were destined for?
The single best piece of advice I have ever received was this: "Stop trying to improve your weaknesses. Play to your strengths." It was my dad who told me this—I doubt he remembers saying it, but it rocked my world.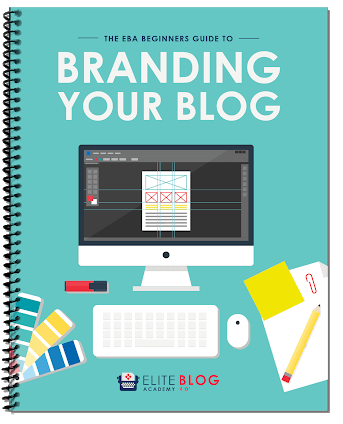 Brand Your Blog
---
Good branding and blog design are critical to a blogger's success. Find out how to brand and design your blog so that you tell your audience exactly WHO you are as an entrepreneur and a company! It's a game changer, and right it's absolutely free!

This simple concept he introduced me to literally changed my life. In fact, this concept has become the foundation upon which I have built my entire business..
So, what does playing to our strengths actually mean? And how can we implement the concept into both our businesses and our everyday life? How do we find the magic sweet spot we feel we were destined for?
Changing Dreams are a Good Thing
To explain all of the above properly, I need to go back a bit and share the situation that led up to my father uttering those fateful words. Ever since I was a little girl, I've always had BIG dreams. My biggest? I wanted to be a Broadway star. I loved to sing, dance, and act. And I was really good at it.
I followed my dream all the way through high school and college, where I auditioned at several schools and received multiple acting scholarships. I felt affirmed in my calling—schools were literally offering to pay me to come study acting!
Trust Your Gut
After a single semester, however, I got hit with some hard realities. Between excruciating insecurity in my abilities (due to snide remarks), to being placed squarely at the bottom of the drama department food chain with the rest of the freshmen class, I made the choice to walk away. I only lasted a single semester.
My life felt shattered. My dream was broken.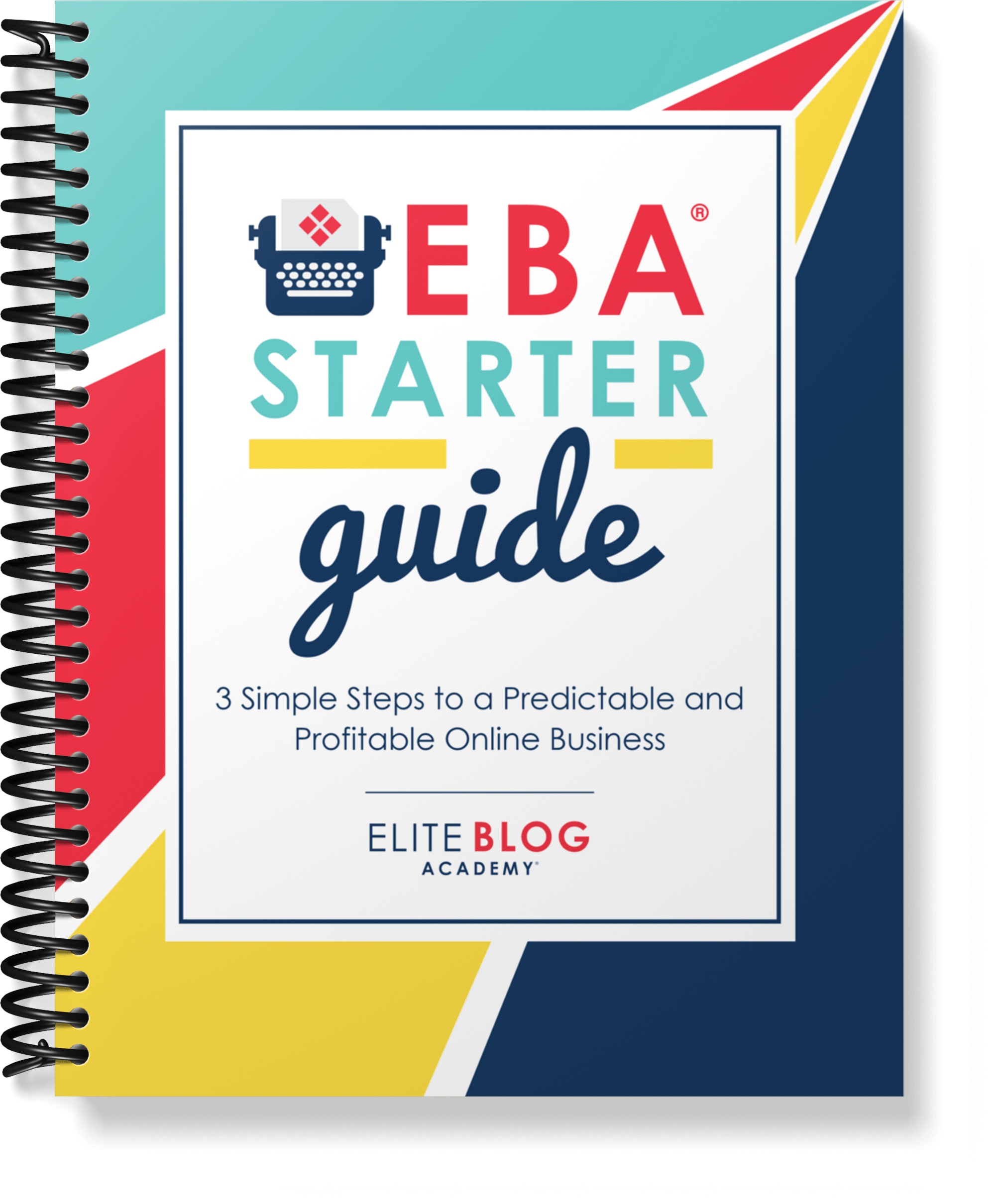 Ready to start making money online?
---
Eliminate the start-up overwhelm now. Our EBA Starter Guide provides a clear, proven path to success you can implement right now to get your online business up and running quickly with confidence. Grab it free, but only for a limited time!

So, I did the one thing I always do when life gets tough: I picked up my journal.
You see, the one thing I've faithfully been doing since childhood is writing.
As soon as I thought about what I was the best at, I knew what I needed to do. I made another call and followed my gut instinct—I was going to be a writer. I received my journalism degree and here I am, over a decade later, running a ghostwriting business, The Creative Wheelhouse.
Our mission at The Creative Wheelhouse is to serve bloggers and small business owners. We partner alongside them to create written content for their blogs, websites, social media, and marketing pieces. We have over 25 clients and a half dozen people on the team. I get to impact the lives and businesses of my clients and team daily, in positive ways.
A far cry from sobbing into a diary.
Why? Because I allowed my dream to shift.
As business owners and solopreneurs, it's no different. We have to adjust and align constantly. If we don't, our businesses grow stagnant. Our clients and readers leave and our confidence plummets. We lose our passion.
In short, changing dreams is a really good thing.
Know Your Strengths AND Weaknesses
To grow your business and have the opportunity to impact those around you, you first need to do as my dad suggested: play to your strengths. To do that, though, you must know what both your strengths and weaknesses are.
Strengths and weaknesses work in tandem with each other. You cannot have a strength without having a corresponding weakness. Here's a very practical example of what I mean using two fictional women, Jenny and Laura.
Jenny is the PTA president. She works a full time job where she is a head project manager, and has a pristine house. Her two children are always groomed impeccably, as is she.
Laura, on the other hand, is a stay at home mom. She has four children, who are often dressed in a mismatched array of colors and patterns. She loves to paint and makes incredible art pieces. She is teaching an online course that helps children learn how to do the same.
Jenny's strengths—punctuality, time management, and her organizational skills are in stark contrast to Laura's. Laura is not-so-great at all of the above. However, she is fantastic at utilizing her creative skills, being highly spontaneous, and able to go with the flow in any situation.
Do you see how these polar opposite women both have strengths and weaknesses? Now imagine Jenny trying to teach art classes, or Laura running an ultra-detailed project with crucial deadlines. It doesn't work.
Could the two women fill their respective roles? Probably. But would they do it well? Probably not. At the best, they'd be average or mediocre in their roles.
Even more importantly, neither would be happy. Their work would feel challenging and soul-draining. Not a good thing!
Laura could spend her time trying to learn how to be an ultra-organized Type A woman, or she could instead use that time and mental energy to pour into her art courses. She could become the greatest children's art teacher online and love her life—or she could become a struggling, mediocre project manager in a job she despises.
See the difference? The same amount of time and energy will net you very different results when you play to your strengths.
Ever wish you had a roadmap to blogging success? Our Secret Blueprint shows you the exact steps you need to take to grow your blog FAST and monetize successfully. It's free, but only for a limited time! UNLOCK THE SECRET.
How to Find Your Strengths and Weaknesses
The first step in implementing this is to figure out what the heck your strengths are. There are so many ways you can do this, but here are three exercises I have found to be most effective.
Make a List.

Pick up a pen and paper and start listing things you are great at. In Elite Blog Academy, Ruth asks people to make a quadrant list of:
A. What they are good at and love
B. What they are good at and don't love
C. What they are terrible at but love
D. What they are terrible at and hate
List A is what you are both good at and enjoy doing—those are your strengths. List D are your weaknesses.

Ask your friends.

When I did this, I simply put out a Facebook post and asked my friends to tell me three words they would use to describe me. Not only is this an incredible confidence booster, but you might be surprised at the things they say, and the frequency the same words come up.
Take the StrengthsFinder test.

The name literally says it all! This test takes about 20-30 minutes to complete and you do have to pay for your results. But I promise you—it's worth every penny! Make sure to purchase the full results because knowing your strengths AND weaknesses is equally important.
Stop Trying to Improve Your Weaknesses
By going through the three above exercises, you should have a fairly good idea of what your strengths are. You should also know what your weaknesses are. So what do you do with your weaknesses?
Stop worrying about them.
It's easier said than done, of course. And it isn't always possible. However, by letting your strengths take center stage and your weaknesses take the backseat, you will grow immensely in both business and life.
Here are some practical ways a blogger could stop focusing on weaknesses:
If you are an incredibly gifted creative writer, you could hire someone to take over the back-end part of your website. Use the extra time you would have spent tearing your hair out over Wordpress' plugins to write articles that will make up the cost of outsourcing.

If you love keyword research and analytics, but dislike writing, offer out your skills on a VA board. Use your earned income to hire a writer.

If you are an incredible graphic designer, sell your designs or use them to build an instagram fan base that will lead to more sponsored posts and affiliate sales. Then, hire someone to link your affiliates in your older posts and continue to promote them with your awesome graphics and pins.
As you can see, the common theme above is outsourcing. As Ruth says, you can't do or be all the things all the time.
Outsourcing or trading skills comes naturally to us in our personal life. For example, if you dislike dishes, but are great at folding laundry, you might ask your husband to do the dishes while you fold.
In business, it should be no different. I learned this the hard way—I had been running my blog for six years before I ever let anyone touch it. I finally had to start handing off tasks when I was so exhausted and burnt out that it was either outsourcing or walking away.
Guess what happened the first time I let someone create a pinterest graphic for me and put it on Pinterest?
Nothing.
My audience didn't care (or realize). My traffic didn't tank (it actually improved). My business didn't sink—it started to thrive. And more importantly, I started to enjoy it again. Because while someone was making graphics and killing it on Pinterest, I got to do what I really loved—write.
How I Built a Business Around My Strengths
After going through EBA, and also joining the first EBA VIP group, I realized something important: my dream was shifting, yet again.
While I had someone managing my social media (who liked it and was good at it!), I poured myself into writing content, posts, and emails. My writing shined—and people noticed. I took on freelance writing gigs for a few other bloggers who approached me, all due to the time and energy I put into posts.
I realized I still wanted to blog, but I didn't necessarily care if it was on my blog. I wanted to write and use everything I learned throughout school, my work experience, my blogging career, and my time studying under Ruth, but in a non-traditional way.
I started a digital agency for bloggers built solely around the concept of playing to your own wheelhouse (hence the name The Creative Wheelhouse). I wanted to reach people who were struggling in their business and needed a hand or a boost—but only in a way that played to my strengths.
According to my (scary-accurate) Strengths Finder results, my top giftings are positivity, communication, empathy, strategy and includer. So I built my business as such—I run an agency comprised of women who are so excited to get to do the work we do.
I get to use my empathy daily with both my clients and my team—to ghostwrite well, you really do have to put yourself in someone's shoes. I get to write, but I am completely fanatical about nailing SEO, which plays to my strategy side.
I get to do what I love, every single day. I have never felt more sure that I was doing what I was meant to do—not even being on Broadway would be this good (although I'd certainly welcome the chance). And it all happened thanks to letting my dreams shift, listening to my strengths, caring deeply about my customers and team, and investing in excellent learning resources like Elite Blog Academy.
Remember, stop trying to improve your weaknesses. Play to your strengths.
Stop trying to improve your weaknesses. Do this one thing instead. #ebawisdom
Where to Find Help for Your Blog
I know much of this concept is easier said than done. However, there are some practical, easy ways to implement this concept and find the right people to fill in the gaps.
Look within the EBA Community.

Elite Blog Academy

offers a thriving Facebook community where students can regularly interact with other bloggers and Ruth. If you need help with a particular task, write a simple post and ask for recommendations.
Try VA-Centered Facebook Groups.

Another place on Facebook to search for help are virtual assistant groups. There are some created specifically for bloggers, and others for general VAs. You can also search for groups by skill set such as designers or project managers.
Search on LinkedIn.

LinkedIn is an excellent resource for sourcing those with specific skill sets. Plus, you never know what your common connections are with others!
Use

The Creative Wheelhouse

. Shameless plug, I know. However, if you are looking for a ghost writer, product creation, or social media help, feel free to send me a message. We love working with EBA students to help grow their blogs and businesses.
It will take a bit of effort on your part to find the right person to help you meet your goals, but once you find them you can allow yourself full freedom to concentrate and build up your strengths while the rest is taken care of for you.
Ready to take your blog to the next level? Our 11 Ways to Boost Your Blog Reach Overnight eBook can help! This ebook will give you 11 quick actions you can take to start introducing more people to your business today! Best of all, it's completely free! GET IT HERE.