I'll be the first to admit that I'm kind-of a planning junkie.
But truthfully, I can't even imagine growing the business that I have WITHOUT being completely vigilant about setting goals, planning ahead, being diligent about setting my priorities, and managing my time well.  
I created my first blog planner—strictly for my own use—in 2012.  I got serious about setting goals, measuring progress, and planning my time, and that is also the time where my business started to take off.
In 2013, I created a slightly prettier PDF version of that blog planner to share with readers of my book, How to Blog for Profit. And then in 2014, I had a physical version made available for sale.
But in 2015, I started looking for a better solution.
You see, I truly believe the biggest reason my blog planner was SO effective in helping grow a successful business was that it helped me to set long term goals, and then to break down those long-term goals into monthly goals.
Yes, it had some features unique only to blogging, such as a brainstorming page and a stat tracking page, but at some point, I realized that most of the stats I was tracking were vanity metrics  anyway, and that I liked  brainstorming  on post-it notes.
But I also realized that when it came to managing my whole life, the blog planner didn't quite cut it.  So much was slipping through the cracks—things like staying on top of my entire schedule, not just my blog schedule, keeping track of my budget, planning my meals, and setting goals that weren't just blog-related.
Something had to give.
And so, I decided to create a new planner—one that would help me organize my whole life, not just my blog.  After all—I'm more than just a blogger.  I'm also a wife, a mom, a friend, and a person.  
And ultimately, that is exactly how the Living Well Planner® was born.
So much more than just a blog planner, I designed the Living Well Planner to help me manage all the pieces of my busy life—from organizing my schedule and mapping out my content to managing my finances, tracking my expenses, planning my meals, designing my big projects, and CRUSHING my goals.
It was the sanity-saver I needed to take my business—and my life—to the next level.
It's been 4 years since I first launched the Living Well Planner®, and in that time, it has changed thousands of lives….including my own.
And so, because people still ask me ALL THE TIME, whether I still use a blog planner (and if I can create one to sell), I thought I would take a little time today to show you exactly HOW I use my own Living Well Planner to manage my life AND my business, all in the same place.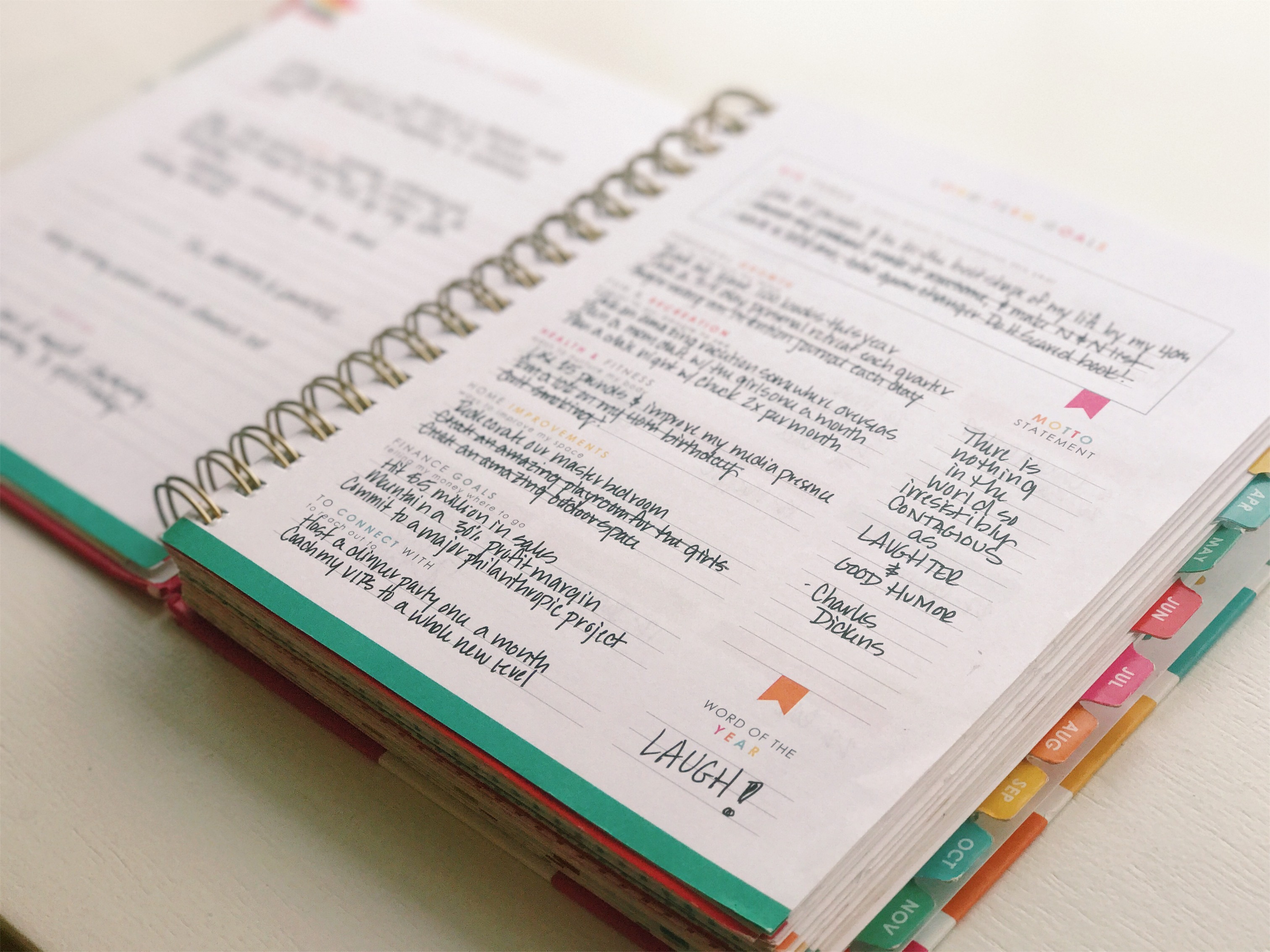 LONG-TERM GOALS
For me, setting big goals at the beginning of the year has been the ultimate game changer. It gives a focus and a direction that I wouldn't otherwise have, and it keeps me from chasing too many squirrels.  In the Living Well Planner I set my "Big Three"—my three biggest goals for the year, and I refer back to them all the time. They are my compass.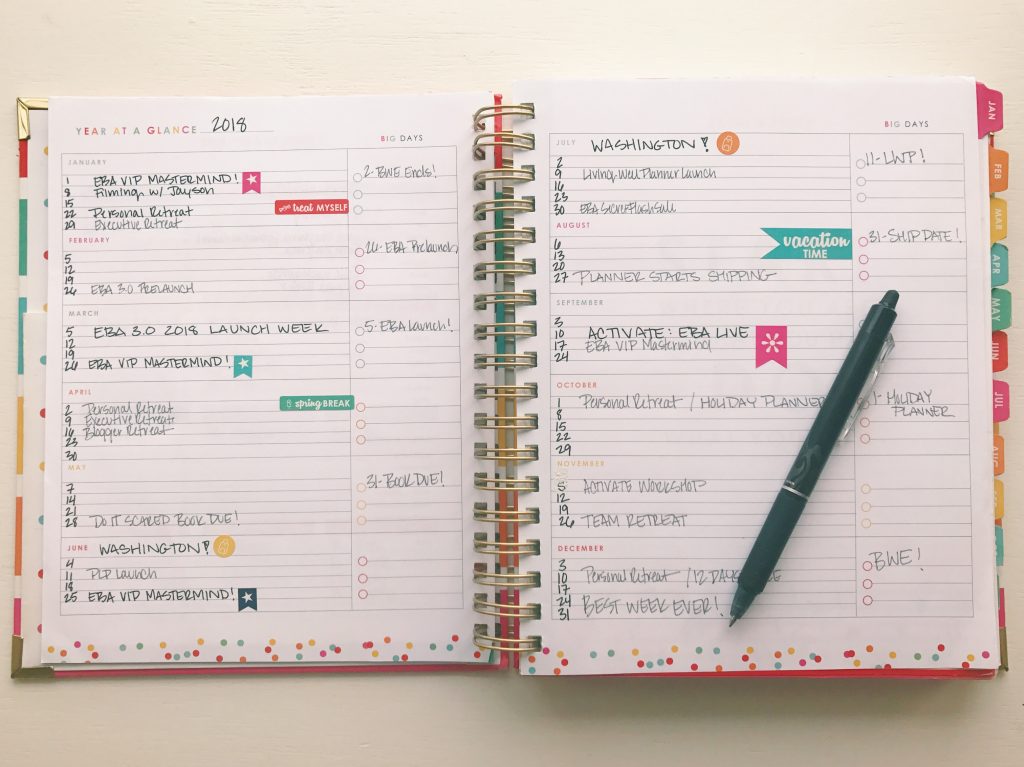 YEAR AT A GLANCE
After I've set my big goals for the year, I love diving into the nitty gritty and actually planning out what that will look like from a practical standpoint, week-to-week. The Year at a Glance spread is perfect for that, because you can break down the whole year week-by-week and know exactly what will be going on at any given time.  This keeps me from getting too "stacked" with too many projects happening at once.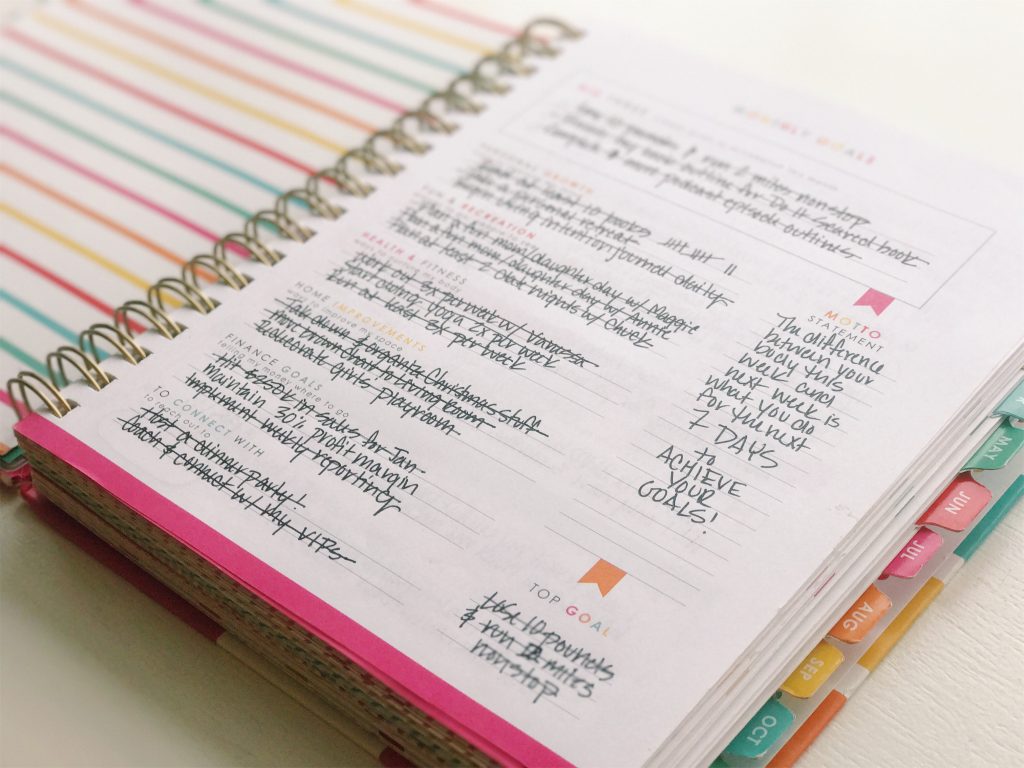 MONTHLY GOALS
I love making big goals, but I think this monthly goals page is where the real magic happens, because it forces me to re-visit my big goals every single month, and to break them down into smaller pieces that will get me closer to the finish line. Sometimes it amazes me to look back and see how I was able to accomplish seemingly insurmountable tasks, just by taking a little bit at a time.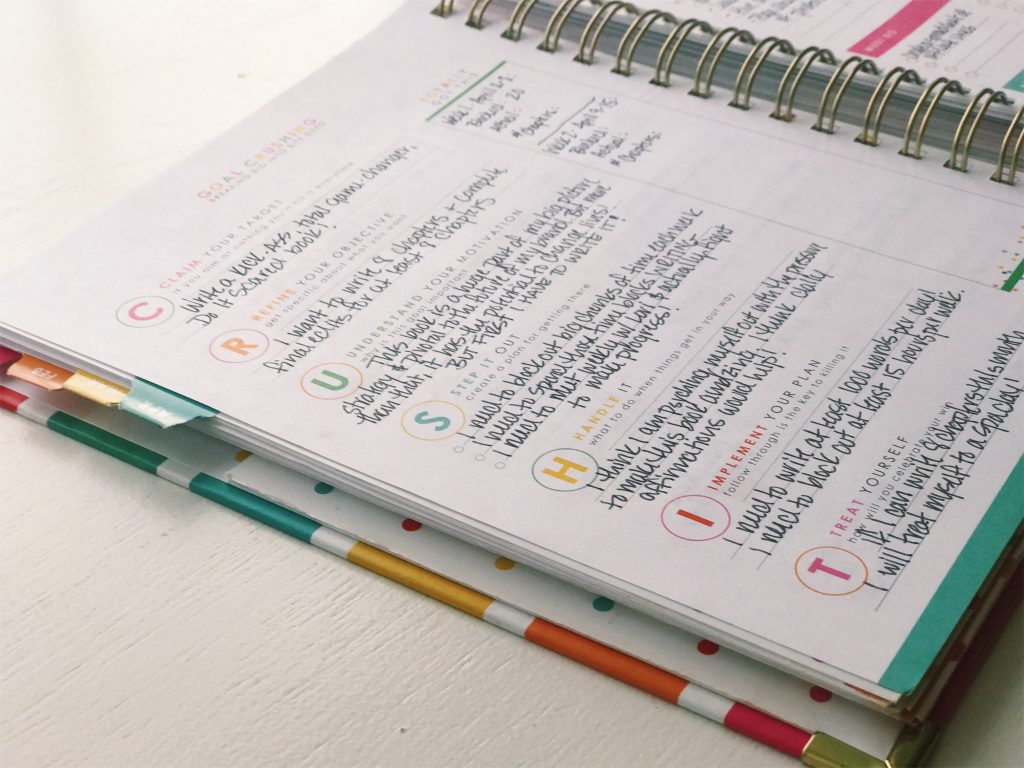 GOAL CRUSHING
I always break down my biggest goals for the month using our Goal Crushing® formula. And it never ceases to amaze me how much more clarity and focus I have after taking the time to do this!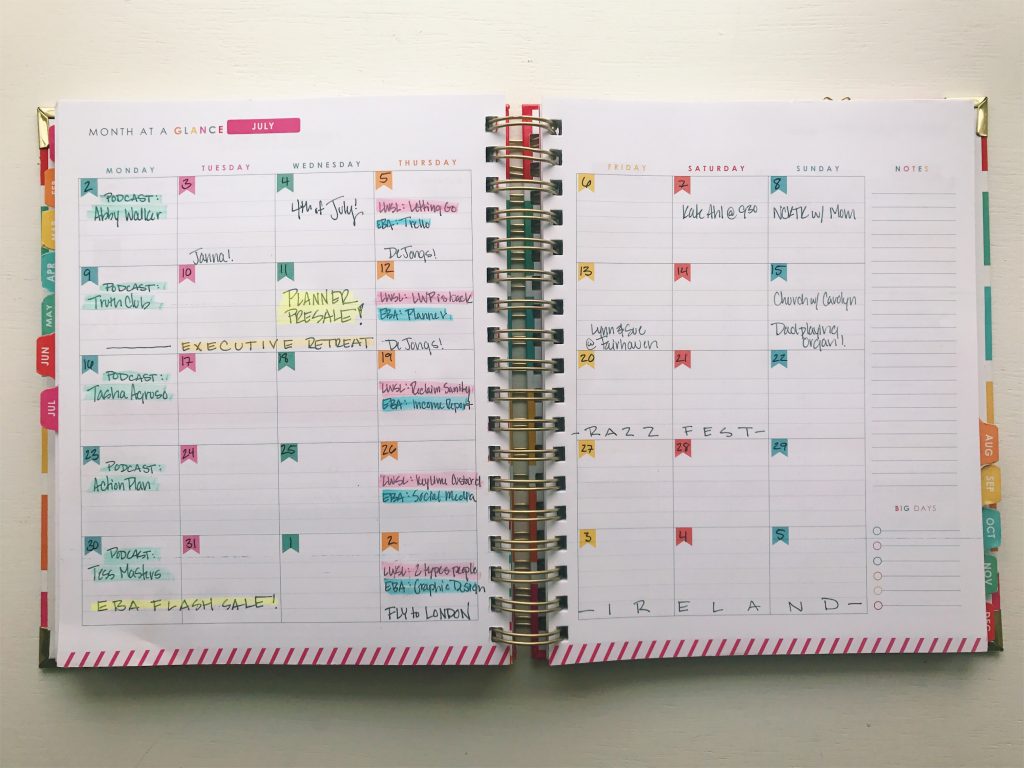 MONTH-AT-A-GLANCE (EDITORIAL PLANNING)
I love using the monthly calendar spread in my LWP for keeping track of major events, as well as for planning my editorial calendar.  When Natalie and I are first mapping out content for a given month, we will start with a bunch of brainstormed post ideas on post-it notes, and then move them around on the calendar until we are satisfied with with where they are at, and then I will write them all down in the Month-at-a-Glance page.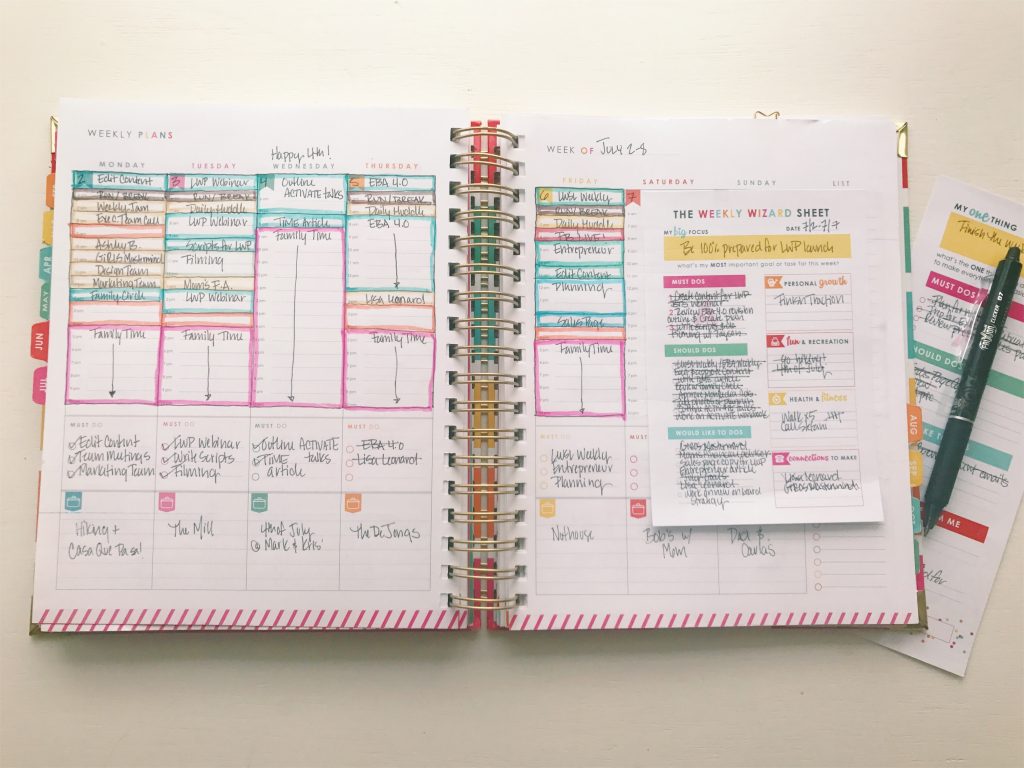 WEEKLY PLANNING
Planning out my week is where it all gets real, and to be honest I don't think that there has been any habit more transformative in my business or my life than taking the time to block out my time each week, and then 10 minutes to set my intentions each day as well.
I usually plan for the following week on Friday afternoons, so that I can go into the weekend knowing that I've got a plan to take care of all those tornadoes that would normally be spinning around in my brain.  
I start my planning session by doing a quick brain dump of everything that I know I'll need to work on the following week, and then I prioritize those tasks into A, B, & C tasks using my Weekly Wizard sticky notes.  
Then from there I block out time in my schedule to accomplish everything I need to do—I start by making time for the A tasks—the biggest, most important things that will get me closer to my goals. Next, I make time for my B tasks—those things that are important but not "big goal" important.  Finally, if there is any space left, I make time for my C tasks—the things I'd like to do if I can fit them in.
And then every morning I fill out my Daily Do-It sheet with my prioritized task list for the day, so I know exactly what to focus on.  And while all this might seem like a lot of time for planning, I would estimate that it actually saves me at least 20 hours a week. I'm never spinning because I know exactly what needs to happen next.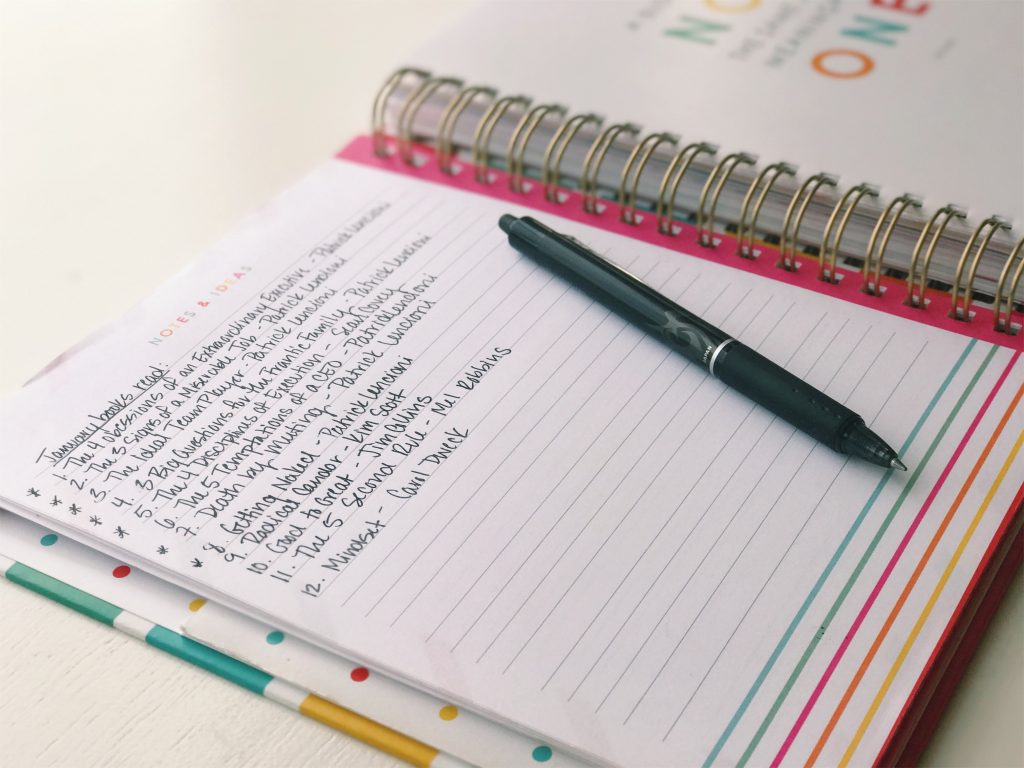 OTHER FEATURES
Some of my other favorite features in the Living Well Planner include the notes & ideas page at the end of each monthly session, which I like to use to track the books I have read, the expense tracker page, which is a great way to keep track of business expenses as they come up, and the thoughts & thanks page, which I like to use to track my wins!
Needless to say, my Living Well Planner® is literally the one tool I couldn't live without. I've even bought purses to go with it, so that I always have it with me. The reason that I believe in it so much is because I created it for ME—and people just like me!
And today I can't even tell you how excited I am to let you know that our newest edition of the Living Well Planner® is almost here! Not only that, as a thank you for being part of our amazing community, I also wanted to let you know about a special bonus gift just for you when you preorder!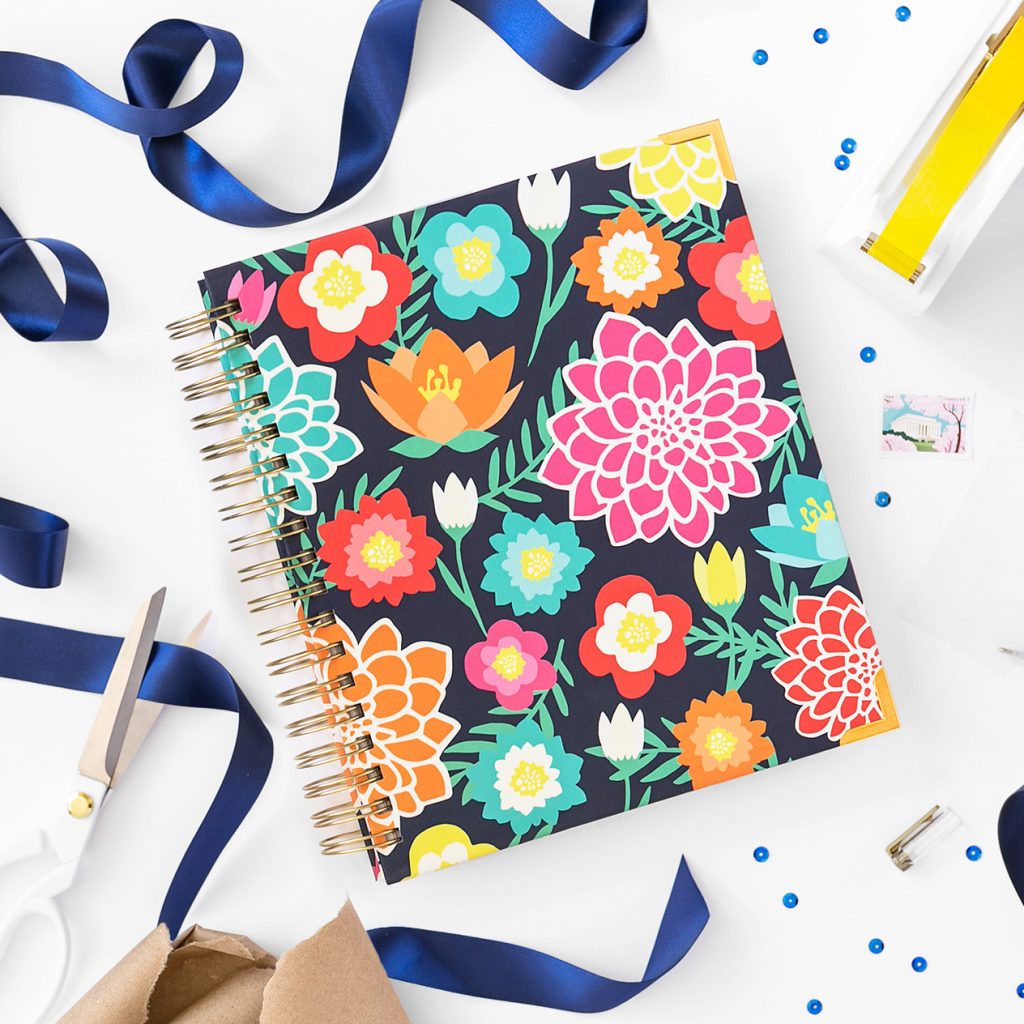 This year our design team completely outdid themselves, and hand-crafted our own signature floral pattern—a collection of bright & beautiful hand-drawn flowers on a sophisticated navy blue background.   It's both colorful and refined, and we think it is the perfect way to take your planning to the next level in the coming year.
Isn't it gorgeous?!!
This new edition of Living Well Planner will begin shipping on or before August 31st, but when you preorder now, you can take advantage of our Early Bird pricing and get it for just $39, $10 off the regular price of $49, (and the lowest price we've ever offered!)
But that's not all!  
You see, we're also throwing in an AWESOME preorder bonus that is going to blow your mind!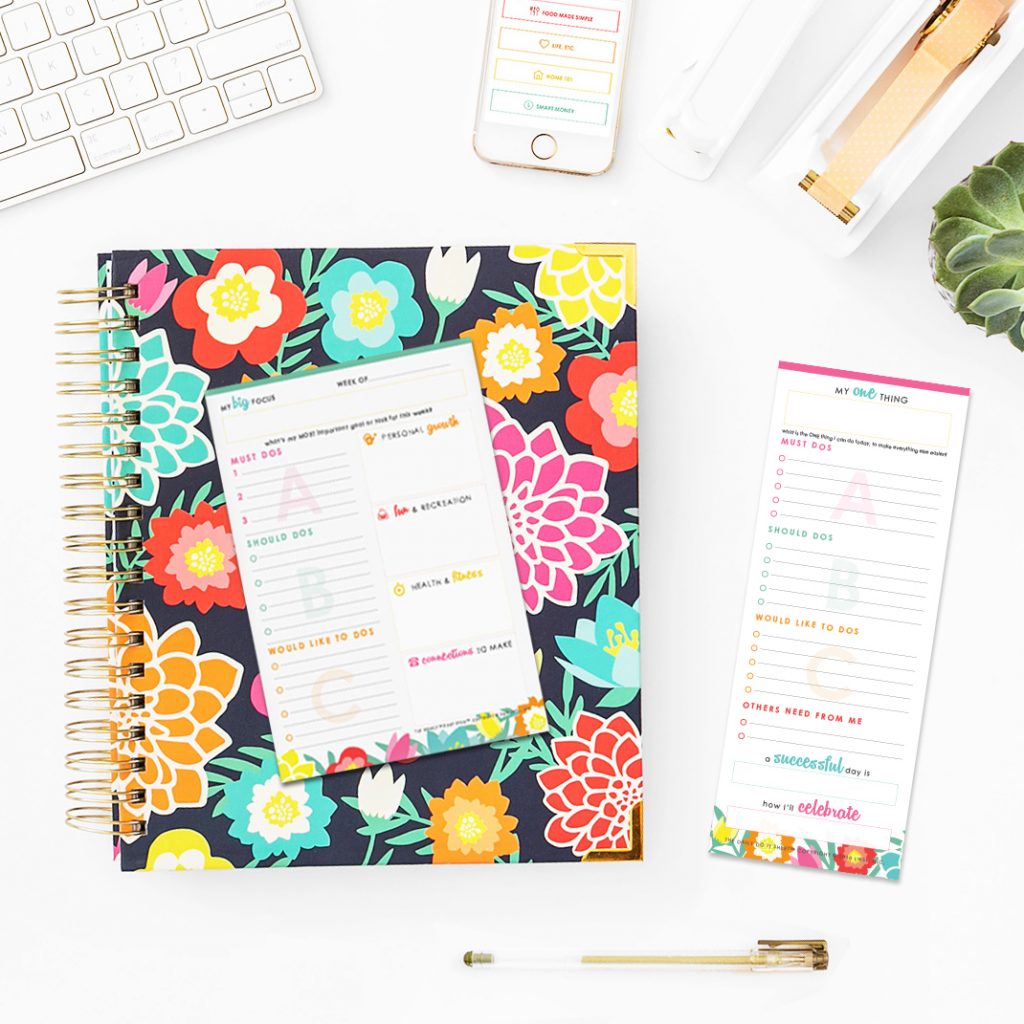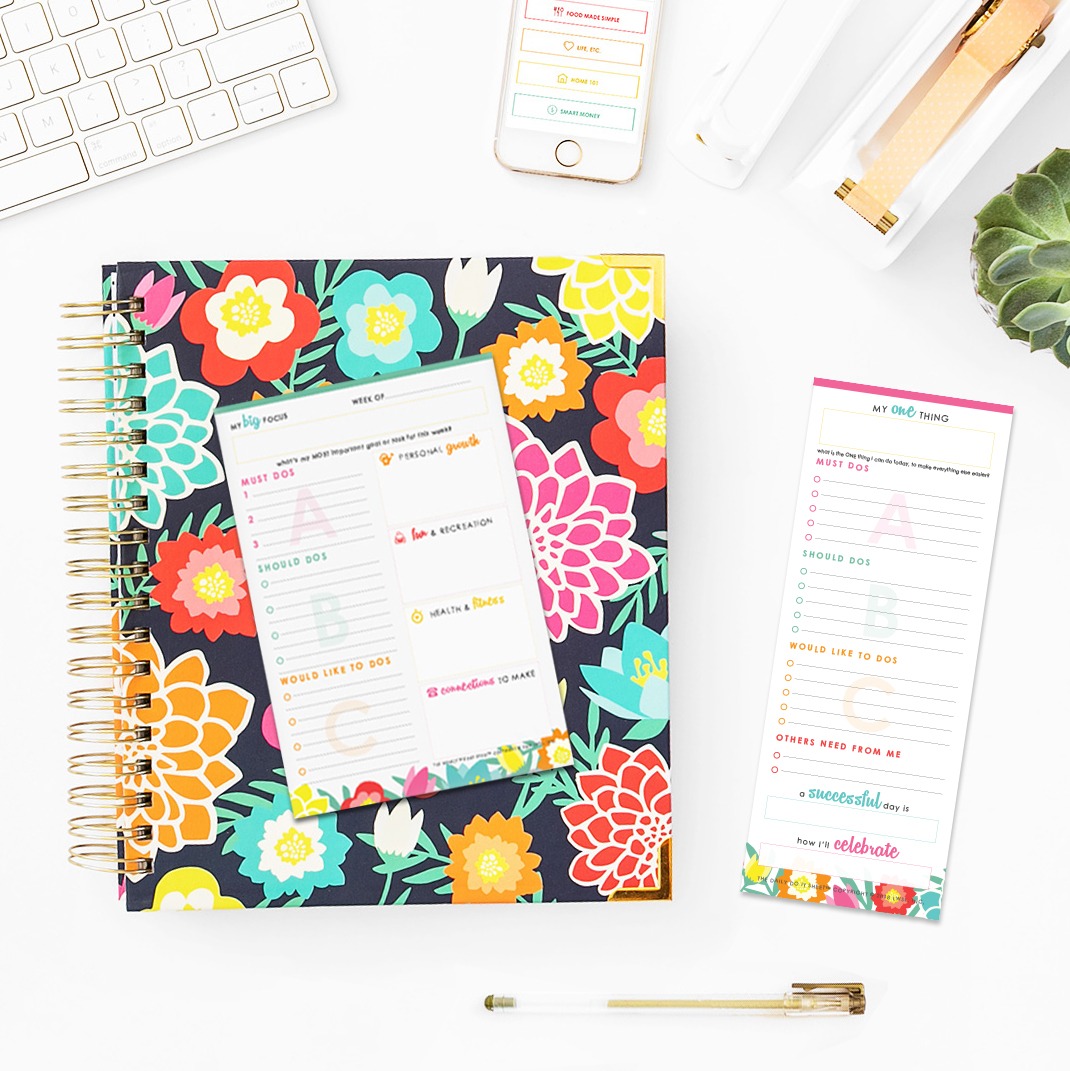 As your special preorder gift, you'll receive my 2 very favorite sticky note pads FREE with your planner purchase—the Weekly Wizard™ (an $8.50 value) and the Daily Do-It™ (a $9.50 value).  Both are designed to work with the planner to help you better organize your week and your days, respectively, by helping you prioritize your to-do lists to make sure that the most important things get done first.  Best of all, you can stick the right into the weekly planning pages of your planner to keep yourself on track all week long!
Every year, we've continued to refine and make it better, and this year is no exception. Here are just a few of the improvements that we've made this year:
THICKER PAPER: We took it from 70# weight to 100# weight, a dramatic difference for increased durability, giving you an even higher quality planner experience.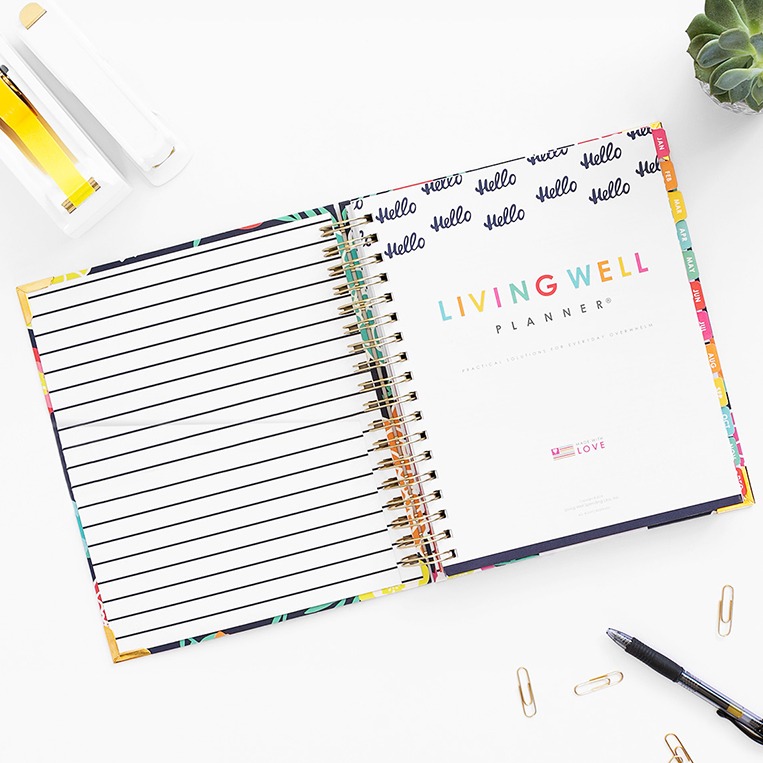 REFINED DESIGN: In addition to our new floral cover option, we've updated our interior with pretty-yet-sophisticated florals, stripes, and navy accents.  It's the same planner you know & love, just a little more grown up.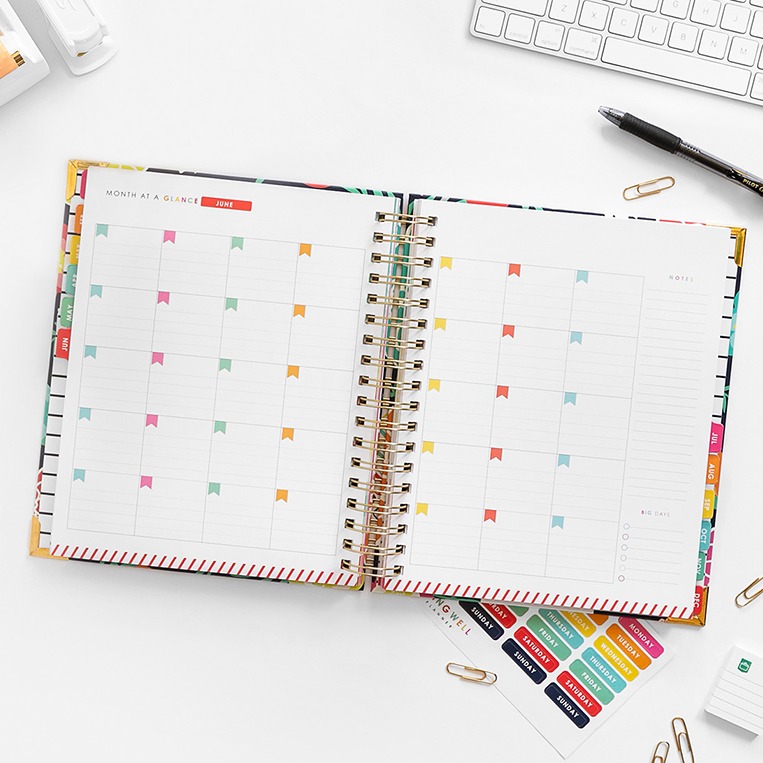 CUSTOMIZABLE MONTHLY PLANNING SPREAD: Because some people prefer a traditional Sunday start monthly calendar, while others prefer a Monday start to match the work week! Since our customers have always been split down the middle on this issue, we decided to make it work for everyone!  Your planner now comes with an additional set of stickers to make your monthly calendar work for you.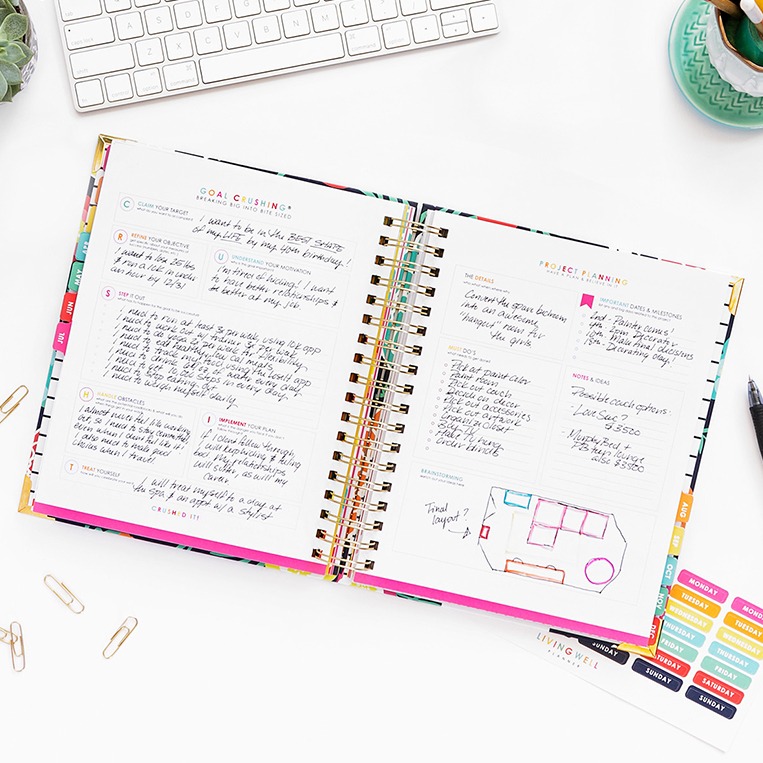 IMPROVED GOAL CRUSHING & PROJECT PLANNING PAGES: Our exclusive Goal Crushing® system has transformed the way our planner users get things done, and so many of our users report that these two pages—found in each and every monthly section—are their very favorite part of the entire planner.  Even so, we knew we could make them even better and more intuitive, and so we did! We promise they will rock your world!
As always, the Living Well Planner is printed in full color, and comes undated so that you can begin using it at any time.  It offers space for planning out the year, as well as monthly goal-setting and monthly budget pages. It also includes labels for customizing your planner, including wrap-around monthly tab stickers that actually help reinforce the tabs while allowing you to easily find the month you are looking for.
The Living Well Planner® offers a tangible solution to the chaos of a busy life, and it will empower, enable, and inspire you to take back your time and manage your schedule, allowing you to focus on your BIG goals—whether those be blogging related or not—while still navigating the daily, weekly, and monthly responsibilities of running your home.
It is designed to help you become the best version of yourself—the mom and wife and friend and the blogger and the person you want to be—while giving you permission to make your biggest goals and dreams a reality.
Once again, the all-new Living Well Planner will begin shipping on August 31st, but when you preorder now, you can take advantage of our Early Bird pricing and get it for just $39, plus take advantage of the special bonus offers I mentioned above.
As you probably already know, in past years we have sold out before we even began shipping, so we highly recommend ordering as early as possible, as all planner orders will be shipped in the order they are received!
It IS possible to crush your goals and create a life—and a business—you LOVE.
Pre-order the Living Well Planner today, and start as soon as August 31st.
That's all for now—have a great day, and happy planning!