Creating Your Dream Life & Dealing With Its Consequences: My Interview With Rosemarie Groner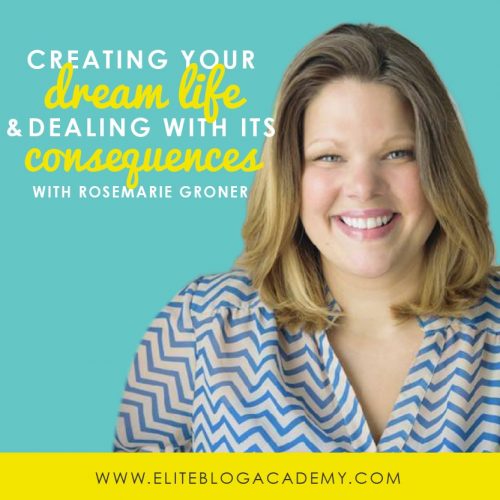 The Do It Scared™ Podcast with Ruth Soukup provides weekly motivation, inspiration, and practical instruction for anyone tired of settling for "good enough." Each week we tackle topics like goal-setting, overcoming procrastination, finding the time, energy & know-how for accomplishing our dreams, and overcoming the obstacles that stand in our way. Don't miss an episode; subscribe here.
If we ever hold a graduation ceremony for Elite Blog Academy®, I'll be asking Rosemarie Groner to make a speech.
My guest for Episode 6 of the Do It Scared™ podcast, Rosemarie is the brilliant blogger and wildly successful entrepreneur behind The Busy Budgeter and the 90-Day Budget Boot Camp. She also happens to be living proof that EBA® really can help make your dreams a reality.
Rosemarie was a state trooper for almost a decade when she decided she wanted to be a stay-at-home mom and open a daycare in her house. It took a lot of courage to make that kind of a change, but Rosemarie knew what she wanted and she went after it.
When she thought she might like to give blogging a try, she discovered EBA and followed my instructions to the letter. On a whim in 2014, she launched The Busy Budgeter and shared her own personal story about overcoming financial disorganization, getting out of debt, and creating the life that she always wanted.
She was blogging full-time within 10 months and, a few months after that, she started earning more than $20,000 every month while working just 20 hours each week. Now she makes more than $100,000 every month. Seriously!
From the outside, that kind of life looks like it's all sunshine and rainbows. But behind the scenes, that isn't always the case.
In this episode, Rosemarie digs into the impact her financial success has had on her marriage, explains how she and her husband picked themselves up after his dream project fell apart, and shares how you should weigh risks versus rewards when you're deciding whether or not to start a new venture.
Check out some of the advice she shared below, or if you'd rather just listen to the whole episode, you can find it on iTunes HERE or on Google Play HERE. (Or just search for "Do It Scared" wherever you prefer to listen!) You can also visit doitscared.com for more notes from this episode. Never miss a new episode by subscribing on iTunes.
FAILURE CAN BREAK YOU OR BUILD YOU
Every risk comes with the possibility of failure. Click to Tweet
That's what makes it a risk! But, as Rosemarie told me, "If you don't ever take risks in life, you're not ever going to get anywhere." Still, nobody succeeds at EVERYTHING – not even Oprah. Failure is a great motivator, but only if you look back at what went wrong and use it to grow. Instead of crumbling when things fall apart, you should view every mistake as a learning experience. "You can either let [failure] break you or you can let it build you," Rosemarie said. "When you look at those two options, I think building is obviously the better plan."
FIND ONE GOOD TEACHER AND LISTEN
Rosemarie admitted she isn't much of a rule-follower. She actually led her police academy class in demerits. But when she realized she wanted to make a living as a blogger, she knew she'd need to listen to someone. "There's so much information on the internet [and] it's all contradictory," she said. Luckily, she was drawn to Elite Blog Academy and followed my instructions down to the letter. "The secret to success is not trying to research a million different opinions [or] a million different ways to do it," she said. "[The secret is] to find somebody that's ahead of you that teaches in a way that you understand and then just to hold on tight and actually implement everything that you learned."
SUCCESSFUL PEOPLE TAKE RISKS
Successful people fail more than anyone else Click to Tweet
It's easy to believe that successful people must've figured out some winning formula and never make any mistakes. But the truth is just the opposite. "Successful people fail more than anyone else," Rosemarie said. Of course, there are a couple ways to look at that. On one hand, successful people are probably in a better financial position than others, so they can afford to take more risks. But those people also BECAME successful by taking risks in the first place. "Some people are risk averse and some people are okay with risks. And that doesn't mean that you can't ever take a risk," Rosemarie said. "Everybody should always be willing to take a risk."
MAKE SURE THE REWARD IS WORTH IT
Back when Rosemarie first decided to blog, the risk was minimal and the potential reward was huge. It was a no-brainer. But when she and her husband opened a brewery, she didn't realize the upside wasn't worth the downside. Looking back, she knows what she would've done differently. "When you're assessing your risks and rewards, sit down with an actual sheet of paper and figure out as precisely as possible what the potential reward is and how big the potential risk is," she said. "'What is the worst thing that could happen? And if the worst thing happens, what am I going to do? How am I going to handle that?' That's what I wish we had done."
HAPPINESS IS THE BOTTOM LINE
Although money is a driving factor behind lots of big decisions, it doesn't necessarily have to be your entire motivation. Rosemarie offered up this example: "I'm not a huge fan of traditional publishing," she said. "I think it makes more sense to self-publish because I'm all about [return on investment]. But if you've had a dream your entire life to be a published author and to have your books at Barnes & Noble, it makes total sense for you to go after a traditionally published book. Maybe it doesn't make the most financial sense, but it your dream is to have your book in Barnes & Noble, then that makes TOTAL sense."
* * *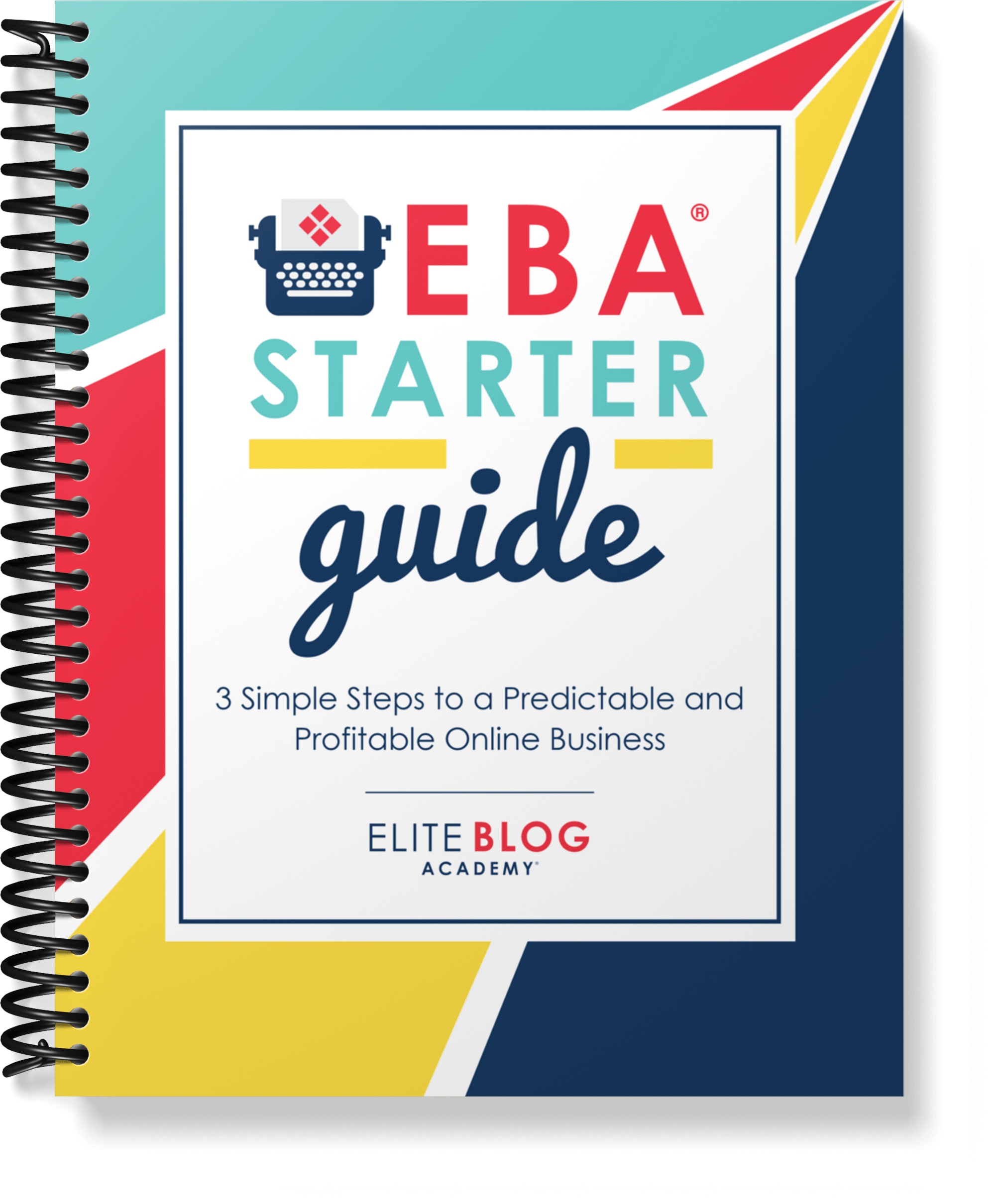 Ready to start making money online?
---
Eliminate the start-up overwhelm now. Our EBA Starter Guide provides a clear, proven path to success you can implement right now to get your online business up and running quickly with confidence. Grab it free, but only for a limited time!

These are just some of the highlights of our chat, but there is SO much more to hear! You can listen to the entire episode on iTunes HERE or on Google Play HERE. Visit doitscared.com for show notes from this episode, and never miss a new episode by subscribing on iTunes.