Top Tools for Busy Bloggers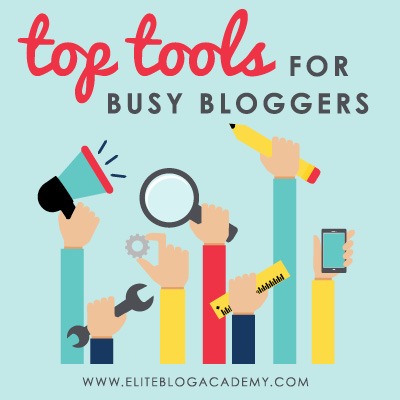 Let's be honest for a second: we could ALL use a little help in our blogging businesses sometimes.
And I don't know about you, but I'm always on the lookout for ways to be more productive and efficient. After all, there are only so many hours in the day (24, last time I counted), so the only way to get more things done? Streamline and do them more efficiently.
This week, I wanted to share with you some of my favorite time-saving tools and resources that have really helped me with productivity and efficiency. But before we launch into the list, I want to point out that tools aren't a one-size-fits-all solution (believe me, if I find a one-size-fits-all solution, you'll be the first to know!).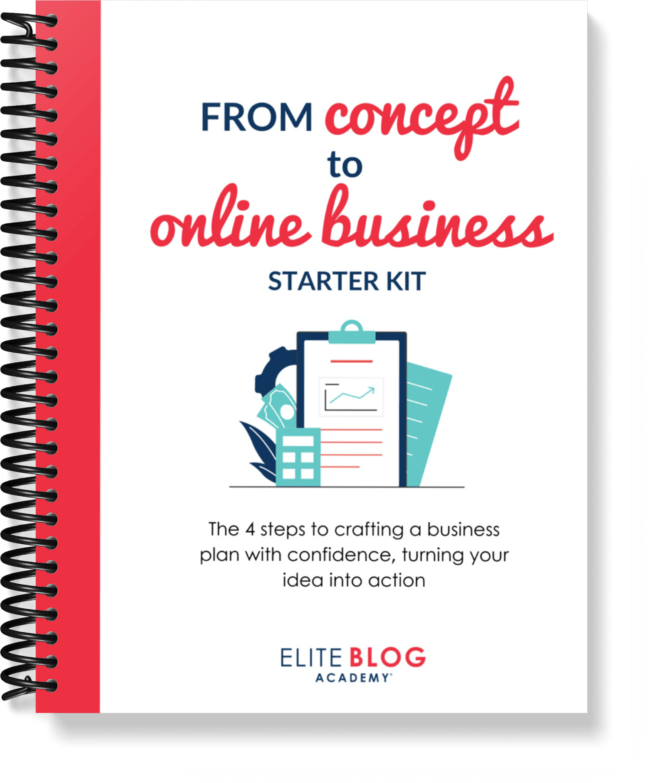 Confused about where to start?
Our brand new From Concept to Online Business Starter Kit will show you exactly what steps to take to get your online business up and running—as well as earning real money—as fast as possible.
Using tools just for the sake of using them isn't going to help you be more productive or get things done more efficiently. If you don't know what you need help with, every productivity tool in the world isn't going to help you. You have to really hone in on your challenges, have specific goals and objectives on how you want to improve those challenges, and then find the right tool to help you meet those goals.
So how should you use this list?
Think about the area that you'd like to improve, and then look into tools that can help support you in that one area. I highly suggest keeping it simple; sometimes, adding too many tools can hurt more than help. You don't want to overwhelm yourself with so many tools that it confuses your processes or prevents you from getting things done! It's really about figuring out which tools are a slam-dunk for you and your needs.
Alright then, without further ado… here are my 21 top time-saving resources and tools for busy bloggers:
Planning Tools
If you've ever forgotten a password (and who hasn't?!), 1password is a great tool. I love it because it manages all your passwords and logins in one place, and you can access it from your laptop, your phone, or your tablet — it works with every device!
Another great feature on 1password is the ability to securely share login information, so if you need someone on your team to login to one of your accounts, you can share account access without revealing your password. This is super helpful when you have multiple team members working on different accounts — it's so easy to stay organized!
Imagine taking your hard drive and making it accessible to everyone on your team from any device. That's Dropbox. Click to Tweet
We use Dropbox for EVERYTHING. It's an amazing way to store all your files and make sure everyone on your team can access them from wherever they are. It's also great from a security perspective — since everything is stored on Dropbox, and not your computer — and if your computer crashes, no sweat! You and your team will still have access to everything you need.
Dropbox also has a host of awesome additional features, like offline access to all of your files and the ability to collaborate in real-time with your team, so now is an awesome time to add this to your tool belt.
Just like Dropbox, Google Drive is a great place to store and share files. Personally, I don't like it as much as Dropbox, but I do love the feature that allows you to live edit documents.
I use Google Drive for my daily action list. Every day, my assistant gives me a list of things she needs from me in a Google Doc so she can see my responses in real time.
To dive deeper into the world of Google Drive, check out Why You and Your Growing Business Need Google Team Drive!
The Living well Planner is our all-in-one life planner that helps you manage your schedule, goals, budget, meal planning, … You name it, you can use this planner to manage it. This planner is primarily for women and moms — we have so much going on, and it's super helpful to be able to keep track of everything in one place.
One great way to use the Living Well Planner is to manage your goals: your work goals, your family goals, your life goals — whatever goals you're working towards at the moment. You can keep track of your progress in the planner and visualize how every task is getting you closer to reaching your goals.
If you're planning out your blog structure, the EBA Blog Structure Blueprint is a great tool to get you organized. It will help you find clarity on how you want to organize your blog, and it can help you structure it in a way that's more user-friendly for your readers.
Asana is an awesome (and free!) project management tool to keep your projects organized.
Personally, I like Asana for managing ongoing projects, like my calendars. We use it for our blog calendars, our email calendars, our shopping promotion calendars, and our team vacation calendars. What I like is that you can organize each calendar as a different project, but then you can view them all at once in your master project. It's super helpful in visualizing everything we have going on!
Trello is another awesome project management tool that's based on the SCRUM model of project management. Click to Tweet I like to use Trello for projects with a defined start and end date.
I love Trello because it's a super visual platform — as tasks are completed, you move them from column to column. It allows everyone on the team to see exactly how much progress is being made and exactly where the project stands. Don't miss this post on Using Trello To Build Your Editorial Calendar!
I even use Trello with my husband — we used it to manage our last move, and it was great to see how much progress we were making with everything that had to be done before we made the move to Washington.
Research Tools
Feedly is a free RSS feed aggregator that allows you to access and follow all your favorite blogs and websites in one place.
So, rather than manually going to all the blogs you want to catch up on, you can just log on to Feedly and get all your new articles at once, which makes keeping up with research a breeze.
Have you ever seen an article that looked interesting and totally meant to go back and read it, but then forgot? With Pocket, you can clip articles to read later on any device.
So, if you're waiting to pick your kid up from soccer practice and see an article that would be awesome research for a blog post, rather than scrambling to read it before practice is over, you can just clip it and read it when you get home.
Writing Tools
The Hemingway app is a great tool for simplifying your writing. It tells you how complicated your sentences are, and when you should tone it down and use simpler language.
This app is super helpful in making blog posts more readable and conversational!
Grammarly is a browser extension that will proofread all your writing, whether it's an email or a blog post. It checks for spelling, punctuation, and style, and it's great for catching typos!
If you want to take your proofreading a step further, ProWritingAid is an awesome tool. You can copy and paste any text (like a blog post) and put it through the editing tool. It will screen for spelling and grammar mistakes, but it also goes deeper on style, helping with things like sticky sentences or cliches.
ProWritingAid is a great way to make your copy more reader friendly.
Visual/Graphic Design Tools
PicMonkey is another basic photo editing software. I started using it when it first launched, and I still love it — it's super easy to use and the graphics I make always end up looking amazing, even though I couldn't be further from being a graphic designer.
Like Pablo, Stencil is a Chrome extension, but it's a lot more powerful. It's basically like Canva or Pic Monkey in a Chrome extension! You can easily create images in custom sizes for a ton of different outlets, like a Facebook cover photo or a Twitter profile picture, with the click of a button.
You also get access to over 50 million free stock photos so you'll never have to look far for the perfect image!
Social Media/Promotion Tools
Buffer is a great tool for publishing social media content. Rather than logging into all your social media accounts, you can publish all your posts, like Facebook posts, Tweets, and LinkedIn updates, from one platform.
I also love that Buffer allows you to schedule your posts in advance — it saves a ton of time and helps you organize your social media content for the week.
Hootsuite is similar to Buffer, but it takes things a step further. Not only can you schedule and publish all your social media posts, but you can also monitor your social media presence and success! Hootsuite analyzes the success of your social media marketing by tracking things like engagement and also monitors what people are saying about you on social media so you can stay in the loop.
Automation Tools
IFTTT (which stands for If This, Then That) is a free automation tool that allows you to set up simple automation chains, which they call "applets". For example, you could set up an applet so that every time you post on Facebook, it also posts to Twitter. Or every time you upload something to Dropbox, it sends out an email to your team.
IFTTT saves a ton of time by allowing you to automate processes you would have had to implement manually.
Think of Zapier as a souped-up version of IFTTT. Zapier can automate more complex tasks across more apps, giving you more options.
Productivity/Time-Tracking Tools
Toggl is a super simple (and free!) time tracker that allows you to track time and activity.
Toggl is great for increasing your own productivity; you can track how long it takes you to do each task during the day and see opportunities to be more efficient. It's also a great way to monitor your team and see where they could improve their productivity.
If you find that you spend half your day checking email, scrolling through Reddit, or procrastinating on some other distracting website, Self Control will be your new best friend. Self Control allows you to block access to distracting sites for a specific block of time — like the work day — and get more done.
If your procrastination is limited to your Facebook news feed, then you'll definitely want to check out Kill news feed. This app — you guessed it — kills your Facebook news feed and instead flashes a message to remind you to get back to work.
What's great about this app is that you can still access Facebook if you need to look at someone's profile or send a message. You just won't get sucked into the rabbit hole of reading a million status updates in your news feed.
Looking for more ways to blog from your phone? Our FREE guide of 15 Mobile Apps that Every Blogger Needs for Blogging on the Go is full of additional resources to make mobile blogging a breeze. GET IT HERE. Did I miss any tools that have been super helpful to you? Leave them in the comments below!