How to Promote Your Blog on Social Media When You Have No Time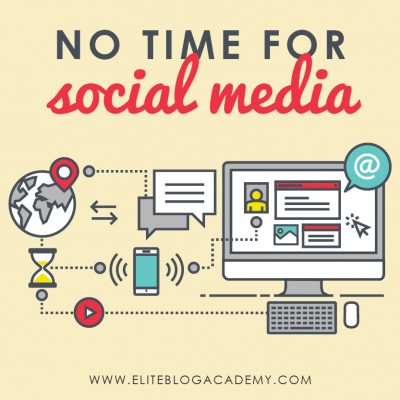 Are you just getting started with your blog and have no time to promote on social media? Why not let others do the work for you? Here are some tips on how to promote your blog on social media when you have no time.
Whether you're a hobby blogger or are hoping to turn your blog into a full-time online business, you probably have more to do than you have time for in a day.
Believe me, I get it! And so I totally feel your pain…it can seem impossible to do ALL. THE. THINGS!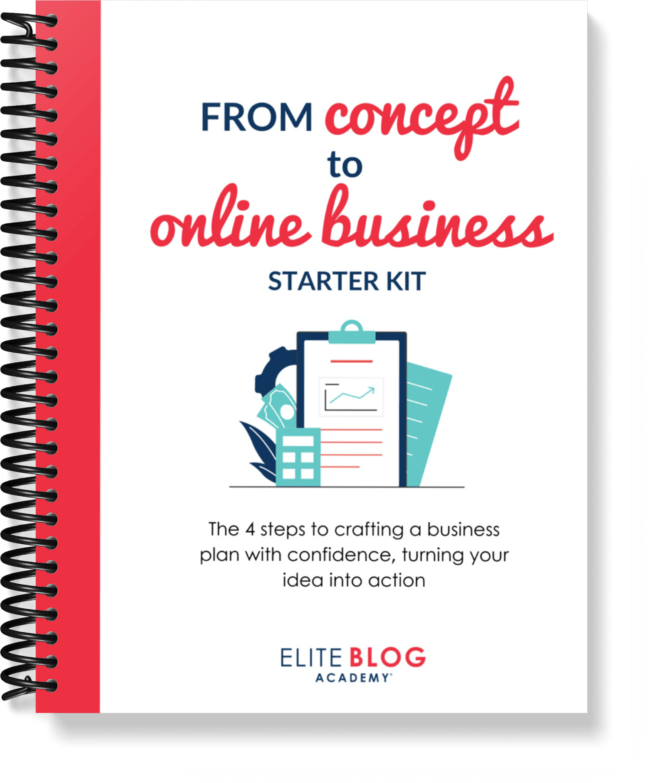 Confused about where to start?
Our brand new From Concept to Online Business Starter Kit will show you exactly what steps to take to get your online business up and running—as well as earning real money—as fast as possible.
Maybe you're still in those first units of EBA, and you're focused on creating your pillar content. Or you're only thinking about Elite Blog Academy and wondering if it's right for you, but currently you are not quite sure when to start promoting your content on social media.
No matter where you are in your blogging journey, there are some systems that you can put into place right away that will help your blog to grow! These simple items only take minutes to set up, and then you don't have to worry about them again. However, the potential for growth when you put these into place is exponential!
Here are some simple strategies to make your blog as social media-friendly as possible when you have no time!
Set up your social networks
More than likely, you already did this when you set up your blog. You have probably already set up your Facebook page, Twitter, Instagram, and Pinterest accounts. If so, then way to go!
If you haven't, go ahead and secure as many networks in your name as possible, especially the big social networks or any that you think you might use one day. Even if you don't have time to post anything on there right now, this will allow people to follow you that want to and will eliminate headache later. Nothing worse than having a blog with one name but realizing that name has been already taken on social media!
If your blog name has been already taken or is too long for social media, try to pick something close and stay consistent across all social platforms if you can.
No matter where you are in your blogging journey, there are some systems that you can put into place right away that will help your blog to grow! These simple items only take minutes to set up, and the potential for growth is exponential! Click to Tweet
Add Follow buttons to your website and blog pages
Your readers are hopefully going to come to your site again and again for your awesome content. And you'll soon find out that getting those people onto your email list is going to be the best way to keep those people coming back for more! But why not utilize the other social networks to stay on your reader's mind as well?
Be sure to include social icons somewhere on every page of your site directing people to your different social networks. That way, wherever your audience lives, they will be able to stay up to date with your news and posts. Don't have your email list set up yet? If you have your social networks set up, you can ask them to follow you and then send them an alert as soon as you're ready to grow your email list.
Make your blogs as shareable as possible!
This is where I see a lot of bloggers get tripped up. They think they have to be promoting all their content on social media on their own, but the truth is, most content goes viral from other people sharing it! How do you get other people to share for you? Make it easy for them, and then ask!
Most content goes viral from other people sharing it! How do you get other people to share for you? Make it easy for them, and then ask! Click to Tweet
Add share buttons to your blog posts
Social Warfare is an awesome plugin that has amazing free features. When you're setting up the plugin, make sure that it is set to share on every blog post and will display at both the top of the page and as the reader scrolls. That way, no matter where the person gets in your article, he or she has the opportunity to click and share the post on social media with a single click!
Add Pin/Save to Pinterest buttons to your images
If you want your posts to go viral on Pinterest, it's very important to add a Pin or Save to Pinterest button to all your images! There are plenty of free WordPress plugins that do this for you, such as "Pinterest Pin It Button On Image Hover". Simply install, activate the plugin, and that's it!
Add "Click to Tweet" quotes to your posts
Do you have some valuable nuggets you think will really catch someone's attention inside your posts? Why not add those words of wisdom to a pull quote that readers can retweet for you in a single click?
To do this, you can use a free WordPress plugin like "Tweet This", or if you use the free version of Social Warfare, there is already a click-to-tweet feature! Within your blog post, there will be a Twitter bird icon located within your visual post editor. Click the icon and insert the quote as you want it to appear on your blog, and as you want it to appear on Twitter. It will automatically pull the blog post link as well as your Twitter handle (just add that to the Social Warfare plugin settings when you initially set it up).
2-3 quotes per post is a great amount! If you're not sure what might make a good pull quote, stick to questions or statistics that back up what your post is about.
Add Alt Text to Images
When you upload an image in WordPress, there will be an option to add Alt text. You will want to fill this in with your Pinterest Description. Why? Because if someone clicks to save your image to Pinterest, this will be the text that will be attached to the image. If there is no text or the text doesn't make sense, your reader might change her mind about Pinning, so make it as simple for her as possible.
Be sure to use keyword-friendly descriptions in your Alt text that will make it very easy for others to find your post on Pinterest as well! Not sure what to add to your alt text? Think about what problem you're solving for your avatar and then think about how that person would search for the answer to that problem on Google or Pinterest.
Add Pinnable images to your Posts
You've already added a "Pin This Image" feature and updated your alt texts, but it also will increase your chances of getting Pinned if you include a Pinterest-friendly image to your posts! The typical size for a Pinnable image a vertical image with a 2:3 ratio, or about 600 x 900 px.
Write social media copy for your posts
If you're going through EBA currently, you probably use the Yoast free SEO plugin and are familiar with writing an SEO description. Did you know you could also use that plugin to write social media-friendly copy too? This will help ensure the right copy is shared when someone shares your post to Facebook or Twitter!
To find this, click on the "share" icon underneath the Yoast "traffic light" icon. You will be able to add a Facebook and Twitter description, as well as a graphic that will fit those networks' preferred dimensions (1200 x 628 px for FB and 1024 x 512 px for Twitter).
If you have the paid version of the Social Warfare plugin, you can do the same thing there!
Include a Call To Action
Whether you want others to share your post on Facebook, Tweet it out to their followers, or Pin your images on Pinterest, the simplest way to get them to do so is to ask! Don't forget to include a call-to-action at the end of your posts reminding your readers to share on social media if they found your post helpful. Even if you have share buttons everywhere and Pin buttons and click-to-tweet quotes included in your blog, it's amazing how effective that final reminder can be!
With everything there is to do with running a blog or an online business, the thought of promoting your content on social media can really feel overwhelming and might even be a bit uncomfortable at first. However, the more others do for you, the less time you'll have to spend worrying about self-promotion. The easier you make it for others to share your posts for you, the more likely they will!
Do you know someone with a blog who is feeling overwhelmed? Be sure to share this post with them! What are your struggles when it comes to promoting your blog on social media? Let us know in the comments!