Planning Content For A Year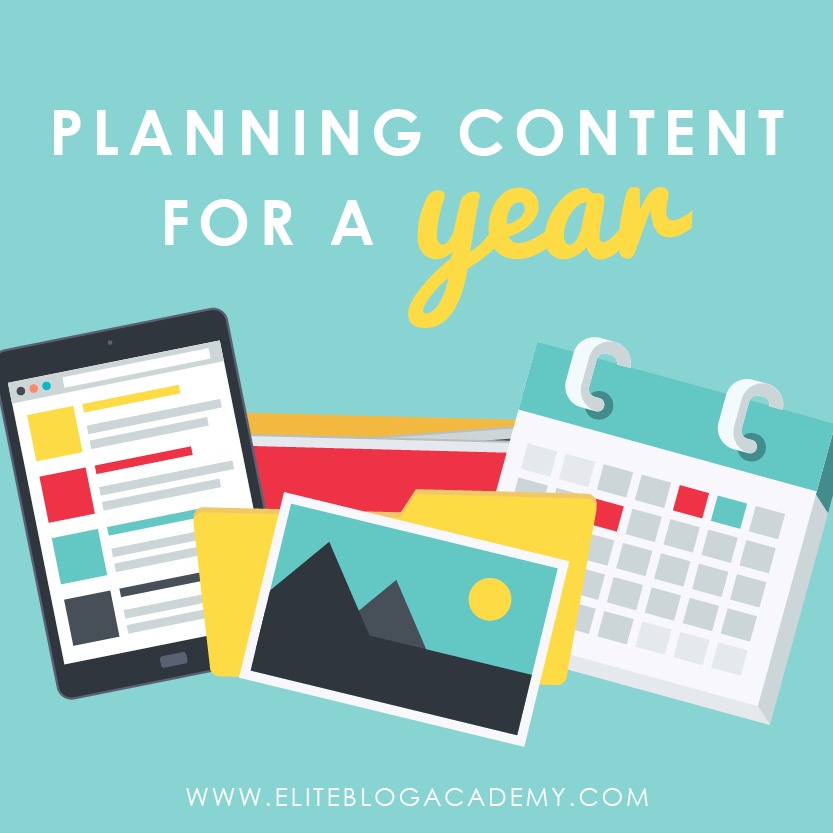 Nothing feels worse than scrambling last minute to come up with a blog post idea, not feeling at all inspired, but then quickly writing something just to get it live. And, what's even worse is to discover, after you hit the publish button, that your hastily scribbled blog post makes no sense or offers little value to your readers.
The thing is–sometimes last minute can be a good thing. Sometimes that's where the genius happens, and all those creative juices flow. Maybe it's the adrenaline, or maybe it's the pressure, but sometimes waiting until the last minute is the key to greatness.
But more often, it's not.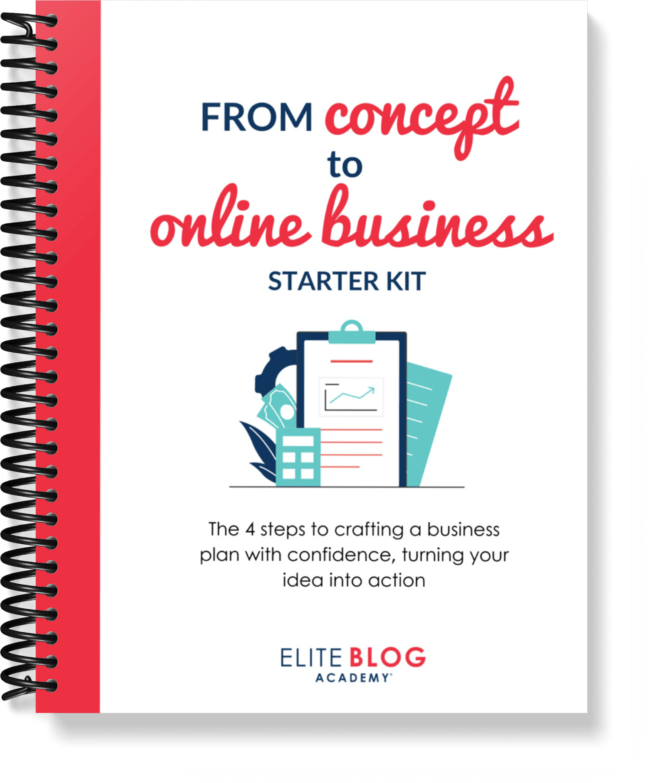 Confused about where to start?
Our brand new From Concept to Online Business Starter Kit will show you exactly what steps to take to get your online business up and running—as well as earning real money—as fast as possible.
Because you see, when we do something in "scramble-mode" we end up rushing or not thinking things through. We might miss a ton of typos, or even find that our writing falls flat because it's reflecting the last minute nature of the post, and it makes no sense in the greater scheme of things.
That is why we believe there's a MUCH better way to plan your blogging content, one that takes into account your strategy and your goals for your blog. And that better way forward has to do with planning your blog content for the entire year.
And while planning out posts for an entire year might sound a little crazy, we promise that it's easier than you might think.
What's more, planning out your content in advance can actually help even those last-minute creative juices by giving you a framework to work with. You'll actually have more room for creativity–and even for last minute changes–if you're starting with a solid plan!
There are 5 easy to follow steps to get you away from being a fly-by-the-seat-of-your-pants-blogger, and towards being a more well-prepared and intentional content creator.
Step 1: THINK STRATEGICALLY & THEN CREATIVELY
The very first step you need to take is a quick assessment of your blog. Write down a few of your pain points from the previous year. Maybe your content didn't offer your reader's enough, or you were just bored of the topic you wrote about each week.
Once you've narrowed down your pain points, now it's time to move towards your goals. What do you want to accomplish this month? This year? Do you want to attract more readers? Would you like to share more about your journey? Whatever your goals, you can structure your content to help you achieve them.
Now for the creative part…This is our favorite task and it just entails thinking about blog post ideas and then writing down anything and everything in your head. You can even just voice record your stream of thoughts to make it easier. This exercise gets you thinking creatively and thinking a little more outside of the box. So make sure to block off 20 minutes to just write down all of the ideas you can think of for blog posts. For example, if you blog about parenting, start thinking of all the strategies you've used with your own kids in the past week and write them all down.
STEP 2: ORGANIZE & SOLIDIFY
It's time to infuse all of your post ideas with a bit more structure. We recommend downloading our Blog Structure Blueprint and making sure you've got a clear and cohesive structure to your blog. For example on Living Well Spending Less, we have 4 distinct blog categories, Home 101, Food Made Simple, Life, etc., and Smart Money.
Now, peek back at your "Brain Dump." Cross off any ideas that just don't work with your main categories. Then, look at your pain points and goals, and cross off any of your ideas that aren't going to help you crush your goals.
You should still have a large, but more refined list. Start taking the remaining post ideas and placing them in your unique categories. Once all your ideas are nested within categories, you can take notes of goals for each post or even calls to action. This is a great exercise to get you thinking about which posts might make great new lead magnets.
STEP 3: BUILD
Step three is all about building out your calendar. The first thing you want to decide on is how much you'd like to post per week. There are no hard rules about the ideal number of times to post per week, you just want to stay consistent so your reader's know what to expect. Just keep in mind that posting once every day might exhaust you and your readers. Posting 2-3x per week should be enough content to give your audience and still give you enough time to write high-quality posts.
And, onto a little math– If you plan to post 3x per week, for the entire year, that means you will need to plan for roughly 156 posts (3 times 52 weeks per year). Just a side note, this isn't a strict guideline, you can always add or take away posts as you feel like it.
So now you know how many posts you need, it's time to actually build your editorial calendar. If you haven't read our post on Trello, now would be a good time to do so HERE. You can use Trello to maintain post ideas, create your editorial calendar and track posts in progress.
STEP 4: START WRITING
We're huge advocates of time blocking and recommend starting your week by blocking off an hour or so to begin writing your posts. Ideally, you want to get the first few weeks of blog posts written so that you start off with a buffer of scheduled posts. This will give a little wiggle room where you won't have to worry about posts in case you want to go on vacation or are sick. Once you have a buffer of around 6 posts, then you can start each week by writing just 1 post per week without any stress.
STEP 5: REFINE
Even though you've planned out an entire year's worth of posts, it's super important to always refine. Look at your analytics and see what is doing particularly well and what isn't working. You might need to tweak each post going forward to keep you on track with your goals. It's also important to keep a running list of questions you are asked. If you have the same question asked multiple times, that would be the perfect opportunity to write a post about it because you know your readers are interested in the answer. Make sure to stay flexible enough to consistently refine your blog content.